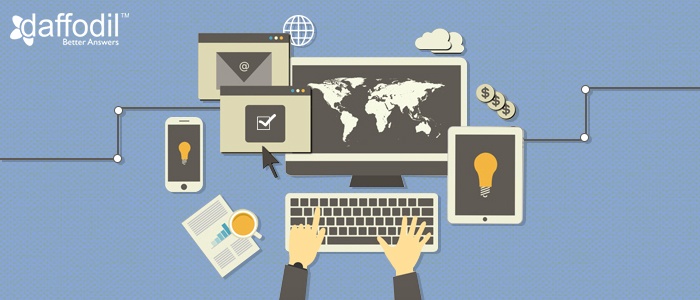 In the current age of digitization, there is hardly a business that goes without having a software application. From automating internal processes to improving the customer experience, a software application (in one form or the another) is a major reliance and driver of businesses, irrespective of the industry.
In effect to this, there is a constant call for software application development and responding to this surge in demand is getting difficult for businesses and Independent Software Vendors (ISVs). To cope with the hike in requirements, outsourcing software development to an offshore development company is turning out to be a true saviour.
Outsourcing, which involves hiring resources temporarily is gaining ground in the IT industry, with software application development being the most outsourced IT function. Depending upon scope, budget, time span, a suitable outsourcing model can be opted to get a software development project delivered on time. Two of the most significant outsourcing models that can be chosen to give software development the much needed pace and pre-eminence are:
Team Augmentation:

This is one of the most prominent outsourcing model to work around technical skill crunch. Herein, a team of resources are hired who can add support to current development cycle. For example, hiring a developer with hands on specific tool or technology that's required for a few projects only.
Project Based Outsourcing:

This outsourcing model is adopted by companies who want to have a dedicated team to accomplish a set of task or project, with no or little disruption to their regular operations.
ALSO READ: Team Augmentation vs Project outsourcing for Software Development
Outsourcing software development can be productive for businesses willing to extend in-house team or get a full-fledged team for development. The option is quite prominent amongst ISVs who aims to add an edge to the development cycle and get their projects completed at a faster pace. When outsourcing software development, businesses and ISVs can avail following benefits:
1. Build a Versatile Team for Diverse Project Requirement
In the ever-evolving ecosystem of tools and technologies for software development, it is challenging for organizations to stay up-to-date with them all. A number of tools, libraries, and frameworks are frequently introduced in the market to add an edge to the software application development and having a team with mastery over all of them is certainly out of scope.
By outsourcing skilled resources for specific technologies, the technical crunch within the in-house team can be worked out. This will ensure that have short/long-term resources available, who code according to the requirements, are cost-effective (than new hiring), and improve project efficacy. This outsourcing model is known as team augmentation.
2. Faster, On-Time Delivery of Projects
Instead of hiring new resources for the in-house team, the required skills can be outsourced for short (or long) time span. While the external team takes charge for the components in their forte, the internal team can focus on pacing up the project delivery.
Hiring external resources on-demand ensures every phase of development is delivered within defined timeline. It also helps to address the project changes and challenges, ascertaining the the final output is aligned according to client requirement.
3. Accessibility over the Best of Talent (Without Geographical Bounds)
In most cases, the process of hiring may get dragged out due to shortage or accessibility over the required talent. Such limitations result in project delivery delays, lowering down the client's confidence in your potential. Outsourcing software development gives the key to skilled professionals, who then coordinates with your team to bring out desired results.
Also, outsourcing lowers down the risk of bad hires, who usually become a part of the company for long run and may get the project out from the track due to lack of soft skills and technicality.
ALSO READ: The Ultimate Guide to Outsourcing Custom Software Development
4. Short Term Commitments for Projects
There can be a requirement for short-term engagement with resources who are conversant with specific technology stack. In such a case, hiring an in-house team may inflate the cost, thereby decreasing the ROI of the project.
Moving ahead with team augmentation services offer the benefit of short term commitment, which ultimately saves cost, adds efficiency to the internal team, and flexibility in development (in terms of changes, updations, or maintenance).
5. Avoid Overhead Expenses for In-House Team
Hiring a new team means adding overhead expenses. Office space, hardware/software resources, reimbursements, and other operational costs keeps minimizing the ROI. With software development outsourcing, all that you have to pay for the engineers' skillset.
6. Focus on Output than Management
Scalable projects call for thorough management of the project. While this is a huge responsibility in case of in-house team, it's not the case with outsourcing team. While the internal team invests a large share of time in managing the resources (assessments, team building activities); all that's expected from outsourced members is trying to reach a goal.
In case of outsourcing, their management is the part of technology partner. Meanwhile, a rep. from your technology team can connect with external resources for code review, daily scrums, discussions etc.
7. Cost Optimization and ROI Improvement for a Project
IT Outsourcing has been embraced as a cost optimization model by businesses. Reason being, the cost of hiring a team or adding members to it can cost more than hiring relevant resources from a technology partner. Plus, the process of adding new, skilled professionals to the team may take longer than expected.
For outsourcing, you need to evaluate a technology partner and if that works well for a project, you can reply upon them in future for other technologies and projects. Here is a guideline with metrics that can be assessed to choose the right technology partner for your company.
Outsourcing Software Development: A Practical Take
Digital Mettle, a technology consulting and custom software development company in Raleigh was facing challenges in expanding service offerings, technology adoption, accelerate product deliveries, and optimize cost in development. On selecting Daffodil as their technology consulting partner, Digital Mettle was able to focus on their core business, which resulted in 5-fold growth in revenue in past 5 years.