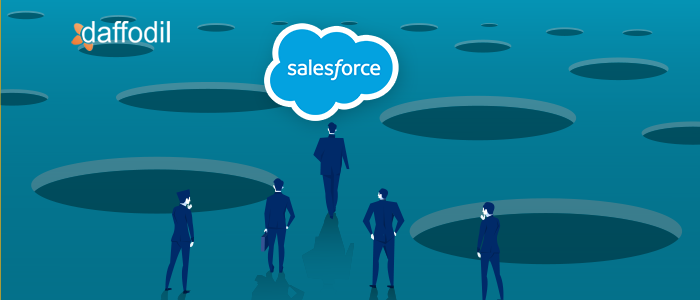 Salesforce data migration invariably poses a challenge for any Salesforce professional. It calls for more than just shifting of data from one system or platform to the other. Without a plan and proper know-how of the system, it will either result in more time than required to transfer data or even repeating the entire process.
Besides, improper data mapping can also affect crucial data and other key functionalities. Multiple aspects need to be taken into consideration before planning a data migration. Mostly, it depends on how complex your source data is. But then again, to avoid repetition of tasks – a set procedure needs to be put in place – including planning, migration, and testing.
Moreover, there could be challenges in the existing data and rules post-migration when you migrate into an existing data being run by other users compared to a new one which would mean that you will have to import multiple records. To avoid this, you need to ensure that all records are migrated completely. To ensure a smooth transition, explore our end-to-end data management services.
What you need to remember is that besides these basic steps there are other crucial mistakes that you need to avoid while transferring data. Let's look at the following 7 common mistakes to steer clear of during Salesforce migration.
Also Read: Salesforce Commerce Cloud vs SAP Commerce Cloud: 5 Differences that Matter
Hasty planning: It's very important to discuss and chalk out the plan with the stakeholders who are familiar with and understand data migration more than you. They are your only source of information who can provide you with insights and details of the stages where data might run into issues. Thereon you will be in a better position to evaluate and make changes accordingly in the overall process or specific fields.
Careless importing: It's a common practice to import accounts before contacts or opportunities but what is crucial to note here is to align the custom objects accordingly to the relationships that they have. Besides, the inclusion of fields of each object into other objects is equally important to ensure all relationships look concrete.
Importing heavy data: Before you import data, you need to make sure that you have cleansed data beforehand, and even after that it is important to know that you can't import all the data in the production environment. What you should rather do is migrate chunks of data in a sandbox so that if there are any issues you can be alerted about them at the very stage. This step might have to be repeated until you've fixed all the issues.
Lack of processes: Identifying processes and defining them is the most integral to any procedure. There might be modifications in the customer's journey which your sales reps need to be apprised of. This is the only way you can convert your leads to customers. From sending the right communication to building engagement on social media, Salesforce can do a lot for your Sales team. But it's you who has to recognize and define those processes and tasks without which the platform won't be as conducive for you.
Mapping unnecessary data fields: The most common mistake that most teams make is to continue with unnecessary fields that are used by very few records. Most teams get confused with fields such as Legacy ID or User ID in the source data but it is imperative to get rid of any other unnecessary fields in the mapping process.
Not reviewing workflows: Disabling any active workflows before you import data is another crucial step to remember. If you don't disable the active triggers it might hamper the progress in migration. If previous workflows or triggers are still active, you might end up sending unwanted emails to your customers which is something that you do not want. Another thing you need to make sure of is to check if the validation rules demand any changes.
Not running tests: Just because the data loader went through a successful execution doesn't mean that the entire data was migrated successfully. Running regular reports or checking the record count by using the developer console is what you need to do. Apply filter or run queries to track the number of records for multiple objects.
Also Read: Salesforce CPQ: All You Need to Know
Want a seamless migration to Salesforce?
We are here to help. Now transform your data and processes from other CRM solutions to Salesforce with data integrity and interoperability. Our Salesforce CRM experts specialize in providing Salesforce Consulting, Migration, Implementation, Integration, Upgradation, Support & Maintenance. Get in touch with our team today.