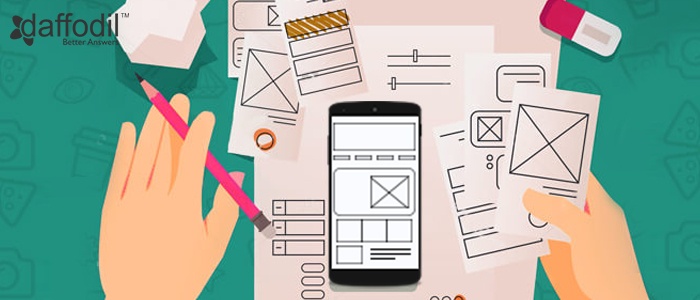 Using an app prototyping tool is a common practice amongst UI and UX designers. It lets them take a test-drive of the app design, before the development cycle begins. More than that, it eliminates the designing roadblocks like last-minute tweaks, delayed approvals, and slower feedback cycles. Prototyping a mobile app enable the designers to share real-time wireframe of the screen-designs, ensuring that experimentation, feedback, testing, and approvals can happen on time.
With mobile app prototyping tools, the designs created allow users to click through the app, use virtual gestures, scroll or toggle, and engage in app, just the way they do once it's built and deployed. There are a number of options available that can help to create a wireframe for app design and InVision, Flinto, Justinmind are to name a few. In the latter segment, we will have a look at few reasons why big brands like Netflix, Shopify, PayPal use prototyping tools and why you should use them too.
1. Bring your Designs to Life
To start with these app prototyping tools, you have to important mock-up designs, generally available as Photoshop or Sketch files. And then, these mock-ups can be used to add actions to the app's UI like transitions, animations, navigations, gestures, scrolling, and other micro behaviours.
These tools for prototyping are available with slew of features and you may find similar or different functionalities in all of them. For example: With InVision, you have to create mock-ups with third party tools and then important them into the tool; whereas with Justinmind, these mock-ups can be created within the app, using their templates and pre-loaded UI kits.
2. Pump Up the Feedback Cycle
Mobile app prototyping tools cut down the review cycle. With a working app design, you can keep clients, product managers, developers, and other related authorities in loop. They can see a mobile app design, which is clickable and functional in all aspects. This way, the feedback cycle becomes short and it is possible to reach all people who needs to review the design. With tools, sharing real-time design between the teams is possible.
3. Modify Design Before Development
Once the mock-ups are transformed into functional designs, they can be shared for the feedback. Once the suggestions and improvement requests are received, the design-in-action can be tweaked, so that the change in design do not turn out to be the change in code. Taking suitable action is possible with mobile app prototyping tools before development kicks in.
4. Create Design for any Kind of App
It is important to verify the design functioning on the platform you created it for. Possibly, you generated the design for Android, iOS, wearable, or web. With mobile app prototyping tools, you can create downloadable files that are compatible with specific device.
For example, with Flinto, you can create prototype for Android, iPhone, iPad, Touch Pad, and iPad Touch. Once the app prototype is ready, you can download it and run them on the compatible devices to see the design in action.
5. Get Validation for User Experience
App design feedback is not limited to how it looks or feel like (UI). It's also the interactivity with the app that matters (UX). By rolling out the app prototype for test, you can hear what users feel about the app usability.
Do they find it easy to use the app? Do you need an app walkthrough to explain app functionality to users? Are they able to spot the required features easily? How do they navigate within the app? Such crucial questions can be answered while testing.
You can either do this by sharing the app with relevant set of people or use the prototyping tools that integrate with third-party-tools to provide valuable feedback.
6. Gives Tangible Product for Funding
An app prototype is a functional idea of the end product. When presenting the app to prospective investors, a prototype works as a tangible product model that can speak about the product, its potential, and how it would be at the end. This will ensure investors about value of your product.
7. Secured Testing of App Designs
Prototyping tools offer a secure platform for creating and testing app designs. For example: Designs created by Justinmind and Finto can be password protected. This ensures that the designs are only seen by authorized users and that they are not out for anyone else, before they are ready.
ALSO READ: Breaking the Myths of Mobile App Design
What's your Reason to use Prototyping Tools?
Tools to create design wireframes are not just the requirement of UI and UX designers. They imperatively help in maintaining a balance throughout the development cycle. Amongst the number of options available, you can choose the most favourable one by talking to the designer, developer, or a front-end developer. Amongst the various benefits to use a prototyping tool, what's your favourite one. Share with us in the comments below.