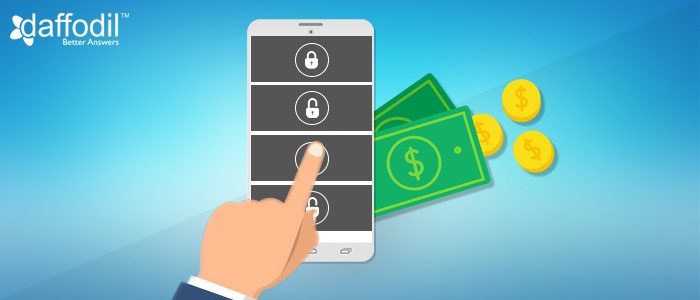 "Pokemon Go is a free-to-play game. It became the fastest game to make over $500 million in revenue. It was the first app to gross highest revenue in its first month ($206.5million)." The matter of fact is, even if your app is free, it can generate an exceptional revenue.
However, not every app can have immediate traction and draw massive profits. Depending upon the business model and popularity, an app can achieve the expected outcome. All you need to do is choose the best strategy for mobile app monetization.
There are multiple ways to monetize an app. However, considering the fact that every app is unique and different, it is important to opt for the way that complements the primary objective of your app. This list of 8 ways to generate revenue from an app will surely help you out.
1. Go for a Freemium App Model
One of the most common ways to generate revenue out of an app is through a freemium model. Herein, a user base is created first through the free version of the app. Later they can upgrade to the premium model, if the app succeeds to engage them and hold their interest. This idea of app monetization is effective because:
An easy invite to download the app is sent to the users. Since the app is free to download, users won't mind to give it a try if it appeals them.
Users can try the product and make informed decision about moving to premium version. This means users trust your app before they are ready to pay for it.
For example, a number of video streaming apps (like Amazon Prime) offer free content for a month . Subsequently, if the user is interested in more, they can upgrade to premium version or can cancel the subscription anytime.
2. Virtual Currency can make a Way
This is one of the creative ways of making revenue. Such model of money making is quite prominent in immersive gaming apps. The virtual currency is a part of the game that can be earned by playing more, by competing, by installing some apps, or winning through special advertising offers. The players then use this currency to unseal certain advantages or features within the game.
3. Native Ads are a Good Idea Too
Placing native advertisements within the app is one of the preferred idea of mobile app monetization. Reason being, they cause the least interruption to the users. These ads are smartly merged with the app visuals or other elements, ensuring that any of the advertisements do not halt the app performance or any of the its process. For a seamless user experience, it is important to design and develop the app accordingly. Alongside rendering the benefits like easy visibility and improved click-through rate, native ads are quite adaptive to an app.
4. Subscriptions could be an Asset
Well, this one do not offer direct monetization scheme but adds value to the brand. Most of the mobile apps that constantly provide new content use pop ups or options that invite the users to subscribe to the newsletter or generate leads. This is one of the ways to drive traffic on the website through an app.
In most of the cases, an app just another channel to brand the business and thus it is all right to make the most of it. Therefore, even if the app cannot derive benefit under its own steam, then at least it is the fringe benefit to the brand.
5. Be an Affiliate and Earn Incentives
You can help other brands to generate revenue through your app and earn profit out of it. In this process, advertisers display their ads within your app or run some promotional campaign for the app users. Now, when a business generates a lead through your app, you earn an incentive for the same. While this is a common app monetization model, this is effective in gaming apps, as the players easily respond to integrated campaigns to ads to redeem points, virtual currencies, or other benefits.
6. In-App Purchases are Users Favorite
This mode of app monetization works well with the apps that have a broad list of features and targets different requirements of the users. In such mobile apps, the basic functionality of the app is available for free while additional features can be availed by investing a certain price. These apps are free to download and are tagged with a message that says In-app Purchases. This completely works on the model 'pay-for-what-you-want'.
In such model of app monetization, you need to understand the user's journey and figure out if you can add more features and functionality, for which users won't mind paying. For example, In a graphic-design toolkit, you may find a number of free templates or layouts but some qualitative features are to be purchased.
7. SMS/Email Marketing can Derive Profit
Businesses brand themselves through multiple marketing strategies, amongst which SMS and email marketing are quite preeminent. Your mobile app can be a great source to streamline marketing plans. By collecting mobile numbers, email addresses, social profile information to get started with an app (that have a utility), a number of relevant users can be targeted for marketing. With this information, you can send contextual messages, inform users about upcoming event, product or service easily.
8. Partnership with another App Works
If not the monetary benefits, this will surely help in popularizing your app. Collaborating with another app and taking promotional advantage from their platform is one of the finest ways to grow your revenue. And in this process, it's not mandatory to partner with a highly successful app. Working with an app that's moderately popular or successful can open ways to reach maximum number of potential users, who may then download your app individually.
What's your Strategy to Monetize your App?
Free downloadable mobile apps are a good idea when you think from a user's perspective. However, when it comes to defining a business model or explaining it to the investors, revenue is one of the most important element. While the extent of profit depend upon the potential of an app, a lot depends upon the marketing and monetizing strategy as well. Chose the most relevant way to earn through your app and let us know your experience in the comments below.