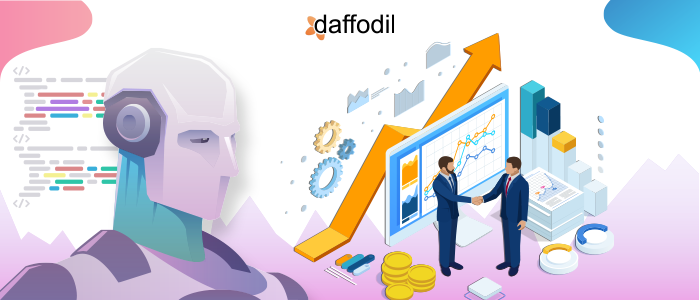 Fintech is one of the fastest-growing industries, owing to the rising penetration of internet users. There is a paradigm shift to mobile devices for performing financial transactions and related actions.
Behind the booming fintech market, several technologies are contributing to making the system fast, secure, and scalable. One such technology is Artificial Intelligence (AI). The AI in the fintech market is estimated to reach USD 35.40 billion by 2025 (Mordor Intelligence).
Artificial Intelligence is the simulation of humans in machines, programmed to think like humans and mimic their actions. How this ability of machines to act like humans can help the fintech market to evolve? In this article, we go through 10 applications of Artificial Intelligence, its subdivision technologies, and how they can bring a difference to the way processes and operations are managed in the fintech industry.
1. Digital Financial Coach/Advisor
Transactional bots are one of the most popular applications of Artificial Intelligence, irrespective of the industry. In finance, a transactional bot offers financial advising and coaching services. In short, a bot can be considered as a digital assistant who guides the users about their financial plans, spending, and savings.
Setting up a digital assistant for users or customers in the finance domain improves engagement and overall experience with the product/service they are dealing with. For building digital assistants, Machine Learning (ML) and Natural Language Processing (NLP), sub-divisions of AI are used.
2. Fraud Detection & Prevention
With third-party applications (like Whatsapp) integrating in-app transaction system, a rise is expected in frauds and unauthorized transactions. This has lead to the need for incorporating AI technology in the fintech market.
Machine Learning and Robotic Process Automation technologies are gaining a lot of traction in the fintech industry for detecting patterns that inform about fraudulent cases. For example, the insurance industry can use AI for identifying fraudulent claims. These automated analyzers and algorithms pay attention to the info that humans can give a miss.
3. Algorithmic Trading
Algorithmic trading uses a pre-programmed set of instructions to analyze data and make decisions, faster than humans. This is done through one of the most flexible AI technology- Machine Learning (ML).
The only requisite that ML models have is a huge amount of data to train the models, which can be current or historical market data. More is the data, easier it would be for the model to make precise decisions. One of the most advanced use cases of AI in fintech is that these algorithms detect patterns of data, faster than human traders can do. Investment companies today are making the most of algorithmic trading to make portfolio suggestions to meet investors' demand individually.
4. Automated Claim Processing
Consumerization is the impact that consumer-oriented technologies (such as smartphones and messaging apps) have on businesses. Leveraging the benefits of consumerization, businesses, including the insurance companies are investing in consumer-centric platforms to reach out to customers or interact with them where they spend a high percentage of their time. An example of it is an AI-powered chatbot.
Claim processing is one of the significant and tedious tasks that the insurance companies have. It follows the standard procedure of determining customer problems (sickness, accident, etc.), analyzing genuineness of the cases, activating the claim process, etc. The entire cycle is lengthy and complicated. The article shared below describes how chatbots (an application of AI) can help insurance companies to settle claims, faster.
ALSO READ: Why Insurance Companies are Betting-Big on AI-Powered Chatbots?
5. Client Risk Profiling
For the finance sector, such as banks and insurance companies, client profiling based on their risk score is very critical. For categorizing clients based on risk associated with their profile AI can be a great help. Using AI technologies like Artificial Neural Network (ANN), the classification models can be trained with historical or pre-labelled data to rate the client profile from low to high.
Using AI to Improve Fintech Services
The examples shared above introduces us to the potential of Artificial Intelligence in the fintech industry. To know how AI can empower your fintech organization to improve efficiency, reduce cost, and automate processes, set-up a free consultation with our technology experts.