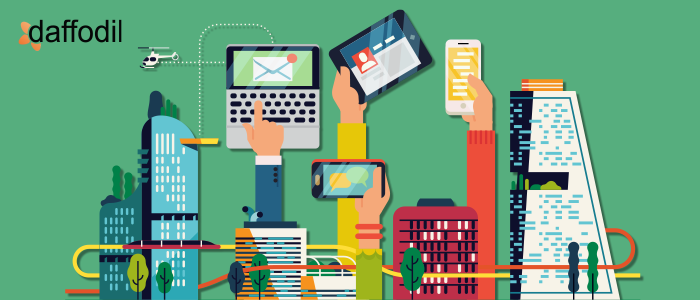 Technology is the key component to optimize and transform public services today. Government & public sector CIOs are using modern technologies to digitally transform the way public goods and services are rendered, maintained, and improved.
Moreover, public sectors are adopting the best of technology, such as Artificial Intelligence, Blockchain, Internet of Things, etc., just like their private sector counterparts. There is a constant strive to find out ways that can help to reduce the cost for services & facilities, create efficiencies, and improve social, economic, technological, & environmental outcomes.
Here, we are going to discuss 5 major technology trends that public sector CIOs can consider to attain sustainable development goals.
1. Enabling Citizen Engagement
Public sector CIOs should consider engaging the citizens in improving their services and facilities. For this, they can ensure that citizens can engage with them without making an appointment or visiting their offices. Providing 'anytime, anywhere' flexibility through self-service portals can help public sector organizations (PSOs) engage citizens in augmenting the quality of their offerings. For example, a self-service portal can be created to:
Claim benefits or apply for social programs
Pay taxes/bills, retrieve tax forms or documents
Report common problems related to trash, potholes, etc.
For such initiatives, custom software development services can be preferred by the PSOs. Enabling citizen engagement also keeps the citizens informed about their rights and ability to contribute to building smart cities. In this process, the PSOs have the option to engage citizens through different channels such as mobile apps, chatbots, smart speakers, etc.
2. Location Intelligence
Location Intelligence (LI) is the information and insights that are derived from geospatial data. It is used to visualize spatial data to identify trends and relationships to get actionable information. For example, the law enforcement team can visualize and measure criminal activities geographically and track the frequency, severity, and similarity of crime in an area. This can help them predict the areas with a high frequency of crime so that security allocation for public safety can be done accordingly.
Similarly, location intelligence can be used to improve healthcare services and research. LI can help healthcare organizations to identify disease epicenters, environmental impact on health, plan care delivery, etc. on time.
Just like law and healthcare sectors, different industries such as retail (site selection, urban planning), security (fraud and collusion patterns), infrastructure (agriculture management transportation planning), energy (climate change analysis, energy asset inspection), etc. can utilize location intelligence to its best extent.
3. XaaS instead of Legacy Modernization
Anything as a Service (XaaS) includes tools, products, and technologies that are delivered within an enterprise as a service through the internet. It includes a complete range of IT services provided on a subscription basis. Public sector organizations use the XaaS model as an alternative to legacy infrastructure modernization to have scalability and reduce the overall time to deliver advanced digital government services.
ALSO READ: 7 Effective Approaches to Legacy Software Modernization
4. Workforce Automation
Decreased productivity due to a high volume of work, insufficient tools to manage tasks, shortage of workforce are some of the pain points of the public sector. Process automation is one way the tasks performed by an average human being can be automated, thereby streamlining the priority & execution of key tasks. No matter for which industry a public sector organization is working, process automation can help to transform the way tasks are managed.
For example, an insurance company based in India automated masking of ID numbers stored in the image format of 500,000 customers with 98% accuracy. (Find out how)
Similarly, process automation can be adopted to create a virtual workforce in other sectors such as health, education, police, central government, etc.
5. Augmented Intelligence
Augmented Intelligence is an alternative concept to Artificial Intelligence that focuses on the assistive role of AI technologies rather than emphasizing the fact that it's designed to replace human intelligence. It's a partnership model of AI and people working together to enhance cognitive performance. There are different areas where public sector organizations can utilize augmented intelligence, such as:
Identifying fraudulent claim cases (finance)
Finding possible health code violations (healthcare)
Predicting traffic congestion and accidents (Transportation)
Listening to social media for quick notification of emergency scenario (Government)
Find out how Reserve Bank of India is using Artificial Intelligence to enable 8,00,000+ visually-disabled Indians in the identification of banknote denominations. (Read more)
Disrupting Public Sector with Right Technology Selection
Depending upon the industry, scale, and budget, a relevant technology can be selected by public sector organizations to improve the way facilities and services are rendered to the public. Daffodil Software has been a technology partner to various government and public sector organizations, helping them to transform their services digitally. To know how we can help you out to improve facilities and services for your sector, request a free consultation set-up with our technology experts.