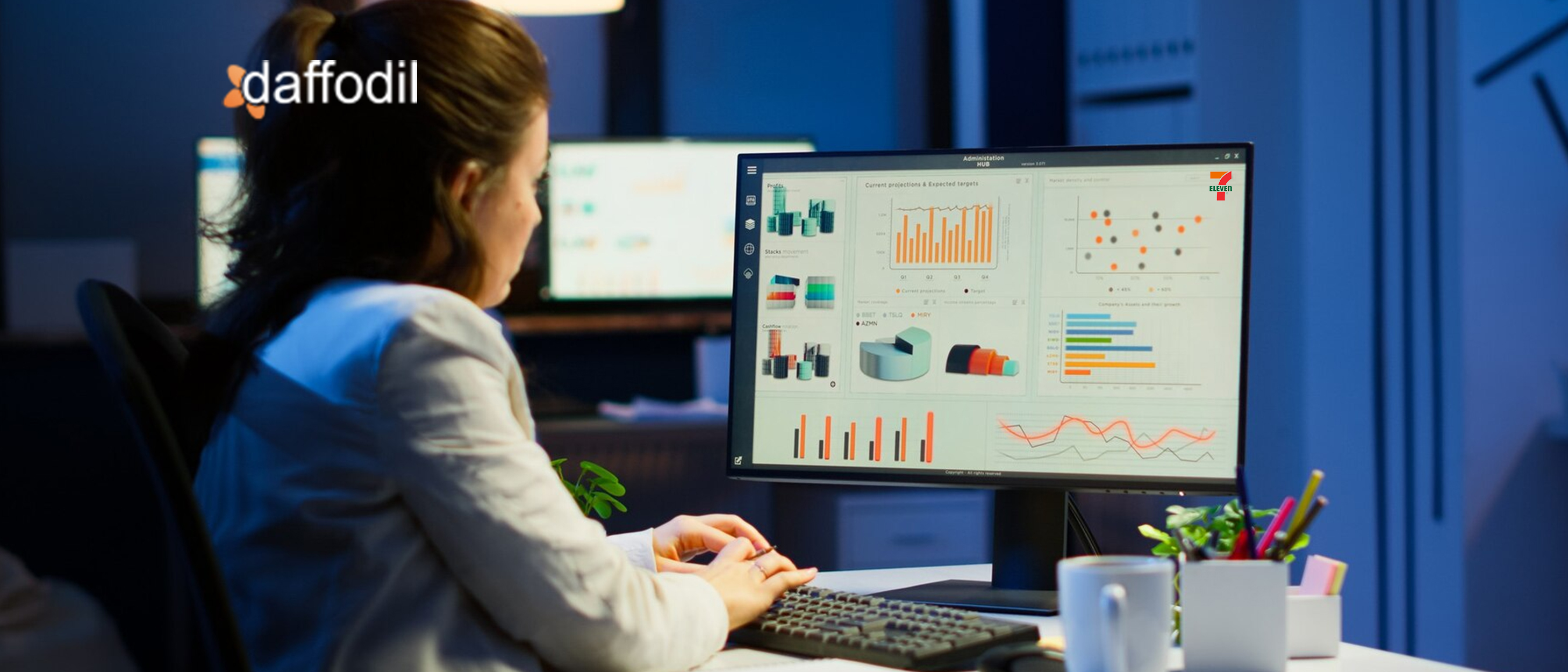 The heightening investment in the retail industry has been increasing the size of the convenience stores market in recent years. Leading the growth spurt is the 7-Eleven chain of 70,000 convenience stores spread across 17 countries in the Asia Pacific and Atlantic markets. The convenience store giant has been leveraging data analytics through a variety of approaches that ensure steady growth and proper convenience for its customers.
The international market for convenience store operators was valued at USD 2.12 trillion in 2021 with an estimated CAGR of 5.6% from 2022 to 2028, as per a report. This growth has been accelerated tenfold by several of the top c-store organizations investing in data analytics technologies. These are technologies meant to help them capitalize on the tons of customer data being generated across their web and mobile-based platforms.
However, in this article, we will focus on the time-proven accelerated data analytics strategies employed by 7-Eleven to provide tailored customer experiences to steadily drive sales and their market presence. We will be focusing specifically on retail analytics as the majority of data generated along 7-Eleven's business lines is related to the retail sector.
What Is Retail Analytics?
Customers of retail industry entities today expect to have a seamless experience when switching between digital platforms and physical storefronts. In addition to this, the digital-savvy patron requires their online platform interactions to be custom-designed to provide them with product recommendations that would benefit them specifically.
Retail analytics takes a granular look at raw data generated and stored by retail businesses, e-commerce platforms, and various physical systems maintained at storefront establishments like convenience stores. It creates an in-depth view of the retail business' overall health, sales metrics, and areas along the retail workflow that need improvement and repurposing.
If we take the example of a physical convenience store, retail analytics can help them know that coffee and energy drinks are usually bought earlier in the day leading them to display these products in the morning.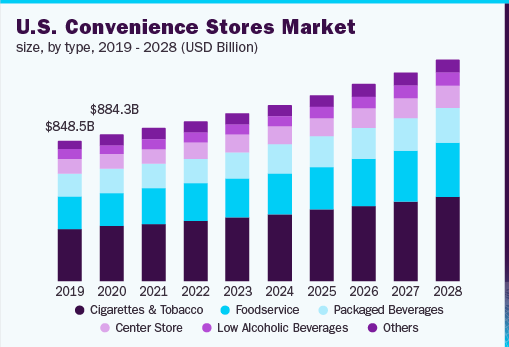 Image: C-Store Statistics in the US
With the right retail analytics approach, businesses can gain valuable insights into their day-to-day workflow to positively drive crucial decision-making. Tools, processes, and technologies involved in retail analytics help stakeholders leverage the following data points:
Inventory
Sales
Pricing
Planning
Merchant decision-making
By analyzing these data points, data analysts can create a larger subset of customer personas to position their products, as well as target their sales and marketing campaigns. Moreover, they can discover trends for campaigning, and predict business outcomes. All these capabilities help ultimately to drive holistic decision-making for driving enhanced sales and organizational growth.
Customer Success Story: Daffodil helps India's largest custom retailer use business intelligence to increase customer acquisition by 10%.
Retail Analytics Strategies Employed By 7-Eleven
Convenience store retailers like 7-Eleven have a lot to gain from the insights that the retail analytics solutions, tools, and strategies provide. These businesses can access timely customer behavior data, predict when demand for specific products may arise, adapt to market changes quickly, and design precise methods to position their products.
Here are three ways in which 7-Eleven capitalized on the benefits provided by retail analytics processes:
1) 7-Central
For many years, 7-Eleven had been maintaining legacy systems predominantly dependent on vendor technologies. Eventually, all of the datasets and business logic of these separate vendor-dependent subsystems led to the development of data silos.
The complex structure consisted of crucial inventory, customer, and pricing data distributed across systems that were barely compatible with each other. There were a variety of problems with this structure, namely:
Delays in extracting data from individual physical stores
Facing errors when attempting to retrieve data at appropriate times
Lack of real-time responsiveness
High operational overhead in connecting disparate systems
Bottlenecks in introducing new features or services
In a bid to alleviate these problems, the 7-Eleven IT innovation team built a unified platform that enables practical usage of data. This platform, dubbed '7-Central' or Seven Central, allows real-time data views to drive future technological strategies and initiatives for digital scaling. For example, the data points gathered are Point of Sale (POS) data from all 7-Eleven stores across a particular region into a single region-wide centralized repository in the cloud.
The centralized repository enables the IT team to respond to specific requests from individual departments. This is provisioned by a simple data mart that transports data in real time via an API. Every department and subsystem has the most current data points available to them and the turnaround time for decision-making has become much shorter.
2) Gulp Media Network
An AdWeek report revealed that about 74% of global brands with a digital presence have dedicated budgets for building retail media networks. This has led to the retail media market becoming a USD 50 billion market in 2022 and so, a large convenience store chain like 7-Eleven wanted to get ahead of this trend.
Gulp Media Network was the first retail media network to be introduced to customers of the convenience store industry. The end goal while envisioning this initiative was to develop a means for injecting funds into the various forthcoming programs that 7-Eleven planned to launch. Media campaigns associated with this initiative involved analyzing customer behavioral data to tap into various cultural references and fandoms to motivate purchases.
Primarily the motivation behind the development of this network was to connect 7-Eleven's customer database with third-party advertisers. Customer insights are aggregated by looking into demographic, behavioral, and region-based signals and customer loyalty data. This also helped increase the value that customers can extract from signing up for 7-Eleven's loyalty programs.
3) A/B Testing for Digital Promotions
7-Eleven annually spends hundreds of millions of dollars on promotions, making it crucial that it knows which ones are effective and avoids artificially reducing sales. Their team is able to quantify lift for their digital and in-store promotions with just one click thanks to the A/B testing function.
The method for evaluating the efficacy of promotions on digital platforms is rather simple: randomly divide users into control groups, decide who receives promotions, and then compute the lift. A/B split testing is a focus group testing method that helps retail firms figure out customer sentiment and preferences better.
Post-pandemic, physical focus groups were hard to come by which pushed 7-Eleven to utilize various digital A/B testing tools. This helped the retail chain precisely determine which of their promotion initiatives were most likely to succeed. Ultimately, 7-Eleven was able to invest in the most effective promotion strategies that customers were most inclined to get driven towards purchases by.
4) Predictive Analytics
An added benefit of centralizing the data aggregation initiative was that 7-Eleven was able to automate certain workflows that produced actionable customer insights. Furthermore, despite the condition of the data, be it structured, unstructured, or semi-structured, they were able to extract predictive insights from it.
Very specific target variables for the business such as cost optimization can be accelerated by analyzing predictive analytics. Pre-emptive cost optimization could be initiated by assembling unrelated data points about the annual financials of the retail firm.
The data points are fed into a series of Machine Learning (ML) algorithms to bring together the most relevant data points that drive predictions toward the target variable. Business analysts on the team were able to quickly pick up the intricacies of the predictive analytics solution as there was a negligible amount of coding that went into it.
5) Store-Level Reporting
Detailed reporting capabilities for understanding the performance of stores have helped bridge the gap between the corporate headquarters and franchisees. 7-Eleven solved this challenge by providing store managers with tablet devices linked with business intelligence tools for real-time analysis of metrics.
The way to increase the growth of their business, franchisees needed a comprehensive view of their overall performance, as well as an understanding of the purchase trends. This was done in two broad strokes:
I) Business intelligence dashboards: Customer purchase trends are displayed in granular views with the device-linked business intelligence tool in a way that is easily digestible by 7-Eleven non-technical staff employed at stores. Insights are gathered from the POS systems to get direct insights into what customers are actually buying at particular blocks of time.
ii) Planograms: A planogram is software that takes in data such as customer movement, shelf space, and product display positions through cameras to map out an ideal layout of a store. The employees take pictures of the shop floor regularly and deploy the images to a central repository where they are compared with default planograms to then identify potential sales opportunities.
All of this data is maintained at the corporate level as well as the store level to enable franchisees to be an active part of 7-Eleven's digital transformation strategies.
ALSO READ: How Augmented Analytics Can Help Businesses?
Retail Analytics Solutions Help C-Stores To Compete With E-Commerce
The e-commerce domain, which is largely occupied by powerful players such as Amazon, Alibaba, etc., has been eating into the customer base of convenience stores for several years. But 7-Eleven is a proven example of c-stores maintaining a strong foothold in the retail sector. With sufficient tools to leverage data and skilled interpreters of analytics, well-implemented retail analytics can ensure optimal performance for any retail entity. If you are looking for data analytics solutions for your retail business, you can book a free consultation with us.