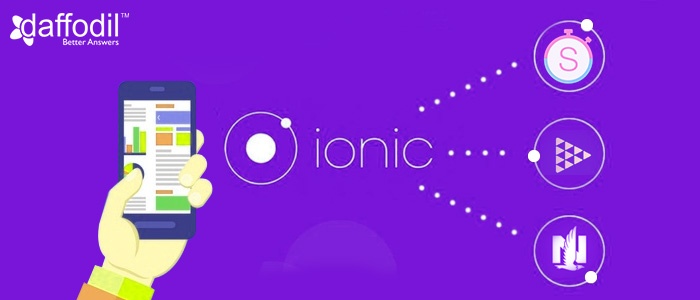 Hybrid apps are often looked on as a cross platform app development solution. They are essentially small websites that runs under a native wrapper. And therefore, instead of serving as a web page, hybrid apps work as a standalone application.
For hybrid app development, Ionic (HTML5 framework) is one of the most favorable choices available. With expertise over the web technologies (HTML, CSS, Javascript, AngularJS), developing a mobile app with amazing features, functionalities, and user experience is possible in Ionic SDK.
Although, the benefits of hybrid app development with Ionic are many, here, we exhibit them with some practical examples. The apps enlisted below showcase the potential that this hybrid mobile app framework has got. Take a look.
1. Pacifica: Cognitive Behavioral Therapy
Pacificial app for Android and iOS include tools that help its users to manage stress, anxiety, and depression, based on their cognitive behaviour. The app has got mood and health trackers, positive visualizations, thought analysis, and many such tools that make its users escape mental stress at a gradual pace. Moreover, there is facility for users to socialize through private groups and public communities.
2. TD Trading: Stock Trading App
The TD Trading iPhone app is redesigned using Ionic framework. The app allows its users to invest in stocks, shares, and funds. Users can track their portfolio, view their orders, and create a watch list to monitor the stocks.
3. Sworkit: Workout and Fitness Plan
Sworkit offers over 160 inline video demonstrations for yoga workouts, stretching, cardio etc., and that too, without any equipments. The app has been featured in the app marketplace (Play Store and App Store) multiple times under the Health and Fitness segment; having over 25 million downloads.
4. MarketWatch: Stock Market and Business News
MarketWatch brings the latest stock market, financial, and business news through their Android and iOS apps built using Ionic. Its users can have anytime access to the stock market quotes, company news, personal financial advice, and more, at the fingertips.
5. ChefSteps: Cooking Tutorials and Tool
Chefsteps is a platform to find recipes, video classes, and tools for those who love cooking. Through their Android and iOS apps, users can have anytime access to the video tutorials, read out recipes, and buy interesting tools that can assist users in cooking, all with HTML5, CSS, and Javascript.
6. Nationwide: Insurance and Financial Services
Nationwide is one the largest insurance and financial services companies. Its mobile app developed with Ionic enable users to pay bills, contact to the insurance agent, get an auto policy quote, start a claim process etc.
7. JustWatch: Streaming Search Engine
JustWatch is a search engine to browse through the TV shows and movies that are available on different streaming channels online. The Android and iOS apps for JustWatch are built with Ionic that currently enlists offers from Hulu, Netflix, XBOX, iTunes, Mubi, and may such online platforms.
8. Untappd: Social Discovery and Check-in Network
Untappd app enable its users to discover nearby craft beers and bars, check out trending beers, and see what their friends are drinking. The app facilitates sharing reviews, ratings, post activities on social media, create a wishlist of favorite beers, and a lot more.
9. National Museum of African American History and Culture
The Smithsonian's National Museum of African American History and Culture (NMAAHC) app makes its users familiar with museum stories, prior to their visit. The five set of stories exhibit the inspiration behind design, museum's galleries, mentions about impact of African Americans on nation's capital etc. Alongside, users can find out directions and museum hours, gift shop hours, video content, and other related information about the museum.
10. Cryptochange: Cryptocurrency Tracker
Cryptochange app maintains a track of top 100 cryptocurrencies. This app built with Ionic also shares the development history of each currency, along with their volatile value in every hour, day, and week. The app offers the option to buy cryptocurrency as well.
Hybrid App Development with Ionic: Getting Started
This list of apps built with Ionic exemplify its potential to develop mobile apps of different genre. So if these Ionic app examples have convinced you to build your next mobile with it, then hire Ionic app developers who are experienced, professional, and acquainted with the most updated technology.