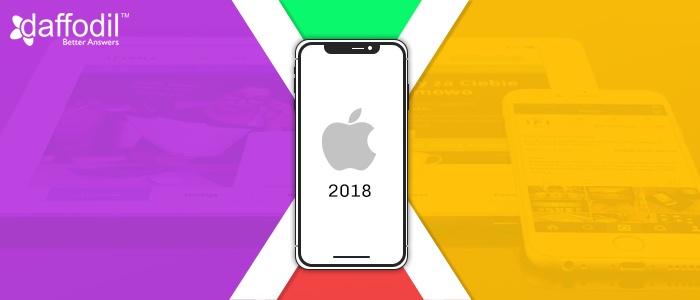 The duopoly of mobile Operating Systems is quite transparent. With over 46.68 million iPhone shipped worldwide in the fourth quarter of 2017, Apple is the second-largest smartphone vendor in the world.
Keeping these numbers aside, there are some logical reasons to nominate iOS app for businesses as well. However, besides building an app for popular OS and devices, it is important to ensure that they stand out. This can be made possible by adopting the right techniques to engage users (technology, design, and unique features) that consequently converts.
Considering the iOS app development requirements that we receive the entire year, Apple's announcements and launches at WWDC 2017, and the new kind of apps that are going viral, we have cumulated a list of trends that will be followed in the year 2018.
1. iPad App Development will get Attention
In the fourth quarter of 2017, iPad sales generated more than 4.83 billion U.S. dollars in revenue.
As of January 2017, Apple's App Store contains more than 2.2 million iOS applications, 1 million of which are native for iPads.
These are a few of the many facts that estimates rising demand for iPads and compatible apps for it. Year 2018 is aligned to have more calls for iPad app development for enterprises.
2. Cross Platform Native App Development
Businesses are understanding that it's hard job to choose between Android and iOS app development. From startups to fortune 500, companies are betting on cross platform app development.
"Cross-platform mobile development tools will continue to drive growth in developer tools markets," according to Al Hilwa, program director for Application Development Software at IDC.
Cross platform native app development platforms like React Native, Xamarin are triumphing over the native and hybrid apps in terms of performance, cost, and UI/UX. That is why, we could see a number of enterprise apps built for cross platforms in the year 2018 and forth.
ALSO READ: Reasons to Choose Xamarin for Cross Platform App Development
3. Augmented Reality Apps with ToolKit
Apple introduces ARKit for developers, which is a framework to create AR experiences for iPad and iPhone. The Augmented Reality framework by Apple enable apps to interact with the real world in a number of ways. While the Toolkit will be compatible with iOS 11 and above editions, there are plethora of AR SDKs for developers out there that can augment user experience by taking the apps beyond screen.
Moreover, with the launch of iOS 11, the new app store update has got a winning response. The app categorization has made it extremely easy for users to discover an app of their choice. And the Get Started with AR section will let the users easily filter out the AR apps amongst the millions of apps in the store.
4. Intelligent Apps with Core ML
With some amazing Machine Learning models, Core ML will enable developers to build intelligent apps with just a few lines of code. The ML models include some of the amazing features like barcode detection, face detection, object tracking, face tracking, and more. This Machine Learning framework by Apple has support for iOS 11 and for rest of the editions, developers can choose from some third party Machine Learning frameworks. In the following year, we could see more intelligent apps making entry to the app store, by virtue of so many frameworks available to aid developers.
5. More Apps to Work with WatchOS
Apple launched the latest version of WatchOS 4 on September 2017, which promises to make the apps faster and responsive than ever. Moreover, the new WatchOS allows more apps to run in the background, other than just workout or health apps. Apps related to navigation, tour guides, public transit etc. can be developed and integrated. Therefore, the year ahead could see more apps that can have integrated functionality with Apple Watch.
Getting Started with iOS App Development
iOS 11 has a lot for the developers and users to explore in the year 2018. With the new iOS offering so many possibilities, we could see businesses investing more in apps for iOS devices (iPad, iPhone, Apple Watch).
To stay ahead in the competitive arena, now is the time to get started with iOS app development with latest trends. For any assistance to execute your app idea, we recommend you to check out our iOS app development services.