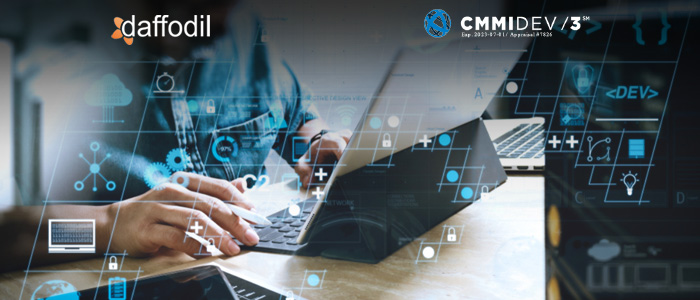 CMMI (Capability Maturity Model Integration) is a process and behavioural model that assists organizations to streamline their processes efficiently and encourage productivity, promote efficient behaviour to decrease risk in software, product and service development.
The CMMI was developed by the Software Engineering Institute at Carnegie Mellon University, initiated by the U.S. Department of Defense as part of the CMMI project. The aim was to create a process improvement tool that could measure the ability of an organization to have continuous improvement in specific areas. It could be used for projects, divisions or organizations.
What is CMMI Maturity Level 3?
CMMI Maturity Level 3 is one of five "Maturity Levels" in the CMMI. Level 3 is known as the "Defined" level. Maturity Level 3 is achieved when an organization successfully completes a SCAMPI A appraisal (Standard CMMI Appraisal Method for Process Improvement).
Maturity Level 3 verifies that:
That Daffodil's processes and quality are at par with the globally accepted standards and nomenclatures

That Daffodil is more proactive than reactive in tackling risks and

That Daffodil operated abiding by the process guideline that gives guidance for its world-class processes
What does it mean for our customers?
Daffodil Software was recently appraised at CMMI Level 3 maturity which indicates that the organization is performing at a "Defined" level. CMMI is not only the maturity rating received by Daffodil Software but it tells the potential customers that if the company is being given a project, they will complete the work in the allotted time and at the price quoted for the project.
Let's view all the benefits of CMMI certification from the customers perspective
Stability
CMMI imparts proven approaches that allow organizations to drive tangible benefits in the lines of improved project predictability and stability. Daffodil reaps the key benefit of the CMMI model implementation as the model helps us to enhance the focus of the organization's executives on consistency and stability in delivery. This means we are capable of delivering higher quality products due to constant quality control on each of the development steps.
Cost-Effectiveness
CMMI driven processes are also cost-effective. These processes help Daffodil in early and effective error discovery, which in turn reduces the cost of correction of the errors, helps in effective management of changes which reduces re-work, reduction in variability and improved cost predictability. Daffodil is able to lower costs due to a more productive and efficient way of creating a product for its customers.
Performance improvement
The purpose of CMMI is to improve the performance of the current organizational procedures, processes and standards and not to redefine them. It helps Daffodil to improve its capabilities so that we can consistently and predictably deliver the products and services which our customers desire for a price they are willing to pay. This in turn results in better visibility of the product life cycle and development activities due to better-organized documentation. Daffodil believes in keeping transparency with its customers. There's also better communication between the client and Daffodil due to established rules and procedures
Process Improvement
A CMMI instigated project will establish a framework that will standardize the business processes. It will ensure that the business is operating within the best practices, giving the employees the mobility they need and even if they decide to leave the organization, they won't be able to take critical business information away with them. This ensures that Daffodil protects its customer's data from getting into the wrong hands.
Market Demand
Many companies are using CMMI for incorporating best practices and obtaining benefits from it. Companies are doing so to meet customers demands and tackle competition. The everyday growing popularity of CMMI in the market is also a huge reason for the adoption of their practices.
Conclusion
CMMI was initially developed for software, however, the latest version is much less specific and can be applied to software, hardware, and service development across all industries. Without the CMMI model of how an organization should work, which function it needs and how these functions would interact, it is difficult to improve. The model gives the organization an understanding of the elements individually and how it needs to improve and how to achieve that improvement. If you are looking for a software development services do visit us for a FREE consultation.