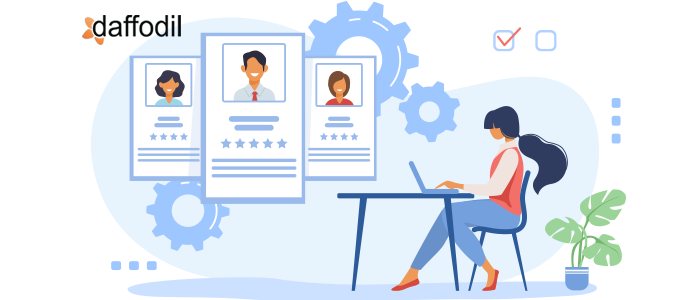 In a ceaseless effort to drive efficiency and better employee management, organizations often pursue tasks that might just be spreading themselves too thin. This may impact the overall output quality and result in possible high costs.
Now, every organization: mid-level or a big corporation needs people management software. But deploying a flawless Human Resource Management Software (HRMS) to manage recruitment, onboarding, workforce, payroll and performance can be a tall order. So what's the solution when an organization finds it challenging to pick an HRM software that meets its needs?
A well-thought-out, custom HRMS can provide effective access and maintenance of employee records with auto updates. A customized HRM comes as a dependable and smooth tool dedicated to your company's HR requirements. It increases productivity by streamlining the HR, admin and operations teams.
What are the benefits of choosing a custom HRM software?
Every company has its own HR needs and with that in consideration, you can build your very own customized HRMS. With tailored features and tools, there are advantages in using a custom HRM software. So what gives you an edge while using a custom HRM software?
Centralized information: The all-in-one solution is probably the best advantage that an HR software solution can provide you. Employees can fill in and update their information while tracking their daily tasks and productivity saving time of the HR and managers.
Branded and unique: The primary thing that any organization should seek in a custom Human Resource Management software would be its own branding. A custom-built design and interface helps promote the image and culture of the company. Employees feel a sense of belonging to the company while using the app or tool built according to your brand's design aesthetics.
Insights and reports: Get access to insightful custom reports. You can apply filters to have an overview of new joiners, employees leaving, average leaves utilized, attrition rate and more.
Better equipped for tasks: Made-to-order HRMS save time enhancing the daily workflow and increasing the output across departments. It gives organizations better control in accomplishing tasks and more bandwidth to engage in other projects.
Employee Lifecycle at your fingertips: A single-access repository for relevant employee information from personal, educational to professional details. Avail the tools to go through the employee lifecycle including the time of joining, duration of stay, resignation to maintain a thorough work lifecycle.
Use what you need: Your needs are prioritized in the customized software, of course. Work freely on the features and tools that you require the most. No more wasting time on cumbersome software that doesn't cut it for you. Access tools that add value in managing your people assets, fit to your standard.
Efficient document management: Forget about the manual process of documenting the employee details. Get all the documents under one tab and access them anytime. Upload educational certificates, previous employee records, identity proofs and more.
Also Read: The correlation between productivity and custom HRM software
Latest trends in the HR Management tools
Human Resource software has come a long way from being a mere employee assessment tool to a robust performance management platform. The current trends in the HR management tools are nothing like what you would've expected until a few years back.
From gamification to mobile management, here's what to take note of while choosing to go for a custom-built HR tool:
HRM gamification, anyone?
Think of the otherwise mundane processes such as recruitment, performance assessment, employee motivation, monthly targets and incentives getting a major uplift. Major organizations are breaking through the clutter and adapting to the gamification of Human Resource Management tools to encourage and engage employees more. This not only will aid in reaching the company's goals in a far fulfilling manner but also increase staff participation.
Besides, it is a great option to forge stronger bonds among employees strengthening interdepartmental relationships. Companies set up goals with gaming techniques encouraging healthy competition among peers with a real-time review system followed by rewards and weekly to monthly leaderboards.
Mobile HRM tools
This is a common technology in practice now. With everything available on smart devices, HRMS had to make their way to our phones too. Employees at many organizations mark their attendance via phones using GPS-enabled technology. Not just this, applying for leaves and tracking manager's approval is all being done on smartphones these days. Department heads have it easy too with an ecosystem that is accessible from any device.
Cloud-based HRMS
Many companies are going for cloud-based HRM software including payroll and employee management tools. This is another trend and can be found in many organizations today.
Corporate learning tools
To motivate and appeal to a certain younger workforce, organizations are deploying various visual communications encouraging self-development and learning. Companies are paving the path for micro-learning platforms like Artificial Intelligence (AI), augmented reality (AR), virtual reality (VR) for training and self-learning purposes.
Focus on employee health
As employees are the real assets of any company, it is imperative to incorporate employee physical and emotional wellness in the current HRMS. The new range of HR tools monitors and assess employees' overall fitness levels tracking their daily activity and performance charts.
Also Read: Why Build your Own CRM Software?
Things to remember before choosing a custom HRMS
Although there are more pros than cons of custom-built HRMS, however, here's a quick glance at what to know before you consider a customized Human Resource Management software:
-Know the headcount of your company and analyze what features would be ideal for the number of people to be managed.
-Explore the readymade HRM software in the market and find out the features that are unavailable and indispensable to you.
-Does your organization focus too much on a personal brand image? If yes, then you know which direction to head to.
-Assess the time and team members you're willing to allot in the development process of the custom software solution
-Have an in-house technical support team ready to fix the glitches when the need arises.
-Both mobile and web applications are needed in this day and age but you decide which one do you want first.
Conclusion
The right HR software can not only help manage your employees better but also streamline your workflow. From Full and Final (F&F) settlements to employee data transfer, a customized version of HRM can make your work life pretty smooth. Know your options well before you make a decision.
And in case you've realized that a regular Human Resource tool isn't sufficient for your requirements, then it's time to invest in a multipurpose, custom HRM software. Whether it's performing daily HR tasks, accessing employee information or tracking payroll processing, opt for a free consultation, where our team will evaluate your business goals and provide you with the best solution.