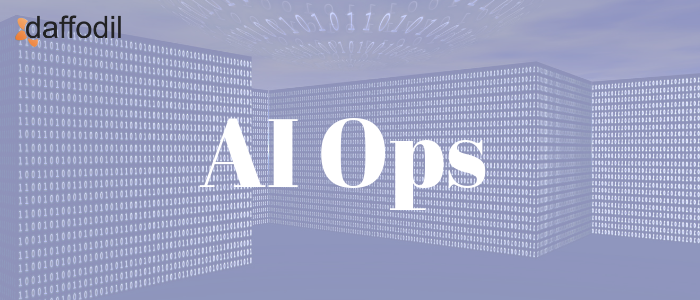 The IT Operations team capture, analyze, and act upon large volumes of data. To prevent, identify, and resolve the high-severity outages associated with this data, businesses these days are turning to Artificial Intelligence for IT Operations (AIOps).
AIOps is an umbrella term given to the usage of machine learning, big data analytics, and AI technologies for automating the identification of IT-related issues and their resolution. AIOps utilizes the data collected from application and infrastructure to monitor assets and have visibility into dependencies within or outside of the IT systems.
What's Driving the AIOps Adoption?
Speed, scalability, and complexity are three major pain points of IT operations team. AIOps aims to overcome these challenges by:
Managing Complex Infrastructure
Businesses nowadays are using different IT environments, which may include third party services, SAAS integrations, cloud, etc. Infrastructure optimization techniques that work on traditional infra won't work in dynamic environments like cloud. At times, managing these complexities manually is not an option and thus an automation criterion is required for managing physical/cloud infrastructures.
ALSO READ: The Ultimate Guide to Infrastructure Optimization on Cloud
Faster Response to Errors
IT professionals address hundreds of problems in a day. While they might fix one non-critical system error, chances are they fail to pay attention to another critical event (like ignoring an unusual download). Here, automation helps in the detection of such unusual scenarios, notify the operations team, and help in faster fixing of error, unlike humans do.
Handling Large Size of Data
As the data increases in size, it becomes difficult to track all the events and their consequences. And with the introduction of new services and channels like APIs, IoT devices, mobile applications, analyzing and acting upon data becomes a challenge.
Characteristics of AIOps that can Help
1. Event Noise Reduction: Machine learning technology is known for its cognitive learning ability. With behavioral learning of historical and real-time events, the operations team can identify the patterns of events and take action around the events that fall outside the band of normalcy. Such an approach not only reduces massive noise around the events but also ensure that critical events are addressed on priority.
2. Predictive Event Alerting: On-time identification of an problem is as important as fixing it. ALOps applies advanced analytics to historical and real-time performance metrics so that any anomalies in the performance are caught and fixed before the user acknowledges it.
3. Probable Cause Identification: AIOps platform allows deploying correlation analytics. This allows the team to correlate monitoring data points like events, monitoring, baselines, anomalies, etc. so as to identify the root cause of the problem faster and fix it as soon as possible.
Does your Business need AIOps?
Artificial Intelligence for IT Operations is preffered by businesses that use DevOps, cloud computing, and have large, complex data to deal with. With AIOps, the development team gets an insight into the IT environment, ensuring that the operations team manages to implement changes on time. AIOps also aids in DevOps montoring that eliminates the risk, automate processes, and promotes communication within teams to work around a problem on time.
Need technical help to implement AIOps for your business? Schedule a 30-minute free consultation with our DevOps expert, Gaurav Sharma to how to get started with it.