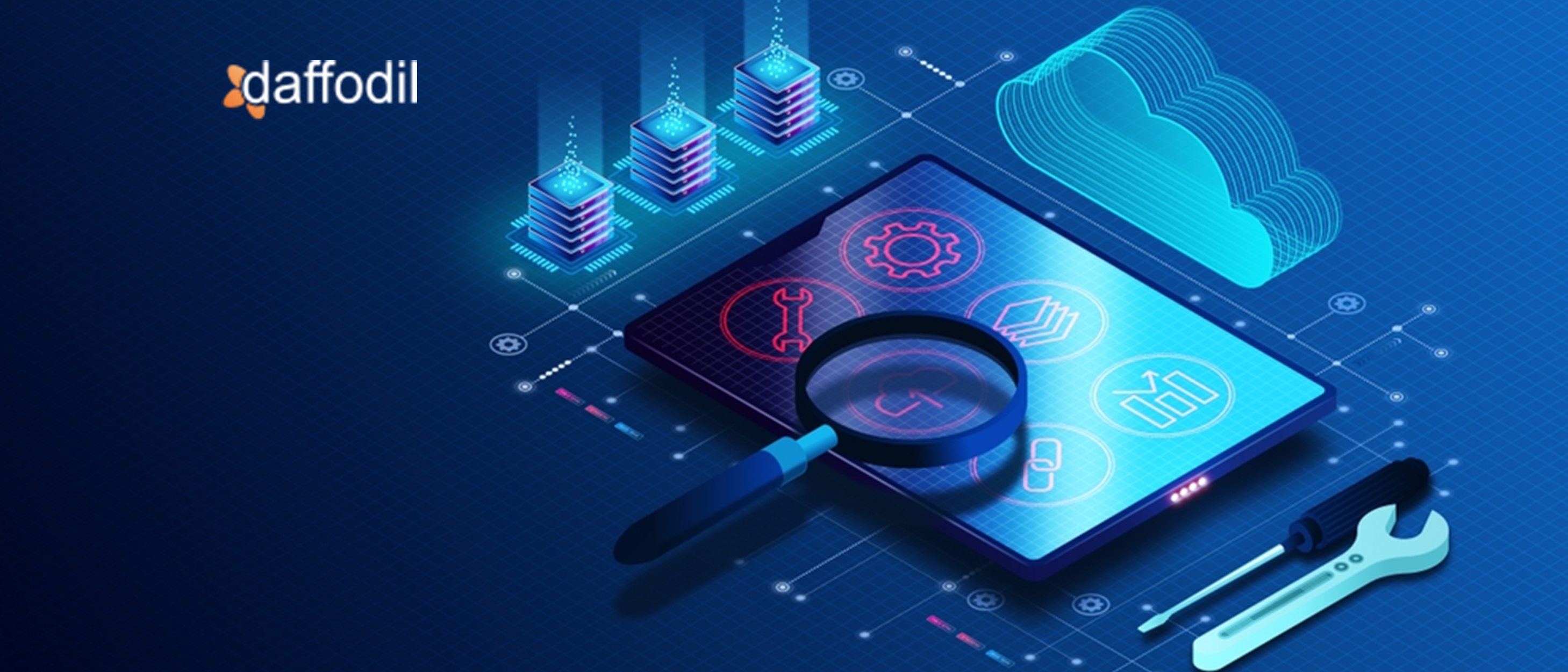 We are living in an information-driven era. Millions of bytes of data get generated every second, and it becomes more challenging for organizations to keep vital information, software, and operating systems up and running on conventional in-house servers. That's where cloud computing services come into play.
Cloud computing, popularly referred to as the cloud – has remodeled the way we store and exchange our information. It is a virtual infrastructure that enables ubiquitous access to shared pools of servers, storage, and software, and has opened a whole new dimension of the internet.
According to Flexera, 93%of enterprises say they use cloud services because of their unparalleled business advantages such as scalability and agility, and many anticipate that it will remain an area of investment for the foreseeable future.
When your infrastructure is in the cloud, you need to keep an eye on everything. With increased cloud usage comes a greater need to monitor performance. That's where cloud monitoring tools and services come in.
In this article, we'll list some of the most sought-after cloud monitoring tools.
What is Cloud Monitoring?
In essence, cloud monitoring uses automated and manual tools to manage, monitor, analyze, and assess the performance of your cloud computing infrastructure, architecture, applications, and services. It helps you observe and track response times, resource availability, performance, as well as identify potential issues. These tools play a critical role in detecting the loopholes and vulnerabilities at the very initial stage and also ensure the safety of the network.
Benefits of Cloud Monitoring
Cloud monitoring improves visibility across the infrastructure and enables servers and applications to operate smoothly. It helps enterprises offer real-time insights, identify potential risks, and resolve them.
Below are a few benefits of cloud monitoring-
1. Cloud monitoring provides one unified dashboard that gives a holistic view of your organization's infrastructure and keeps an eye on every activity, transaction, and communication across the network.

2. It protects the organization's sensitive information and customer data from any cybersecurity threats or system downtime.

3. These solutions are cloud-based hence, have no limits and can easily scale across organizations of all sizes.

4. These cloud monitoring tools are compatible with multiple smart devices, including desktop computers, laptops, tablets, and smartphones, therefore you can monitor, manage, and assess system and application performance from anywhere in the world.

5. Cloud monitoring tools help in providing a better customer experience as these solutions are virtually disaster-proof. It prevents the system from experiencing service interruptions when any problem arises hence, less downtime and fewer system errors.


There are various cloud monitoring tools available in the market but you need to identify the right solution depending on your use case. Once you identify the right option, you can start creating a more secure, productive, and cost-effective cloud infrastructure.
Let's dive in and check out some of the best cloud monitoring tools as follows: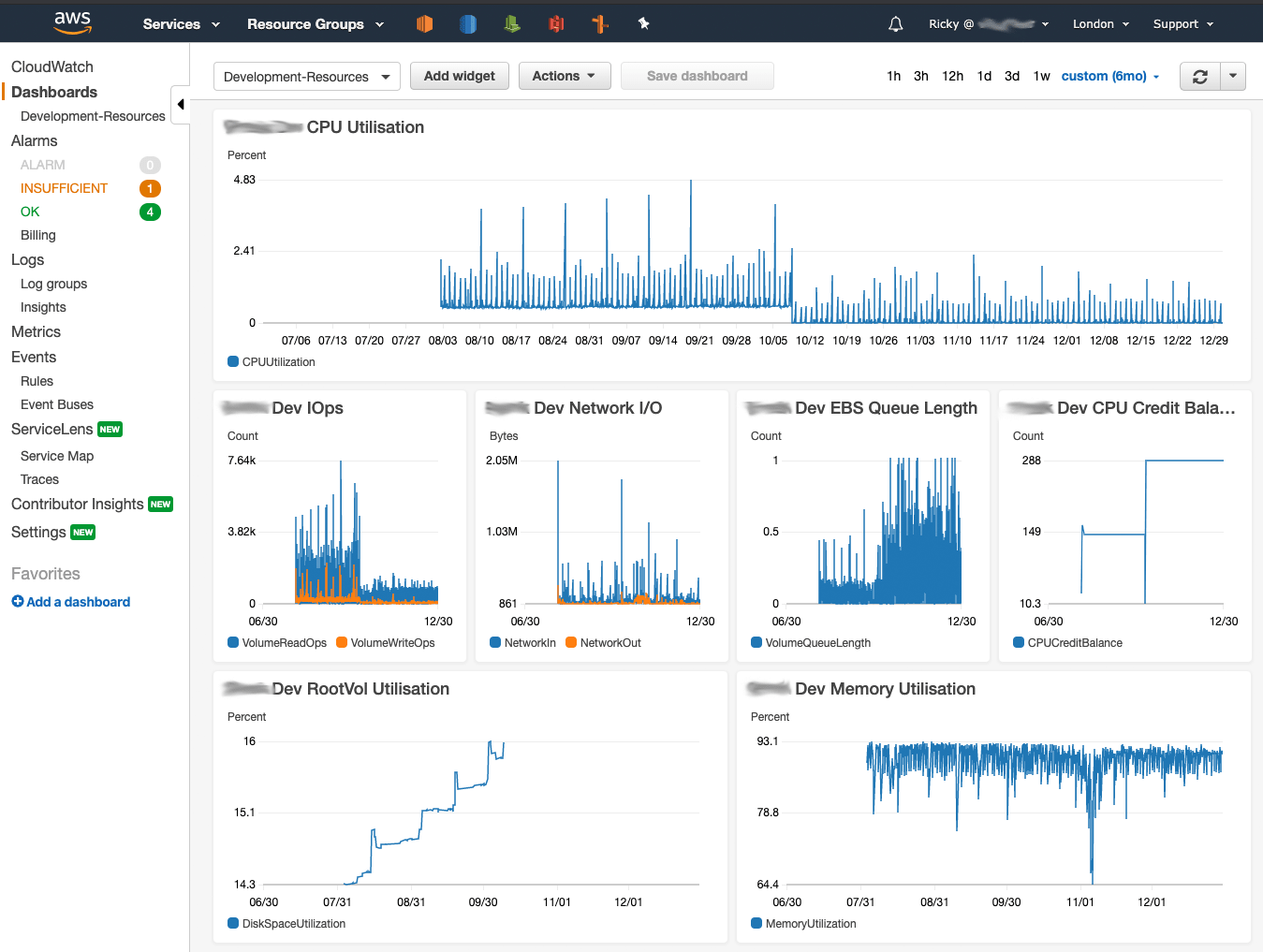 Image: Amazon Cloudwatch
If you're using Amazon Web Services(AWS) then Amazon Cloudwatch is a must-use tool. It includes various features for data collection, automated actions, data analysis, and security. It is an excellent monitoring solution for cloud management strategies.
1. It doesn't require any additional software installation.
2. It lets you track metrics on Amazon EC2 instances and also gives you insights into your system's overall health and performance.
3. It lets you store log files, view graphs and statistics, and analyze data using powerful visualization tools.
4. You can use the alarm to detect Amazon EC2 instances that are underutilized or unused hence, enabling you to respond quickly.
5. They are reliable in case of any incidents such as when Amazon Web Services went dark in March 2017, and they provided full coverage.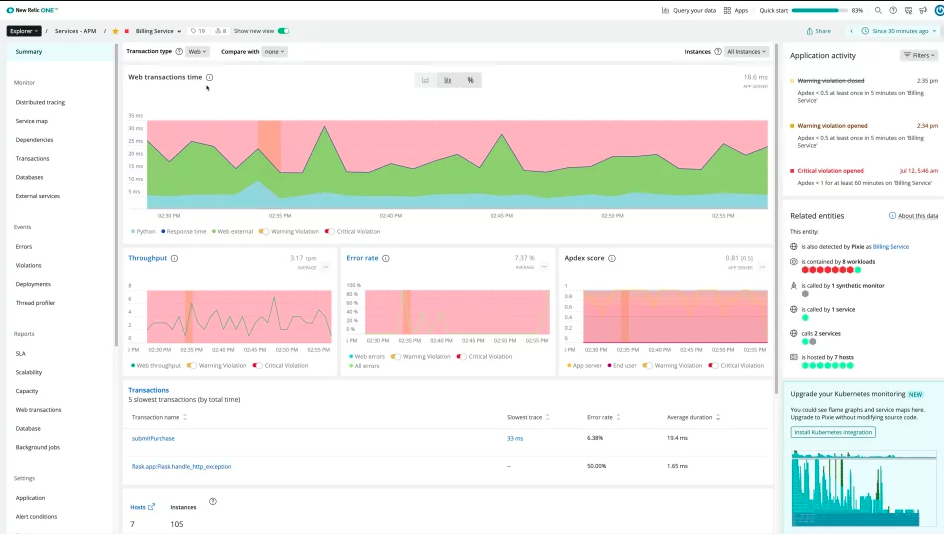 Image source: New relic Dashboard
New Relic is a cloud monitoring solution that introduces a user-friendly approach to monitoring your cloud services, applications, infrastructure, and logs. It is available as Software-as-a-Service (SaaS). Once installed, it can be controlled easily because of its easy-to-use and interactive UI.
1. It supports integration with the most popular cloud service providers such as AWS, Azure, and Google Cloud Platform.
2. It analyzes business-level metrics and connects with the performance to correlate them together.
3. It supports a huge range of common programming languages.
4. It provides rich visualization like graph metrics, logs, and NRQL queries.
5. It also provides an error analytics tool for quick and efficient issues analysis, like site errors or downtime.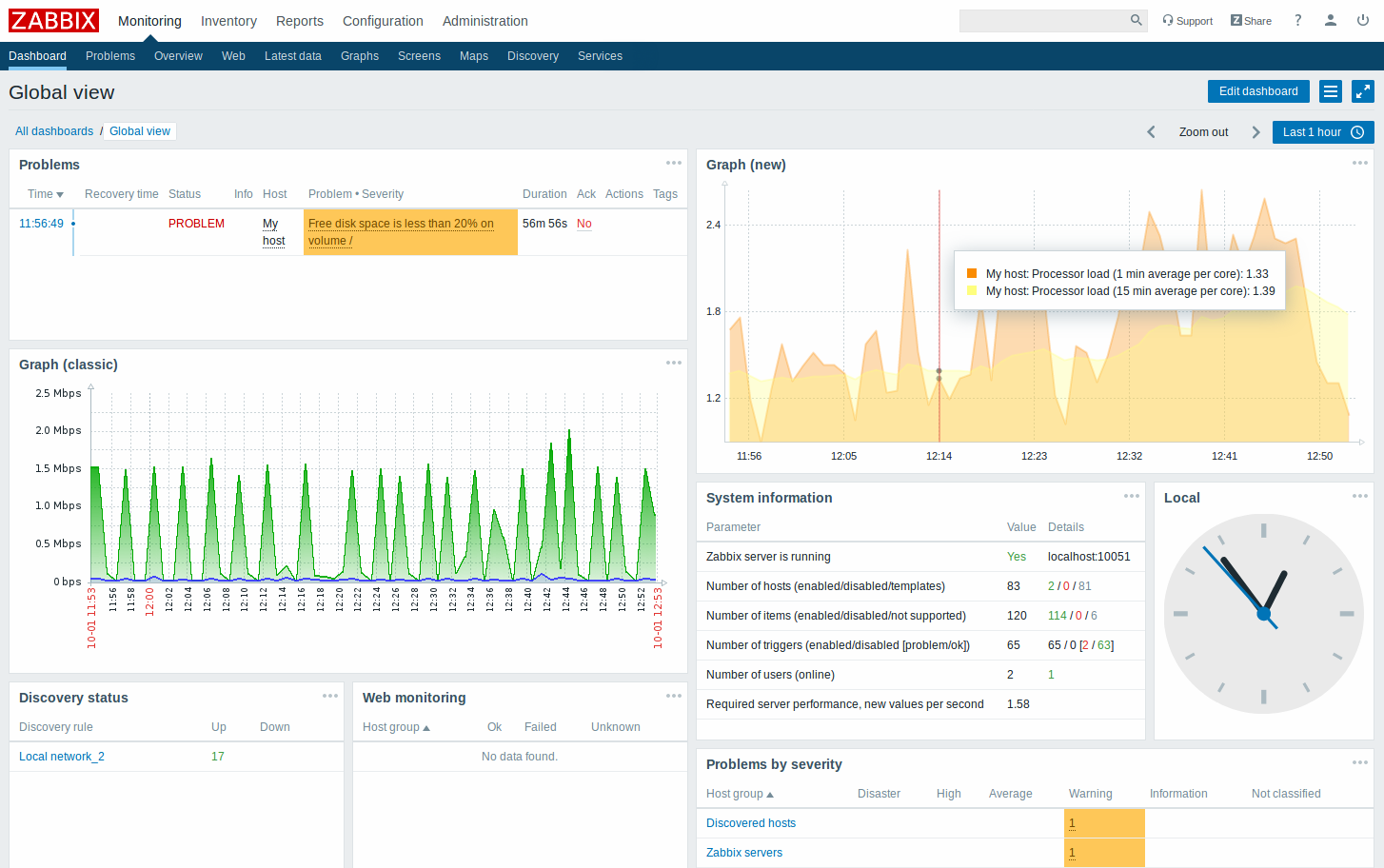 Image: Zabbix Dashboard
Zabbix is a free and open-sourced cloud monitoring tool providing all that is needed to get full visibility into your website's health, application performance, and infrastructure. It is capable of monitoring thousands of servers, virtual machines, network or IoT devices, and other resources.
1. It is a comprehensive tool to use because of its useful techniques such as agentless monitoring, calculation and aggregation, and end-user web monitoring.
2. It provides real-time monitoring to large-scale enterprises and small businesses.
3. Its multi-system, small-footprint agents allow you to gather key performance metrics.
4. It is multi-lingual and has a flexible UI with dashboarding capabilities and geolocation support for large organizations with data centers spread around the world.
5. It uses template-based host management and auto-discovery for monitoring large environments hence, improving their speed and accuracy.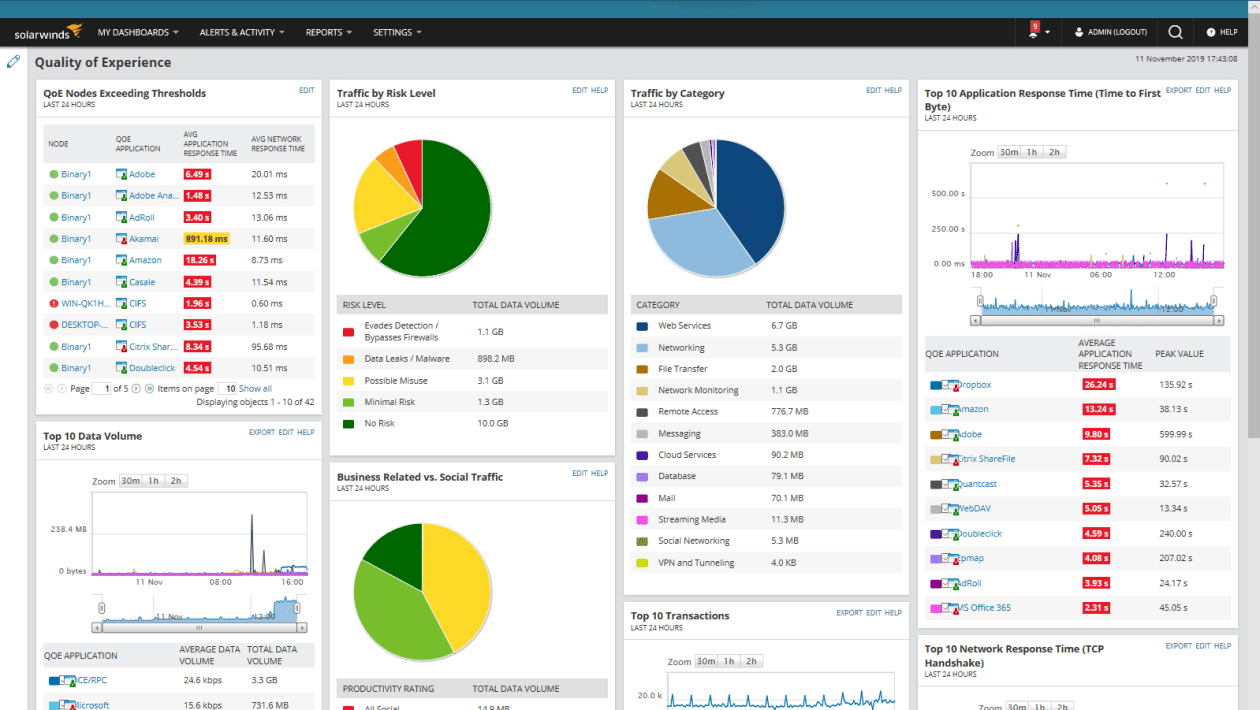 Image: Solarwinds dashboard
Solarwinds is a full-stack cloud performance monitoring platform with comprehensive security and optimization services to keep your cloud apps up and running. It is available in the SaaS model and has the capacity to monitor hybrid and multi-cloud environments.
1. It offers an interactive virtualization platform that simplifies the process of receiving valuable insights from the thousands of metrics collected from IT environments.
2. It is very feasible and supports Azure and AWS cloud services.
3. It also monitors real-time users to examine their experience with the website or web application.
4. If any issue is found, it drills down to the root cause and automates corrective actions.
5. It analyzes performance stats and supports distributed tracing, custom metrics, root cause analysis, and log aggregation.
6. It has a tool called Virtualization Manager that makes predictive recommendations to improve the performance of your virtual environment.

Image: Appdynamics dashboard
AppDynamics is a cloud-based network monitoring tool that has been acquired by Cisco Systems. It delivers rich performance data and learning and easily adapts to any environment. It works in particular layers depending upon the approach of the enterprise toward application intelligence.
1. It supports various cloud platforms like AWS, OpenStack, HP cloud services, IBM, and many more.
2. It shows complete transparency between the system components and business transactions and also connects application performance metrics with infrastructure data and business-level metrics.
3. It provides comprehensive information about the environment setup, for example, JVM application startup parameters, JVM version, etc.
4. It is more focused on large organizations providing information about status, utilization, alerting, and flow between each element.
ALSO READ: Multi-Cloud Management: Challenges, Tools, and Best Practices
Cloud Computing- The Dominant Force Across Organisations

Cloud computing in enterprises has changed the way IT practices are carried out and it is predicted to have the most tangible impact on businesses by 2025. Almost every established enterprise as well as tech start-up has already shifted to cloud services because of its flexibility and scalability.

It is never an easy task to keep your cloud environment safe and secure, from cybersecurity attacks, threats, system downtime, and IT failures. So, in order to visualize and track the performance of cloud services or applications, you can utilize cloud monitoring tools or solutions to ensure a healthy cloud infrastructure.

If you're looking for a technology partner that helps you design cloud-native applications architecture, remodel your cloud infrastructure, reduce the cost of your IT ecosystem, and create a resilient IT environment then Daffodil's cloud services might be the right solution for you.