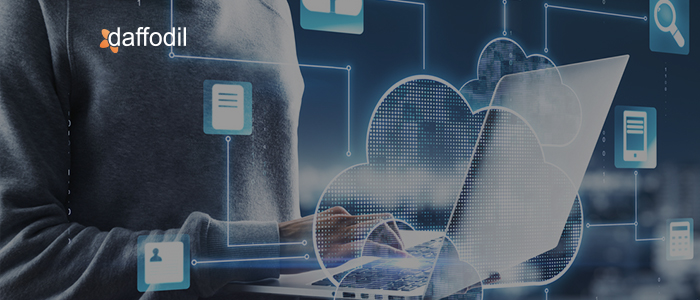 Migrating to the cloud is the new normal for businesses of all sizes. Based on availability, compliance, performance, sovereignty, and other technical factors, businesses are making a choice for a relevant cloud services provider.
However, in the case of cloud services providers, there is no one size that fits all. And this gave rise to a new cloud strategy named "Multi-Cloud", which is a mix of two or more cloud service providers. In this case, a business utilizes the strength of individual cloud computing platforms and thus has multiple cloud providers managing its business.
The biggest challenge that a multi-cloud strategy brings along is of optimizing the cloud platforms. Managing cloud resources, integration or migration flexibility, pricing policies, backup and restore provision, compliances, and support are some of the factors that are looked after for optimizing the cloud platforms.
Optimizing multi-cloud platforms is a complex job for the IT team. Ensuring comprehensive visibility into multiple environments, consolidating and prioritizing fixes, performing audits, discovering assets to support business needs, etc. are the tasks for managing multiple cloud platforms. To support IT professionals in this undertaking, multi-cloud management platforms are needed.
What is Multi-Cloud Management?

Multi-cloud management includes a set of tools and practices that helps in tracking, securing, and optimizing more than one public cloud platform and its services. Having a multi-cloud strategy brings in the following benefits:
Reduce complexity for IT teams: Multi-cloud management platforms offer a centralized dashboard to visualize the workloads across multiple clouds. Better visibility gives the team clarity about what's running where, why, and when in a complex environment.
Ensure improved cloud security: For every business, it is important to keep the security policies consistent. In a multi-cloud environment, this becomes tricky for the IT team to keep a check on all potential security threats.
In a multi-cloud deployment, it is necessary to be proactive rather than reactive. In multi-cloud management platforms, there are features such as security monitoring and automation that help the IT teams to keep a check on security alerts and fix them.
Significant cost saving: Optimizing cloud deployments is an essential aspect of managing the environment. Analyzing resources (utilized, idle, aging), their performance, and output enables the IT team to keep the overall cost in control.
Increase Availability: One of the prime factors for choosing a cloud is availability. If the cloud environment is not optimized, it can't provide the expected availability.
Oftentimes, a multi-cloud is used interchangeably with a hybrid cloud. However, there is a significant difference between the two. In a multi-cloud environment, a business utilizes multiple cloud services from different providers. For example, the front end of the application is hosted on AWS while the back end is on Azure. On the contrary, in a hybrid model, the environment is a mix of cloud and private data centers.
Multi-Cloud Management Platforms


Flexera is a SaaS-based IT and cloud management tool. It facilitates orchestration, automation, template-based provisioning, operational monitoring, governance, etc. The tool is an ideal choice for small and medium-sized businesses who are looking for a powerful orchestration engine in a multi-cloud management platform.
This multi-cloud management tool by IBM allows controlling Kubernetes (K8) clusters and clouds. The platform is backed with modern technologies such as Artificial Intelligence and helps to do the following:
a) View the health of all clusters in a specific region
b) View the pods in the namespace in all development clusters
c) How many nodes are down in the clusters
d) Which all are the failed pods in a data center
Embotics' multi-cloud management tool is one of the top-rated solutions to automate provisioning across private, public, or hybrid cloud environments. This tool has a reputed clientele which includes names like NASA, BriteSKy, Pega, etc. It's known for its reporting functions, scripting engine, and ability to plugin to API.
OpenStack is an open-source tool for multi-cloud management. It enables organizations to manage large pools of storage, networking, and computing resources. Some of its features that are worth considering include container support, bare-metal support, virtual networks, integrated VM & container support, etc.
This multi-cloud management platform provides insightful information about cloud consumption patterns. The IT teams can have updates regarding how resources are being consumed, i.e. underutilized, overutilized, or idle, and accordingly, provide recommendations to have significant cost savings.
Getting Started with Multi-Cloud Management: Best Practices

While there are some efficient tools out there to manage multi-cloud deployments, it is certainly a best practice to have cloud environments under professional supervision.
Certified cloud management teams figure out the right parameters to optimize cloud environments and align tools to work on them accordingly. At Daffodil, our CloudOps team understands the importance of having a multi-cloud environment for enterprises and is seasoned to manage them.
If your business has a multi-cloud environment and planning to move to one, then it is recommended to get started with a professional CloudOps team for seamless migrations, integrations, and other optimization activities. To get started with it, schedule a free consultation with our tech experts who will guide your way to multi-cloud management.