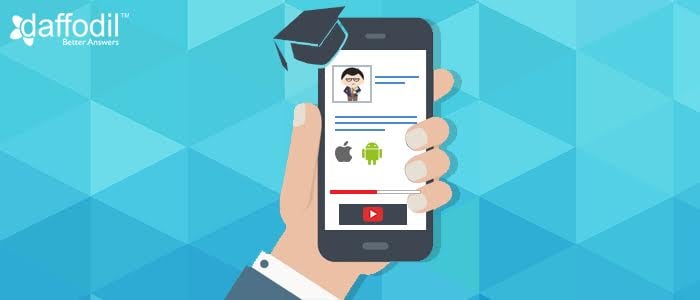 Smartphones are here to stay and we can predict that they are going nowhere in the next two decades at least. Following this, we can claim that there would be high dependency on mobile apps for managing day-to-day tasks, entertainment, businesses, health monitoring etc. This is one of the reasons why custom mobile app development is a lucrative career options these days.
To start learning coding is easy. You don't need to travel miles from your place to get a training. With flexible timings and minimal cost, you can now learn to code at your comfort. There are a number of online resources that offer practical code learning models, certifications, and programs, which can give you an entry to app development world. Here is a list of best 5 for you (free and paid).
1. Udacity
Udacity is an expansion to free computer science classes offered by Stanford University. Launched in 2012, it has got over 1.6 million users, and is one of the popular and trusted names for massive open online courses (MOOCs). Each course on this platform comprises of several lectures with quizzes and short videos to keep you engaged in the learning process. This is followed by 'Do-It-Yourself' projects that helps to understand concepts better. Udacity offers free and paid access to courses for both Android and iOS development.
Nanodegree Programs by Google:
For real time learning, project building and valued certification, you can join Udacity's Nanodegree programs. The biggest highlight of this program is they are co-created with best tech names such as Facebook, Google, IBM, AT&T, GitHub etc.
When enrolled for Nanodegree programs, you are not only gaining access to the finest learning resources, but you will have opportunity to have practical hands on various projects. For example: By the end of Android Nanodegree program, you will have a portfolio of 9 Android apps that will give more value to your certificate.
Available On Web, Android, iOS
2. Udemy
Founded in the year 2012, Udemy is one of finest platforms to learn and improve your Android and iOS app development skills. The learning resources for the courses are available in videos, PPTs, audios, PDFs, and live classes. You can either start learning from scratch or improve your mobile development skills with some of the trending technologies like Kotlin, React Native, Swift, Ionic, and many others.
Apart from this, Udemy also offers facility to have good hold over programming languages that can make coding for mobile quite simple. For example, you can learn Java, Node.js, Python, C#, and other Object Oriented Programming languages that are mandatory to get started with mobile app development. When all lectures within a course, along with exercises are finished, Udemy presents a certificate of course completion for you.
Available On: Web, Android, iOS
3. Lynda
Lynda has been offering video tutorials in business, software, and creative domain since 1995. This online education system was later acquired by LinkedIn. With all learning resources provided by industry experts only, Lynda facilitates to access courses in variety of languages like English, German, Spanish, and French.
When accessing mobile app development courses on this platform, you can filter them on the basis of skill level (Beginner, Intermediate, Advance), software, authors, companies, subject etc. The videos are designed with live action, narration, charts, screenshots, graphics, and audios, which makes the overall learning experience engaging. Before you enroll to any of the Android and iOS development course on Lynda, you can have a glimpse of it for 30 days.
Available On: Web, Android, iOS
4. Tree House
Started in 2011, Tree House offers a platform to learn code, build apps, and start a business. The development training is provided at beginner and advance level. The tutorials comprise of videos, quizzes, and code challenges for practical understanding of concepts. You can get started with 7 days free trial first, followed by subscription to any of the two plans: Basic and Pro.
Techdegree Programs for Developers:
If you are new to Android or iOS app development, then you should enroll to Techdegree programs by Tree House. It is especially designed for students who wish to learn and prepare for entry-level development jobs. Depending upon your interest, you can choose from six competencies: Android, iOS, Full-Stack Javascript, Python, Java, and front-end web development.
Available On: Web, Android, iOS
5. PluralSight
Just name a technology and possibility is that you will surely find its tutorials on PluralSight. From mobile app development to IT networking to 3D design, there are resources to learn them all. Founded in 2004, PluralSight features over 4,000 courses for individuals, professionals, or businesses. Till date, it has over 750,000 individual subscribers, making it one of the most versatile tech-learning platforms.
With Pluralsight, you can decide from where you need to start, i.e. there are different levels with which you can start, depending upon your existing know-how. Herein, you can find a variety of topics to start your learnings with, which can prepare you for native as well as hybrid app development. You can also validate your skills time to time by taking a 5 minutes test, which comprises of 20 questions. To get started, there is free trial to check a course quality in advance.
Centralizing its services for individual, web and mobile development learners, PluralSight has made its services available as Code School. Well, this service is not as mature as its parent and is still in the growing phase, you can still find some interesting tutorials here.
Available On: Web, Android, iOS
Which is your Favorite Resource to Learn App Development?
The online resources shared above are not limited to learn mobile app development. You can also consider them for learning web development and programming languages that are in trend. Some of the other options that can be checked out to learn coding are Coursera, Codecademy, eDX etc. Try them out and let us know which is your favorite platform to learn and practice app coding.