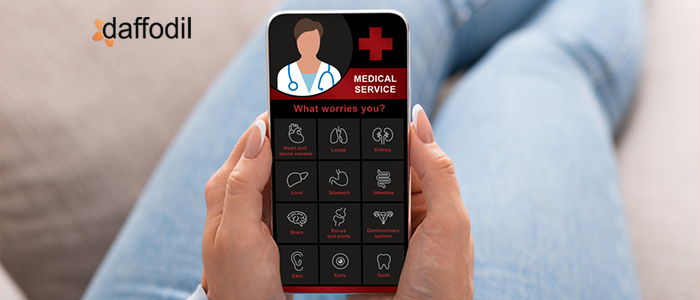 Hospital-based healthcare services are not always viable when it comes to people with special health conditions or geriatric care. Issues with traveling come in the way of healthcare for this class of citizens. Additionally, lengthy hospital stays are reported to cause deterioration in certain medical conditions, especially autoimmune ailments.
Home healthcare is the best alternative for senior citizens and patients with reduced motor function. At-home care is also pivotal in managing chronic health issues and makes sense during the recovery phase from medical ailments.
Software solutions that can help digitalize the management of these healthcare services are the need of the hour. Home healthcare solutions particularly ease the responsibilities of home healthcare workers, enhancing their caregiving capabilities.
Home healthcare workers include both skilled and non-skilled, i.e., non-medical personnel. Certified nurses, rehabilitative therapists, home assistants, health social workers, and caseworkers are some on-premise caregivers.
Benefits of Home Healthcare Software
Home healthcare software equips medical caregivers with the necessary tools to perform a number of tasks with ease. Medical staff can optimize calendar management, streamline care delivery, and carry out paperless documentation. The primary functions of home healthcare software are:
Scheduling patient treatment and staff responsibilities
Billing and claims processing
Providing information on patient care plans
Messaging between staff and patients
Regulatory compliance
Healthcare agencies can leverage this software to coordinate business workflows, simplify claims and billing, manage patient records/Protected Health Information (PHI), and communicate with doctors when needed.
The process involved for a nursing home to integrate its systems with home healthcare software is different compared to an assisted living center. For instance, a nursing home would need options for a medicine intake schedule and remote patient monitoring. On the other hand, an assisted living facility would require features such as patient admission tracking, staff communication, etc.
So, the flexibility that a custom home healthcare software provides in terms of integration makes or breaks its effectiveness. Configuring the software to meet your organization's specific requirements must be a hassle-free procedure.
Home healthcare software can lead to some of the following benefits for a medical setup:
Quick access to patient data
Most healthcare agencies make use of cloud-based software to manage home-based care. Enterprise Resource Planning (ERP) functionalities of this software allow a staff member to log in from any device and access patient data. Cloud-based ERP is trending over on-premise medical record-keeping and is more viable in a home healthcare setup.
Caregivers can be provided with a list of patient-specific tasks and reference notes on the patient beforehand via the home healthcare app. This can ensure that they can give the patient the best possible healthcare experience at home.
Administrative tasks for the organization's staff become far less intensive when they can be handled by ticking appropriate boxes over a mobile app. This also ensures employee happiness as they get to avoid having to fill out endless forms for every patient interaction.
When the home healthcare model starts turning a profit for your organization, there will come a time ripe for expansion. When expanding the employee base or extending services to a new location, a centralized software system would reduce the complexities involved with scaling.
Capturing and storing patient/employee data on a centralized system helps in the planning process a lot. Tasks become far less unpredictable, risks are reduced, employee management becomes streamlined and so does budgeting.
Top 10 Home Healthcare Software in 2021 (in no particular order)
Home healthcare software is developed keeping in mind the most significant pain points of organizations delivering assisted living and home care. The following software solutions were developed to make home healthcare a cost-effective, personalized, and resilient alternative to in-hospital care:
1)Brightree for HME
This cloud-based business management software provides integrated solutions to Home Medical Equipment (HME) and Durable Medical Equipment (DME) providers. With dramatically streamlined operations, HME/DME agencies can take care of billing, ordering, inventory, and insurance validation using Brightree.
2)PointClickCare
PointClickCare was recognized in 2019 by Forbes as one of the top 100 Private Cloud Companies for providing excellent cloud environments for home healthcare. This software helps organizations in engaging and retaining talented personnel, reduce liability, maintain compliance and increase profits. Also, care providers can connect and collaborate with their care network.
3)ClearCare
This home healthcare tool helps private duty home care agencies get better healthcare outcomes by leveraging predictive analytics. ClearCare offers proprietary scheduling and communication tools to enhance effective communication between caregivers, patients, and their families. This platform also has a web-based enterprise framework for handling HR, financials, and sales management of a home healthcare setup.
4)Hospice Tools EMR
The Hospice Tools Electronic Medical Records (EMR) is a Software-as-a-Service (SaaS) tool, specifically designed for aiding hospice or home-based palliative care. This software solution produces intuitive charting for sales processes and automates compliance in addition to providing a centralized system that simplifies hospice management.
5)WellSky Home Health
WellSky Home Health provides a software solution for organizations of all sizes, various payment capabilities, and lines of business. Hospice, therapy, and private duty agencies can handle claims management, financial reporting, triage, and quality assurance with this app. Added benefits include business intelligence, offline charting, hospitalization risk management, and electronic visit certification.
6)CareVoyant
CareVoyant provides impeccable integrated cloud services designed for senior citizen wellness, outpatient therapy, and mental health clinics. Primarily focused on providing care at Continuing Care Retirement Communities (CCRC), it helps transition along patients' treatment plans moving between varying levels of care as needed by the aging patient.
7)Alora
This award-winning suite of home-health software solutions is built to provide agencies with flexibility and efficiency when providing home healthcare. Alora provides facilities for complete clinical documentation, electronic signature capture, as well as Outcome and Assessment Information Set (OASIS) on any mobile device.
8)Homecare Homebase
Homecare Homebase is a digital home healthcare agency assistant of sorts with a very easy-to-understand interface that anyone can learn to operate in minutes. Signing physician orders becomes very quick and self-explanatory while the assessment of patients for home care is automated.
9)Kinnser RiskPoint
This software utilizes the database of 3 million-odd growing patient episodes accumulated in the Kinnser Agency Manager platform. With a state-of-the-art predictive algorithm based on this real-world data, this software assesses the present risk of hospitalization for each patient accurately. A trim dashboard allows on the fly nurses providing home healthcare to frequently report to the designated physician and present health charts.
10)MatrixCare
This is an Electronic Health Records (EHR) app that combines the functionalities of a cloud-based back-office system and iPad Point of Care (POC) software. In the post-acute home healthcare domain, this software provides patient-centric interoperability and documentation accuracy.
ALSO READ: Must have Technologies in Healthcare Applications
Leverage Custom Home Healthcare Capabilities
Home healthcare software should ideally provide facilities for rehabilitative service coordination, agency management as well as patient care management.
To fit any kind of organization, it should be highly customizable according to the needs of a large enterprise home care agency or a private duty center. A custom home healthcare software gives your private care delivery an edge over subscription based solutions.
Compared to a subscription service from a third party vendor, a custom built home healthcare software would have a higher initial cost. However, unlike a subscription service's recurring costs, a custom solution would only entail a one-time expenditure. From then on, it would lead to compounding Returns on Investment (ROI) over time.
Additionally, subscription-based vendors would be unaware of the operational knowledge of your organization and also tend to offer limited customization options. With support from a custom home healthcare system, the in-house processes of your organization are more streamlined.
The learning curve associated with getting used to operating such software is short, which reduces the cost and hours of training required for healthcare personnel. This is because a custom solution strays very little from the normal workflow of an organization. The staff can focus better on patient care, with no administrative distractions like schedule management or software maintenance issues.
Conclusion
Custom home healthcare solutions are far superior compared to subscription based solutions in terms of cost, training required, patient care and workflow management. That is why leading organizations are opting for them in their endeavor to deliver a value based healthcare model.
With our expertise you can reap the benefits of comprehensive and custom-built home healthcare solutions for your organization. You can begin this journey by learning about our Healthcare Software Development Services here.