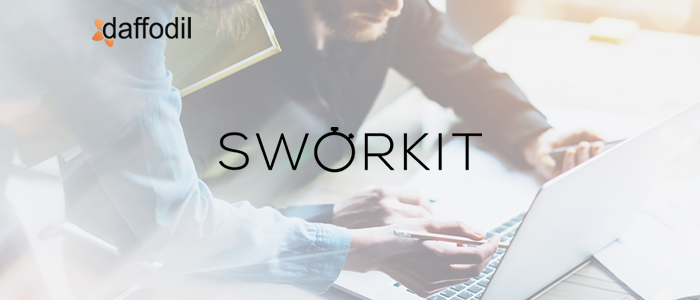 Sworkit is a digital health and fitness company based in Bethesda, Maryland. Founded in 2012, it provides customizable workout plans and resources that allow people to adopt and maintain a healthy lifestyle. Their workout offerings are a combination of strength, cardio, yoga, and stretching with some tough nutrition challenges to help people stay fit. The Sworkit app has 10 million registered users with an average rating of 4.5 on iOS and Google Play stores. As of May 2021, the fitness company has worldwide revenue of $90K.
Sworkit Success Timeline:

Sworkit is the brainchild of Ryan Hanna who developed a fitness solution to help people maintain a healthy living. This solution was launched in the market in the year 2012. In the same year, Nexercise launched an online platform that allowed users to earn points for exercising.
In June 2014, Sworkit was acquired by Nexercise. The company took the instructional exercise platform to the next level and while its founder Ryan Hanna served as VP of Product & Engineering.
However, just like the turbulent journey of any startup, Sworkit also experienced a rise and fall in its attempt to reach the zenith of success. Here is an overview of Sworkit's evolution over the years.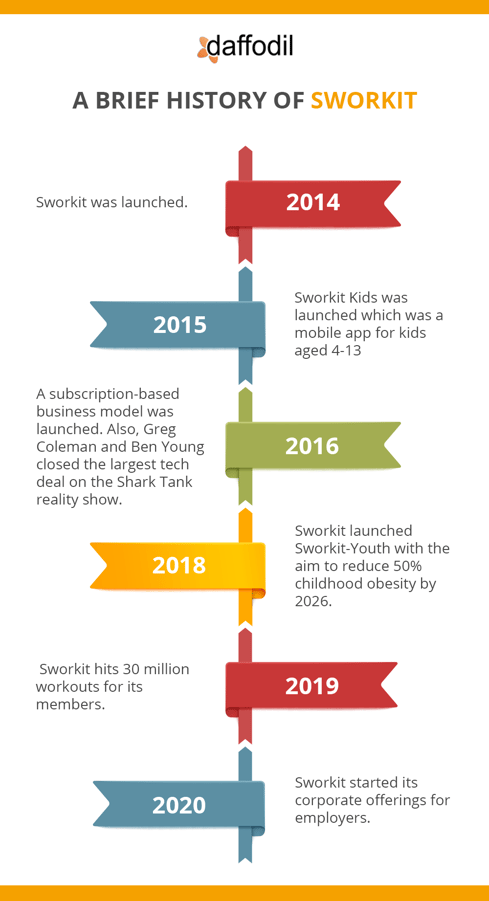 What makes Sworkit Sell?

The global fitness app market is expected to grow to $16,469.04 million by 2026. This surge is in line with the sedentary lifestyle due to the COVID-19 outbreak. No commuting to work, no hangouts, no workouts. This made people seek at-home fitness options which ultimately lead to the demand for workout apps.
Sworkit is one of the kind solution. Through workouts, the platform enables the users to have a planned, nutritional diet to have a long-term impact on their lifestyles. Moreover, Sworkit allows its users to select workouts from a variety of selections such as rehabilitation, pre and post-pregnancy, quiet home, dumbbell & kettlebell, at-home gym, foam rolling, etc. The users can choose the most suitable workout for them on the basis of age and fitness level, workout type, focus areas, equipment, fitness goal, impact level, and timing style.
Sworkit Business Model
Sworkit doesn't have any in-app advertisement model to earn money. Then, how does this fitness company introduce this many workout plans and make money? Let's find out.
Swaorkit has two subscription models: An annual subscription for $59.99 and a monthly subscription for $9.99. After a user is satisfied with a 7-day trial, they unlock workout plans by choosing any of the subscription models.
Swaorkit has also started Youth Initiative in 2018 that aims at reducing childhood obesity. The goal is to 50% childhood obesity by 2026. This involved fitness technology and programs that are built especially for children. To date, 14,572 schools are using Sworkit and 10,396,295 students have access to Sworkit programs. Under the Sworkit Youth Initiative, all exercises and workouts are available for students which are otherwise available at paid Sworkit subscription.

The athletic directors, coaches, teachers, and administrators can get an update on students' progress and participation through the Sworkit Student Management System. This student management portal is available at a certain price.
| | |
| --- | --- |
| No. of students | Cost Per School/Per Year |
| 500 | $650 |
| 1000 | $1250 |
| 1500 | $1550 |
| 1500+ | $2100 |

Despite offering their services free to the students for a cause, Sworkit is able to make money and clearly, the student management app is the medium. During the Coronavirus outbreak when schools were shut down, Sworkit continued its mission to ensure that children continue to perform physical workouts so that their initiative meets the goal by 2026.
Keeping this in mind, Sworkit launched the Sworkit Kids app that has workouts for children aged between 5-14 years (free of cost). This included exercises to improve strength for kids, agility for kids, a warm-up for kids, stand-up and move for kids, etc. Through workout sessions for kids, Sworkit can indirectly target the young and elderly age groups associated with the kids.
Then, there is Sworkit for employers. This helps to reduce employee stress and bring employees together through a versatile wellness initiative. Under this, Sworkit delivers monthly webinars on nutrition, fitness, mental health, heart health, etc. Also, there are some team challenges that help individuals to achieve their goals. Sworkit for employers is another way the fitness company makes money.
What to Learn from Sworkit Business Model?

Sworkit is certainly an example that advertising is not the only way to earn money from a video-on-demand platform. There are some innovative ways Sworkit has been making money and utilizing it to add up new workout plans to the app. Let us understand what we can learn from the business model of Sworkit if there is a plan to launch a similar fitness app.
Sworkit has a persona from every age group. In one way or the other, different generations can see each other, get inspired, and try out this unique to stay fit. For example, parents can check the efficiency of workout plans through the Sworkit Kids app and might get inspired to join the Sworkit workout plans for adults.


Sworkit does not add a price tag with everything. If you notice, most of the services offered by the fitness platforms are free. The 7-day fitness trial, free Sworkit kids app, free workout plans under the Youth Initiative, etc. Once the users connect with free plans, they can extend the services or add related services.


Sworkit does cross-marketing of its services. Promoting one of their services through another makes it convenient for the fitness company to reach out to new, more customers.
Are you Planning to Build an App Like Sworkit?

We usually get inquiries like 'How much does it cost to build a fitness OTT app like Sworkit?', 'What are the must-haves to features and functionalities of an app like Sworkit? What technology suites development of an app like Sworkit?'.
Daffodil is recognized for its expertise in OTT app development and thus receives the aforementioned interrogations from our prospects. SinceSworkit is one of the sorts after names in the domain across the United States, a number of startups aim to improve the fitness & wellness system of their countries following a similar (and also tried-and-tested) approach.
If you're planning to build a similar app, then the above segment (that took you through the journey of Sworkit and its business model) would have been a great help to you and must have encouraged you to move ahead with your idea. If yes, then set up a free consultation with our tech experts who will guide you with the right features, technology, revenue sources, development cost, etc. to get started with your idea.