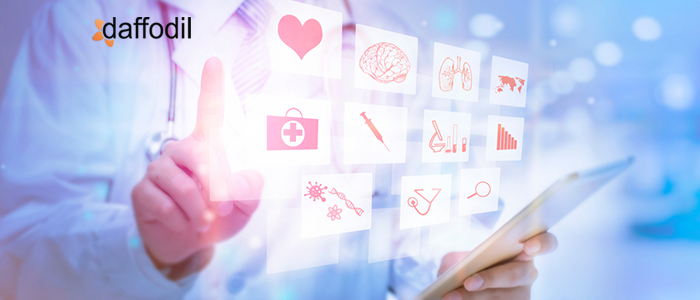 The COVID-19 pandemic has put tremendous pressure on the healthcare system, globally. Hospitals have experienced a surge in the volume of patients. The hospital staff has been asked to perform roles they were unfamiliar with. Many hospitals even stopped elective procedures and consultations to ensure that COVID-affected patients are attended well.
It has been challenging for healthcare organizations to manage a massive change in their system and deal with it while ensuring that patient care remains unaffected. Clearly, the pandemic has emphasized better communication, collaboration, and innovation.
For hospitals to ensure seamless care delivery, it is important to manage routine operations digitally and optimize overall performance. That is why hospitals these days swear by the benefits of efficient hospital management software (HMS).
The functionality of a hospital management software (HMS) is divided into three prime categories:
Hospital Administration
Doctors and other staff members
Patients
A hospital management system is an umbrella term. There are different types of software applications that are integrated within HMS. This includes a patient portal, practice management system, Electronic Health Record (EHR)/Electronic Medical Record (EMR), Remote Patient Monitoring, etc. All these modules (and more) combine to build an integrated, online solution that helps to manage administration, patients, and physicians. Let us understand how a hospital management software benefits the three categories of userbase that it serves.
Administration-Oriented


HMS helps in appointment scheduling. It allows physicians to plan their timetables and enable patients to accordingly schedule appointments with them.


Hospital Management Software helps in ward management. It tracks every ward's performance report so that the facility team can accordingly work on resources and needful machines within the ward.


It manages the availability report of every room that helps the administration department in easy admission of patients according to rooms available (especially in a situation like COVID-19).


It helps in hospital inventory management so that a care delivery organization like a hospital never goes out of stock or lacks necessary medicines, equipment, tools, and basic medical necessities.


Revenue is one of the significant elements to run a healthcare organization like a hospital. Tracking revenue manually is not a feasible solution. Thus a hospital management system serves as an automated tracker of the revenue as it keeps a track of all the transactions and gives a clear view of how the healthcare business is performing. Moreover, when the system and processes are automated, there is no need for other high-level resources to manage operations.


There are numerous financial transactions that take place at a healthcare center. This may include payment from the patient, service provider, suppliers, insurance companies, etc. A hospital management system keeps a track of all financial transactions for profit calculation, earnings, and expenditure on certain departments.
Patient-Oriented


It manages the patient information, including the patient details during admission, treatment given, medication prescribed, follow-ups, lab reports, billing & insurance details, etc. The HMS becomes a one-stop place to access patient information, anytime.


It notifies patients about their appointments, medication, discharge recommendations, etc. Patients can access this information through a mobile app or web portal by logging into their patient account that has their past and present information available related to that hospital.


The patients can see their medical records and provide permission for them to be shared with other medical databases such as Electronic Health Record (EHR). Interoperability of EHR is possible when the patient permits healthcare organizations to share their data with other health records.
ALSO READ: 5 Innovative Use Cases of Machine Learning in Healthcare
Physician-Oriented


The physicians can manage appointments and patients online. Online appointment booking reduces chances for no show, which ultimately saves a lot of time for the physicians.


Physicians can access their patient info anytime. By maintaining a history of the patient's treatment, medication, lab reports, in one place, physicians can better analyze improvement in their health and suggest a further treatment plan.


Online consultation with patients helps physicians provide quick, on-time consultation to patients with acute or chronic diseases. Hospital Management software helps physicians in chronic disease management as they are frequently connected with patients than in-person consultation.
Benefits of a Hospital Management Software


For every hospital, the requirement for a software solution would be different and so does the benefits. Custom hospital management software can cater to tailored requirements of the healthcare organization. However, there are some common benefits that would remain unchanged. For example, A patient portal within the hospital management system will enable managing all patients and their healthcare information. On the other hand, it ensures that EMR/EHR can be a great help to maintain interoperability which can help the healthcare system beyond a defined scope.
When building a hospital management software, it is always a great choice to go with a custom solution. If you're planning to develop a custom HMS for your hospital, then connect with our experts to understand the scope of your solution, technology stack, features, and more, free of cost. Just connect with HealthIT experts through our consultation form and our team will get back to you. Book your meeting slow, now!