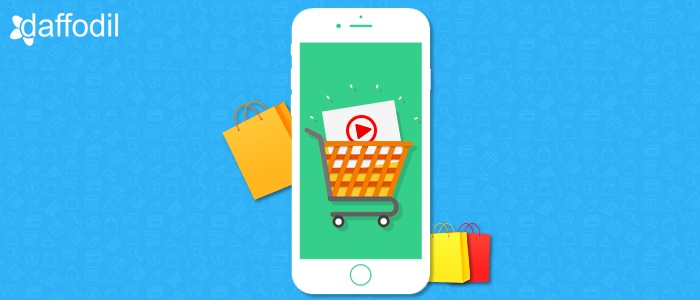 The rapid digital developments in eCommerce sector has brought us to a new phase of online shopping experiences worldwide. By 2020, 80% of consumer traffic will derive from online videos, as revealed in a study conducted by Social Media Today. And it is of no surprise that we reflexively respond to videos faster than any other content.
The newly introduced fast shoppable technology is still unknown to many eCommerce tech enthusiasts, while only few of them have adopted it to the fullest extent due to its outreach potential. Time, being the major game player while shopping online, the shoppable videos are the best solution for any eCommerce company. In addition, these videos enhance the UI/UX and richness of a mobile app or a website, making it easier and faster for customers to shop.
What are Shoppable Videos?
Shoppable videos allow users to directly select and buy products featured in any promotional video. Shoppable videos leverage Artificial Intelligence technology that automatically recognizes the products showcased in the video and accordingly generates icons or recommendations of the products. It ultimately eliminates the various stages of the buying process and also meets the dynamic needs of a modern consumer.
The following section will discuss how global eCommerce companies have embraced the shoppable video technology differently.
1. Ted Baker
This breakthrough technology has been widely adopted by the British brand- Ted Baker. According to Forbes (2018), the fashion brand sold $70,000 worth of clothing in its first week of video streaming. It created a 360 degree movie with comedy sitcom which attracted millions of viewers, as it showcased innovative and disruptive technology, wherein viewers can select and buy clothes from within the video.
2. Marks & Spencer
Marks & Spencer took advantage of a similar strategy, of minimizing the path to purchase model for customers by creating interactive and editorial videos where viewers can straight away buy products without redirection to any other page. The brand exhibited it's new collection of denims and achieved 6.5K product clicks, through the adoption of this new trend in video marketing.
3. Burberry
The fundamental change proposed by iconic luxury brand-Burberry is that they have created shoppable videos of runways in Paris and London. The brand has also marketed these videos very interactively on social media channels and as well as on emails. The videos stream both on website and on its official mobile app. The feel of watching a ramp show and wanting to buy the same apparels is now a reality for Burberry buyers and a wake up call for all its competitors out there.
4. Puma
The sportswear brand Puma has also joined the race of 'Shop as You Watch' by unveiling videos having mark buttons which are clickable and further provide product details. The viewers can also share videos on social media and thus initiate word of mouth among other users. Puma is continuously automating new features and content which can be explored through this fast development technology.
5. Adidas
Similar to all other brands offering what makes Adidas videos unique is it's customization for all its users. A personalized dose of shopping experience for customers to not only shop faster and more conveniently but also to relate and connect with Adidas as a brand itself.
So far, major brands have been experimenting the on-going trend and have explored various eCommerce features to boost user engagement. Take a glimpse of how newly introduced Nykaa TV by a leading multi-brand beauty retailer-Nykaa is demonstrating overwhelming results in eCommerce market.