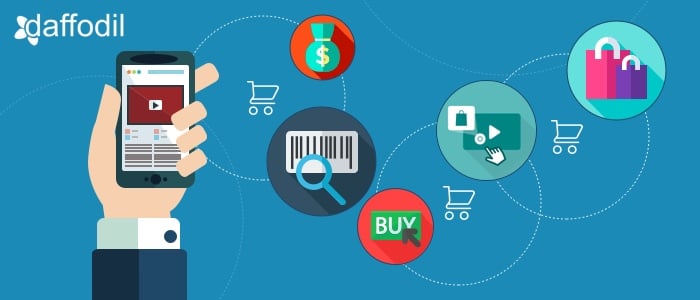 Today, brands cannot go without videos in their content marketing strategy. It is one of the quintessential approaches to engage customers and improve conversion rate. In fact, 90% of customers say videos help them make buying decisions. While videos can be short and interactive, making them actionable has been a challenging job for long. However, with the introduction of shoppable videos, brands have access to an improved video marketing approach.

What are shoppable videos? What are its benefits? Why it should be an imperative part of eCommerce content marketing strategy to improve customer engagement and conversion rate?

What are Shoppable Videos?

Shoppable content is a popular content marketing strategy that provides a direct purchasing opportunity to customers by allowing them to either add products to bag directly from what they are viewing, or be taken to a product page.

A shoppable video generally includes links that take a viewer to the vendor's website having more details about the products showcased in the video and payment gateways to make a purchase. These links are either included in video footer or embedded within the video. The idea behind routing viewers to the product page is to allow them to make an immediate purchase decision and act on the same, thereby improving conversion rate.


When digital retailers include shoppable videos into their eCommerce content marketing strategy, they can reap a number of benefits, which include:

A Simplified Buying Funnel: In shoppable videos, there is a connection between the content of the video and the products showcased in it. Therefore, consumers who are interested in such products are likely to watch the video and kep adding products to the cart while watching the video.

Improved Conversion Rate: Since shoppable videos encourage consumers to make impulse purchases, they are a great help in improving the overall conversion rate.

Increased Consumer Engagement: Studies suggest that video on landing pages is capable of increasing conversion rates by 80%. Shoppable videos not only convey the message to consumers but also engage them with the products and their purchase process.

Provide Performance Insights: Shoppable content when promoted or advertised allow brands to identify their customer funnel, figure out platforms where their campaigns are performing well etc. This data can be utilized to find potential customers and engage them with personalized offers.

Do Shoppable Videos Work?

Shoppable videos are one step ahead of traditional videos used for eCommerce content marketing. While it has some sure benefits (shared above), brands such as Ted Baker, Nykaa, Puma, Adidas are making the most of this marketing strategy.

Know how Nykaa is reaping benefits of Shoppable Videos:

Nykaa is India's leading multi-brand beauty retailer for cosmetic and wellness products. With an active user base of 20 million, Nykaa processes more than 500K orders per month. For boosting their online sales and to encourage consumers to make impulse purchases, Nykaa wanted to introduce the concept of shoppable videos into their mobile app.

Check out how Nykaa achieves a 40% add-to-bag conversion rate from the integration of shoppable videos in its mobile app. (Read More)

Getting Started with Shoppable Videos for your eCommerce Business

Just like Nykaa and many other successful online retailers, you can make the most of this eCommerce content marketing strategy-shoppable videos. To know how you can integrate shoppable videos in your existing eCommerce app, connect with our tech-experts through 30-min free eCommerce consultation program.