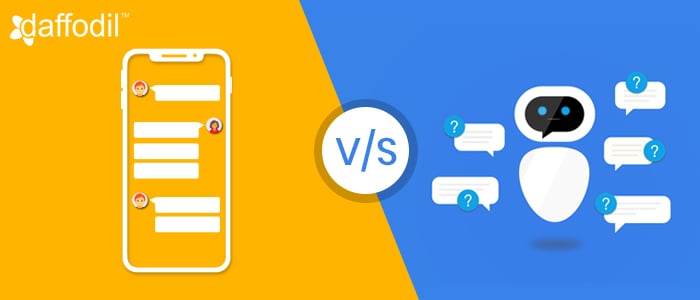 By 2019, 20% of brands will abandon their mobile apps and invest to build a presence in customer messaging apps, such as Facebook Messenger and WeChat, to reach customers where they spend a high percentage of their time. - Predicts Gartner
According to Localytics, many brands are observing that mobile applications are not delivering the level of adoption and customer engagement as they expected. This could be validated by the fact that an average mobile app retention rate is 29% after 90 days
Moreover, factors such as cost support, maintenance, upgrades, and marketing campaigns to drive downloads are limiting businesses to achieve the targeted return-on-investment (ROI).
Owing to these limitations of mobile apps, businesses are switching to some effective alternatives to mobile apps, such as Progressive Web Apps, Chatbots, Instant Apps etc. Here, we are going to talk about one of the sought after alternative of mobile apps that businesses are adopting: AI-powered chatbots.
Chatbots, very much like mobile apps hold the potential to do anything for customers- Take a food order, push notifications about its status, do payments, and a lot more. However, the approach to do all these tasks for a customer are a bit different. Instead of demanding a new app download in a customer's smartphone, a chatbot is installed within a messaging app (like Facebook, WeChat, Slack, Skype etc.), thus avoiding app fatigue.
Other than this, there are a number of benefits that a chatbot offers over a mobile app. The upcoming segment discusses how a chatbot can serve customers better and allow businesses to achieve an expected ROI.
Chatbots can offer a personalized user experience
Depending on the business requirement, different types of chatbots can be developed. An AI-powered, well-trained chatbot can understand a customer's intent, study its history to offer the best suggestions and offers. This helps businesses to send custom offers to the customers that match their requirement, thus improving the retention rate.
While businesses share latest offers to the customers through push notifications, with chatbots, the advantage is that these offers reach the inbox of customers' messaging apps. These apps (like FB Messenger or Whatsapp) are frequently used by customers and so higher are the chances of these offers reaching them. With mobile app push notifications, there is a high possibility of customers giving these offers a miss.
Chatbots are Omnichannel and can server larger customer base
With chatbots, businesses can connect to the customers on different channels. A chatbot can be developed for more than one messaging platform, which makes it possible for businesses to reach out to customers on their preferred, most used messaging platform.
ALSO READ: Off-the-Shelf or Custom Chatbot Development: What does your Business Need?
Chatbots vs Apps: What does your Business Need?
Bot chatbots and mobile apps have unique use cases. While an app is an obvious approach to engage customers, chatbots offer a modern approach to reach out to a larger customer base. To know which customer engagement approach works best for your customers, connect with our chatbot-expert, Nitin Goel.