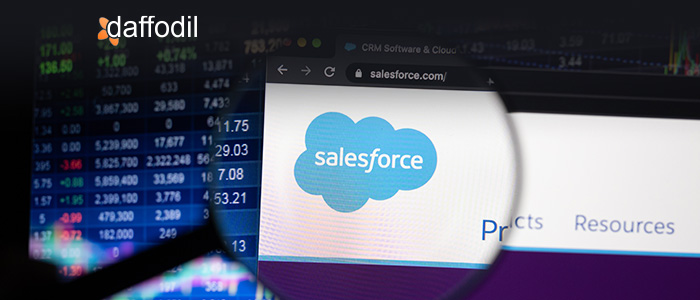 Salesforce has been knocking its competition in the CRM world. Despite the existence of several industry-specific CRM solutions, Salesforce has been standing strong. One of the prime reasons for its success is its flexible integration services.
Amongst the countless benefits of Salesforce is its ability to bring together disparate systems- ERP, supply chain, marketing automation, HR, on-premise software like Oracle, SAP, Microsoft, etc.
Salesforce integration is the practice of creating a seamless connection between Salesforce and other business-critical applications. This communication between the system brings the following benefits:
Improved productivity at the department level
Salesforce integration services help two or more departments connect with each other, have easy access to information, and hence have improved productivity at work.
For example, the sales reps are often required to access data from Salesforce and accounting software, QuickBooks. For these two systems to communicate, Salesforce integration helps by enabling the sales reps to have faster access to the needed data.
Salesforce integration automates business workflows
Setting up communication between two or more systems within an organization helps in automating workflows. For example, Salesforce CRM integrated with an eCommerce portal such as Magento or Shopify enables the marketing teams to design personalized campaigns, manage inventory, and reinforce customer profiles with order and browsing history.
By integrating Salesforce with the eCommerce platform, the marketers can automate the cycle of knowing their customers, and planning their campaigns & other marketing strategies, without having to hop from one application to another.
Better decision-making with data insights
For informed decision-making, businesses need to structure their data well. Salesforce integration services offer the scope to modernize the infrastructure to have better data insights. This eventually helps the business stakeholders make informed decisions at each departmental level.
How to Integrate Salesforce with Business Applications?
Point-to-Point Integration: In this type of system integration, a message is sent to another system via a one-to-one relationship. It could be a Salesforce solution calling an external API to retrieve or push data or vice-versa.
Hub-and-Spoke Integration: In this integration service, a centralized hub is responsible for setting up communication between the systems. For example, the hub routes the traffic and builds an individual connection for each new system. For this reason, it is a preferred Salesforce integration method over point-to-point (which requires creating a new connection every time a new system is connected).
Enterprise Service Bus Integration: In an ESB, a centralized integration engine creates connections between the systems. This can be used for routing and transforming messages, for orchestration of messages, and for authentication & authorization.
ALSO READ: What are Salesforce Managed Services?
The Scope of Salesforce Integration

The integration ability of Salesforce is phenomenal. It lets a business and its operations stay connected with each other for data-driven management of work. Here is a list of a few applications that can be integrated with Salesforce (along with their use cases).
ERP Integration: Enterprise Resource Planning (ERP) software enables businesses to manage the business as usual activities for accounting, procurement, project management, compliance, supply chain, etc. Integrating Salesforce with ERP solutions helps in the seamless exchange of information between the systems, offering insights about customers' buying habits, order history, purchase habits, delivery & inventory details, etc.
Social Media Integration: Salesforce integration services with social media allow the business to communicate with prospects and customers through channels of their choice like phone, text, email, or social media (Twitter, Facebook, etc.). This collaboration ensures that businesses gain actionable insights about customer sentiments regarding their company, products, services, and brand.
Accounting Integration: Integrating Salesforce with the accounting system enables the sales team to have access to customer details, invoices, and inter-company transactions. Salesforce can be integrated with popular accounting software such as Quickbooks, Zoho Books, Xero, or with in-house accounting solutions.
eCommerce Integration: Customer insights are the key requirement for the marketing team to run campaigns. When Salesforce is integrated with eCommerce platforms like Magento, Shopify, WooCommerce, or any other custom solution, the marketer has the advantage of running personalized promotional campaigns, enhancing forecasting capabilities, and strengthening the customer relationship, etc.
Likewise, there are several applications that can be integrated with Salesforce. But, how to get started with the integration process?
Salesforce Consulting: How to get started with Salesforce Integration
There are APIs and tools that helps third-party applications to integrate with Salesforce. But, considering the complexity of applications, businesses need professional Salesforce integration services. This is when consultation becomes crucial.
Salesforce consultation services help businesses to have an optimum integration plan, irrespective of the complexities involved. A consultation session provides technical and functional help in the following segments:
Salesforce integration with systems provided by multiple vendors
Integrating Salesforce with complex, custom solutions
Integration across various departments with real-time data synchronization
Having an understanding of information flow across applications
Need help getting started with Salesforce integration for your business? Schedule a free consultation with our experts, now!