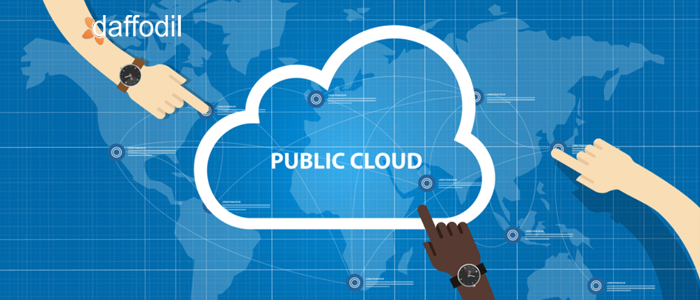 COVID-19 pandemic grievously affected businesses in 2020. Unfortunately, the situation has worsened in 2021. Businesses, thus, are taking the road to digitization to minimize the impact of the pandemic.
Every enterprise is adopting a unique approach to digital transformation. Some opt for legacy application modernization, while others go for strengthening security or developing a cloud strategy. If we talk about cloud strategy, in particular, then it's not just about moving from a private to a public cloud. It's about public cloud management which involves cloud optimization, effective use of resources, selection of right services, creating a backup and disaster recovery plan, etc.
So, if your business is planning to move to a public cloud, then there are a few key considerations that will make this migration smooth and successful. Here, we share 5 best practices that will help your business in public cloud management (that have come straight from the desk of our CloudOps team).
1. It's important to have a migration strategy
If your organization is the one that's about to begin its journey with the cloud, then it is crucial to strategize the migration cycle. When moving to the cloud, the IT team has tremendous pressure to manage the OpEx and CapEx cost while trying to get the best services. Therefore, it is necessary to prioritize why the business is moving to the cloud. For example, make a list of the applications and workloads that have high priority for migration.
Once prioritization is done, select a suitable migration strategy. You can either Rehost the application on IaaS, Refactor/Re-architect the application on PaaS, Revise the application for IaaS/PaaS, Rebuild the application on PaaS, or Replace the application with SaaS. Choose a strategy that works best for your business.
Next to this is the selection of a cloud service provider, a comparison of their resources, cost, and efficiency according to the region, budget, team, etc. To know the benefits of on-premise to cloud migration and how to go for it, check out the following resource link that you might find helpful.
READ MORE: Steps for Seamless On-premise to AWS Migration
2. There should be a Cloud Center of Excellence (CCoE)
To ensure cloud adoption success, it is important that organizations have the right skills and structure in place. There has to be a team that suggests the best approach to drive the cloud-enabled transformation. Such a team in an organization is called the Cloud Center of Excellence (CCoE).
CCoE has a consultative role with responsibilities that include guiding the provider selection, setting cloud policy, workload placement, assistance with solution architecture, risk management, and most importantly, improving outcomes.
In a nutshell, CCoE is in charge of cloud operations, cloud financial management, and cloud security and compliance. A CCoE has a significant role in designing cloud migration strategies as well.
3. There should be an optimized use of all resources
All resources on the cloud should be optimally used, i.e. no resource should be underutilized or overutilized. The CCoE usually keeps a track of the infrastructure, assesses existing resource utilization, and helps in managing them.
Infrastructure optimization can be done in a number of ways, such as identifying opportunities to have a service at a discounted price, figuring out under or overutilized resources, comparing service price & efficiency on different cloud platforms, choosing the right architecture, etc.
Infrastructure architecture has a major role to play in optimizing resources. These days, we have serverless architectures that allow the organizations to scale up or down the resources as the demand strikes. This saves CapEx and OpEx to a large extent.
ALSO READ: The Ultimate Guide to Infrastructure Optimization on Cloud
4. Let the data do the talking
A preliminary component to optimizing cloud infrastructure is visibility to the resources. This can be done only if the CCoE identifies where the resources are allocated and where most of the spending is done.
To support CCoE, there are numerous Cloud Management Platforms that can make cloud management data-driven. The tools or suits can help in identifying misconfigured assets, automate processes, workloads create chargeback reports, and even forecast future reports. Depending upon what needs to be tracked in numbers or be driven by data.
5. Cloud governance is a must-have
Cloud governance is a set of rules and protocols that are meant to enhance data security, manage risks, and keep things running seamlessly. It includes policies for resiliency, cost optimization, compliance, which should not be confused with cloud management.
The motive behind setting governance is to provide a strategic direction, track performance, make adjustments, allocate resources. This ensures that organizational objectives are met without harming the risk tolerance parameters.
ALSO READ: A CTO's Guide to DevOps and its Services
Ready to Move your Organization to Cloud? We can Help!
So, if you have planned a cloud-enabled transformation, then you have the most experienced team by your side to help you out. Our team is certified by all the prime cloud providers (AWS, GCP, Azure) to provide the best practices and most qualitative consultation to manage cloud services.
We have a free consultation service that takes you to our CloudOps team who can help you with the finest and optimum approach to public cloud management. Here is the link to help you schedule a meeting with them.