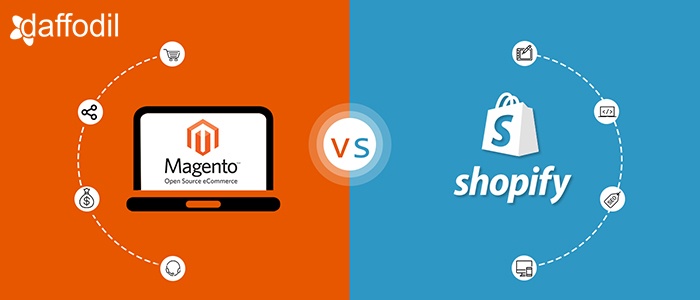 40% of worldwide internet users have bought products or goods online via desktop, mobile, tablet or other online devices. This amounts to more than 1 billion online buyers and is projected to continuously grow. - Statista
With constant rise in number of buyers online and drastic change in the shopping pattern of customers, setting up an eCommerce store or expanding the existent one with advances is on the mind of businesses.
The first, and certainly the most imperative step in getting started with an eCommerce business is to choose the right platform to build an online store. While there are a plethora of options available out there for building scalable eCommerce store, Shopify and Magento are two of the most popular and competent choices that businesses can opt for.
Magento vs Shopify- What is the difference between these two platforms to build an eCommerce store? Let's start with some basic differences and then dive into details to know which platform works well for your business requirements.
Magento vs Shopify: A Thorough Analysis
Shopify is a subscription-based commercial product and Magento (Community edition) is a free, open source software for eCommerce application development.
Before you start a comparison between Magento and Shopify, take a look at your business, its strengths/weakness at technical, functional, or financial front. For example: If you lack in-house skills to manage hosting, development, security issues, then a platform like Shopify can be an option for you.
However, if scalable eCommerce application development is the requirement, then opting for Magento can be the right choice for your business. In this case, if you lack technical expertise but have sufficient budget to invest in a solution, then software outsourcing is something that you can opt for.
Magento vs Shopify- both platforms for building an eCommerce store have their set of cons and pros. Both the players have a strong record for serving businesses with advanced solutions. Here are some metrics that you should consider while choosing between Magento or Shopify to build an eCommerce app for your business.
1. Business Size
Both Magento and Spotify deliver their services in different tiers- through various editions. Thus, it is important to choose the right subscription model or edition for your business.
Shopify offers Basic Shopify, Shopify, and Advanced Shopify, that can be chosen according to the set of features that each of the subscription model offers. For example: small businesses or startups can choose Advanced Shopify, which offers sales-oriented features like multiple shipping options, abandoned cart recovery etc. that can help in setting up and growth of businesses at a budding stage.
On the other hand, there is Magento Community edition (open source) and Enterprise edition. If there is a skilled team of developers, having experience with Magento software development, building a custom eCommerce store (with cost efficiency) is an option with Magento Community edition. On the other hand, the enterprise edition offers access to some already-built modules that can speed up the development, but at a recurring cost.
Therefore, when doing a Magento vs Shopify comparison, make sure that you are clear with current business requirement and futuristic possibilities as well, so that you can scale up, as the demand comes in.
2. The Cost Factor
Shopify is an on-the-shelf product, means the setup for the services is already done for the customers/businesses. Shopify is fully hosted and a subscription fee is paid for availing the e commerce store, its maintenance, and support. Also, there could be an additional cost for premium apps that can be integrated to enhance functionality of the solution.
Magento is free to download. A few of the Magento apps have an annual or one-off fees. Rest, most of the cost goes into paying for expertise to develop custom Magento solution.
Both the platforms require an investment for building a solution as per requirement. If the requirement includes building a scalable solution, then it is better to opt for Magento as it can save you from recurring investments.
3. Product and Inventory Management
One of the irreplaceable requirements of a scalable solution is automated management of products and inventory. While Shopify offers an admin panel to manage inventory, with Magento, there is option to have custom reports and management system, the way your business wants it. For example: Magento facilitates customizing existing modules and create newer one for better product and inventory management, giving businesses an option to operate and view progress, accordingly.
4. Apps and Integrations
Customer experience is the key to a business success. Integrating features such as gift items, loyalty points, product discount, offer emails, pop ups, shipping and payment choices etc. are integral part of maintaining a retention rate. Both Shopify and Magento for eCommerce application development offers a range of free and paid tools, which when integrated into the solution helps in offering an improved experience for customers.
5. Omnichannel Solution
If your business is already operating through bricks and mortar store or any other offline medium, then it's good to have a POS, which is linked to the online store as well. This helps in updating the inventory, stock levels, customer data, orders, and do away with the need to run two data streams for accounts management. Both Magento and Shopify offers the option to integrate POS into the eCommerce solution. While you can pay for the POS system at Shopify (which will be having a recurring cost), with Magento, its a one time investment for POS development.
6. Online Statistics
| | | |
| --- | --- | --- |
| Point of Difference | Magento | Shopify |
| Number of Websites Online | 148,826 | 137,875 |
| Market Share by Top Websites | Magento is leading in Top 10K Sites, Top 100K Sites, Top 1M Sites and The Entire Web. | Despite its recent growth, Shopify is still behind Magento in all market share segments. |
| Website Categories | Magento has better usage coverage in more websites categories, including Shopping, Business & Industry, Arts & Entertainment, Home &Garden and 195 other categories | Shopify is leading in Clothing, Visual Arts & Design, Antiques & Collectibles, Music and 27 other categories. |
| Geography | Magento is leading in most countries, including United Kingdom, Germany, Netherlands, Brazil and 139 other countries. | Shopify is leading in United States, Canada, Australia, New Zealand and 64 other countries. |
Source: Similar Tech
7. Marketing Facilities
Both Magento and Shopify offer great marketing facilities for improving store visibility and conversion. While both platforms aren't at their best from SEO perspective (generally issues with dynamic page indexing), Magento offers a number of options to improve SEO of an online eCommerce store. Magento can be extended with modules that enables online marketers to have access to options like redirect management, control over dynamic pages, data structure etc. Shopify on the other hand offers an array of features to optimize eCommerce store for the search engine, but they can be achieved according to the subscription model chosen.
8. Themes and Templates
This is one of the areas where Magento has an edge over Shopify. Magento users can access thousands of themes and templates across Magento Connect marketplace and other websites, such as UberTheme, ThemeForest etc. Plus, there are a number of agencies and developer teams who constantly release new themes for Magento store. That's how, the number of themes and templates available for Magento are comparatively higher than Shopify.
Magento vs Shopify: Which Platform to Choose for eCommerce App Development?
Shopify is self hosted by Shopify while Magento requires setting up your own hosting with installation, setup, and configuration. Building an eCommerce store with Magento is possible with advanced web development and programming skills.
While there is an ease involved with Shopify's ready-to-use modules, cost is a factor that businesses need to stay prepared for. For most of the apps and modules integrated to improve functionality of online store, there is a recurring cost that has to be paid, which may inflate as the demand requires solution to scale.
On the other hand, developing an eCommerce application with Magento can ensure a custom solution, module development requires one-time-investment, and there is a sure opportunity to scale as the demand comes in.