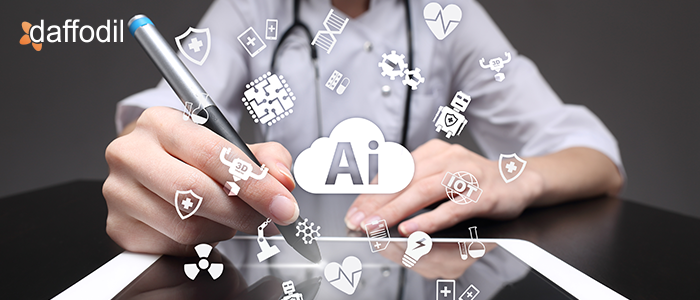 The healthcare industry has a great partnership with modern-age technologies to work around some of the common yet the biggest challenges of the care delivery system. Optimizing the supply chain, managing massive volumes of patient-related data, enhancing patient experience, ensuring data security, managing system integration, communication, & data sharing, etc. are a few of them.
For the large-scale & fast-paced healthcare payers, managing these processes and operations requires a smart, automated approach to ensure their failproof execution.
This is where automation technologies such as Robotic Process Automation (RPA) and Artificial Intelligence (AI) come in to make a difference. A fusion of these automation technologies called Intelligent Automation is enabling healthcare to optimize processes and operations.
Intelligent Automation (IA) combines AI technologies such as Natural Language Processing (NLP), Machine Learning (ML) with automation. It extends the automation possibilities that Robotic Process Automation (RPA) and Business Process Automation (BPA) offers to optimize and transform the healthcare system challenges.
Generally, BPA and RPA are known to automate low-skill, highly-repetitive, rule-based tasks that originate with structured data and do not require human judgment. Intelligent Automation, on the other hand, accelerates these capabilities of BPA and RPA by enabling the system to make complex decisions for high-skill tasks on both structured and unstructured sets of data.
Intelligent Automation: Applications for Healthcare Payers
Here are a few examples of how Intelligent Automation can help payers deal with the challenges in the healthcare system.
1. Patient Appointment Scheduling
Scheduling a patient-provider meeting is crucial to the seamless functioning of a healthcare system. While websites or apps may offer an interface for booking appointments (date, time, availability of physician), chatbots offer a personalized experience by offering them suggestions based on symptoms, recommend physicians, collect information to book an appointment, can provide preliminary counseling, etc. At any point in time, patients can navigate to the bot for rescheduling, ask insurance related queries, location, fees, and more. The bot can keep the patients notified about their appointment, ensuring that there are least patient no-shows.
In a healthcare organization on a large scale, there can be multiple specialists, consulting hundreds of patients every day. Having a bot that can interact with the patients instead of front office executives ensures that their time and efforts are utilized in managing tasks and operations that require human involvement.
2. Automating Discharge Procedures
Discharge procedures take a lot of time. By having a patient management system (PMS), the process of discharging a patient can be simplified and made less time-taking. On the basis of patient information collected in a PMS, bots can be deployed to automate the discharge cycle, including post-discharge instructions such as prescription, follow-ups, recommendations, get approval from the facility staff, and more, thereby reducing the administration time and managing more patients at a time.
3. Insurance Claim and Billing Management
50-70% of the tasks involved in an insurance claim settlement are repetitive. It involves receiving a large volume of data, adding it to the system, evaluate and process it. Basically, most of the tasks involved in claim management are rule-directed actions and thus becomes the most suitable case for Intelligent Automation. A bot deployed to automate claim settlement cycle can perform the following tasks:
A bot can extract claim information received from multiple sources, in multiple formats.





A bot can be trained to identify exceptions or validate claims through configurable rules.





Bots can identify fraudulent cases with Artificial Intelligence working at the backend. Using Machine Learning, a bot can cognitively learn about relevant claim cases.





Once a claim is approved, payments can be processed by integrating the automation system with appropriate departments.
4. Inventory and Supply Chain Management
Intelligent automation can help in managing non-clinical processes in a healthcare system. Payers usually keep a track of inventory items such as gloves, medication, needles, syringes and their supply. Here, Robotic Process Automation can help the supply chain managers and staff members maintain an optimal inventory level by notifying them about the need and demand patterns. Apart from inventory, hospital rooms & other resources can be managed through an automated rule-based engine.
Benefits of Intelligent Automation in Healthcare
a. Improved Efficiency with Streamlined Processes
When appointment scheduling is effectively managed, it leads to fewer patient no-shows and a high patient satisfaction rate.



Automation in retrieval and processing of data saves time spent on administration, thereby giving more time for patient care.
b. Regulatory Compliance Management
Automation ensures process standardization, ensuring that all pivotal steps are covered while defining the rules and workflows.


Healthcare payers can create an improved system for monitoring & auditing of the system



Role-based access controls ensure the privacy of patient's data & its transmission across different channels.
c. Automated Patient Management & Engagement

Appointments, prescriptions, insurance claims, reports, treatments, follow-ups. There are a lot of things involved in a patient's cycle. By automating this cycle, payers can stay assured that the right treatment reaches the patient, irrespective of the number of patients handled at a time.

d. Better Healthcare Analytics & Facilities

Data collected through automation helps in making better healthcare decisions, which further enable the payers to provide improved patient care.

Depending on the data collected, automation can be utilized for patient segmentation. This enables the payers to design healthcare plans that help to serve the patients better.

Building an IA-Powered Healthcare System

Intelligent Automation brings limitless benefits for healthcare payers. However, it is important to figure out significant processes that can be automated using AI, RPA, and BPA.

To understand how an IA can help your healthcare organization avail its benefits, contact our health-tech experts who will understand your business, its processes, and discover the right set of tasks that needs to be automated. To get in touch with them, schedule a free consultation session with them.
We have suggested areas where medical practice owners can maximize their existing investments to expand their patient base. Click Here to download the eBook for FREE.