Healthcare delivery organizations (HDO) are striving towards a system of care, which is accessible and affordable. One of the major steps in this concern is enterprise virtual care system that aims to reinforce the conventional F2F delivery of care.
For this, Hospitals, clinical laboratories, imaging centers, hospice centers, and other HDOs are utilizing the virtual care solutions. This may include, but is not limited to wearables and monitoring devices, scheduling appointments, maintaining EMR/EHR, video conferencing, clinical process automation etc.
In the past 5 years, there has been a tremendous rise in number of telehealth patients worldwide. The number of telehealth patients are forecasted to grow around 7 million by 2018, according to statista.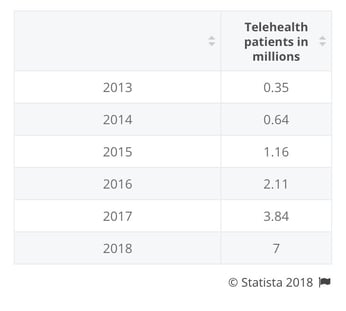 Such an interest, acceptance, and adoption of virtual healthcare solutions, by the patients has given confidence to the HDOs to offer care through remote mediums. This not only augments patient's experience but also ensures that care delivery branches out care in different areas, reaches maximum number of users, with efficient payment models, when needed.
Meanwhile, technology plays an important part in developing advanced healthcare solutions. Artificial Intelligence, Augmented Reality, Internet of Things, Blockchain, Virtual Reality are a few technologies that have got some amazing use cases in the virtual health-tech solutions.
Enterprise Virtual Care Solution: A Few Practical Example
One of the many ways HDOs can create a virtual care platform for patients is through

Patient Portals

. These are generally the web or mobile apps with facility to connect patients and doctors online for varied health related consultation and suggestions.
READ MORE: How Patient Portals are Improving the Virtual Healthcare System
Another way of keeping the patients informed about their health and connect with the doctors is through

wearables and mHealth apps

. While the wearables collect the human vitals, intelligent mobile apps interpret the information received.
Enterprise Virtual Care Platform: Getting Started with Development
In this course of virtual healthcare evolution, a number of technical challenges in healthcare application development are addressed. A fix to these problems will return a healthcare system that ensures augmented engagement between patients and physicians, improved ROI, and ultimately better care. Meanwhile, it is important to keep a record of patient's requirement and expectations.
With prominent software applications like iSikcure, MediDoc, Lybrate, Daffodil holds the expertise to build the right enterprise virtual care platforms for HDOs. If your organization needs a solution that can virtually streamline the way care is delivered to the patients, contact our health-tech experts to move ahead.