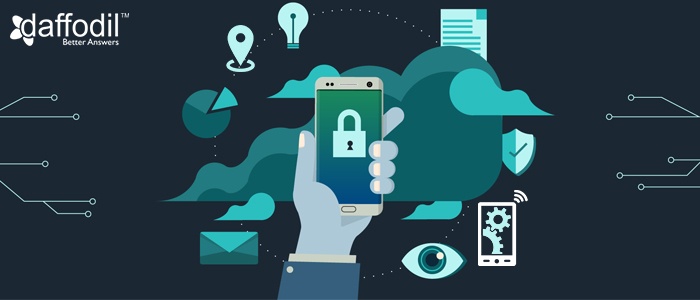 There has been a tremendous hike in the number of mobile device users, globally. The smartphone penetration rates are increasing, with over 36% of world's population projected to use a smartphone by 2018. Moreover, iPads and tablets are retaining a great market share as well.
The emerging popularity and use cases of mobile devices is offering employees a flexible approach to do their jobs, thereby giving a level playing field to both the ends (employees and enterprise). This approach, popularly known as enterprise mobility, allow employees to manage their work from anywhere, through variety of applications and devices.
For a reliable approach towards enterprise mobility, technology plays an important role. Here, we talk about three foundational technologies that are significant for value delivery to any organization.
1. Mobile Security
Enterprise mobility deals with mobility of corporate data. Just consider an employee uploading a PPT from desktop to cloud storage system and another employee downloading it on the iPad to showcase it to client.
Moreover, considering the mobile security attack vectors that distort functionality of device and its applications from sempless functionality, taking foolproof security measures to address and avoid the risks is imperative.
For this, the practical solution is Enterprise Mobility Management (EMM). This practice deals with creating, applying, and organizing the policies in employee device or applications, so as to control the activities, in accordance to where and how it is being used. This may include wiping the device data remotely (MDM), enforcing passcode usage (Identity Management), controlling app usage by categorizing them as whitelist or blacklist apps (MAM) etc.
Further, there are approaches, which collaboratively ensures that risk factors are analyzed and practical measures are taken to address them as well. For example: Mobile Threat Defense, wherein the installed agents on the device are checked for possible vulnerabilities. This system often work with EMM tools to remediate the devices.
Data encryption is another mode to ensure enterprise security. Weather file level or application level, enforcing encryption can ascertain improved security measures while transferring data.
Alongside device and network security, the enterprise mobility system should also focus on human errors or any other issue for that matter that causes reluctance in end-user experience.
2. Mobile Application Development Tools
Mobile devices and their applications go hand-in-hand. Therefore, Mobile Application Development Platforms (MADP) plays a notable role building seamless enterprise mobility system. For enterprises that have their in-house development teams can design their software applications, according to features, functionalities, roles, permissions etc. However, for this, expertise for mobile application development is mandatory.
Another option, which is quite popular these days (as an alternate to MADP) is Rapid Mobile Application Development (RADP). These tools enable businesses to build mobile app, without much technological expertise. While these tools are gaining attention due to their low-or-no-code development, they don't really offer facilities as that of native apps built using MADP.
3. Location Based Technologies
The pervasiveness of WiFi networks is one of the reasons why it is possible today to make the most of location-based technologies. Companies, say those into logistics can pass an alert to their customers (through an email or message), informing them about delivery or any route optimization. One of the productive examples of using location-based technologies, for the best of enterprises and clients is Autoload.
Another, effective use case of location based technologies is fraud detection. For example: Companies can track location of their sales executives. A mismatch in location can give a red-flag about availability of sales executive at defined location, generating a transparency in work.
Planning to Build a Flexible, Secure WorkSpace?
While enterprise mobility aims at a robust, secure system for work, it has to be flexible as well to ensure that employees are comfortable in the shell you created for them. Thinking of setting up or expanding the enterprise mobility services? We can help!