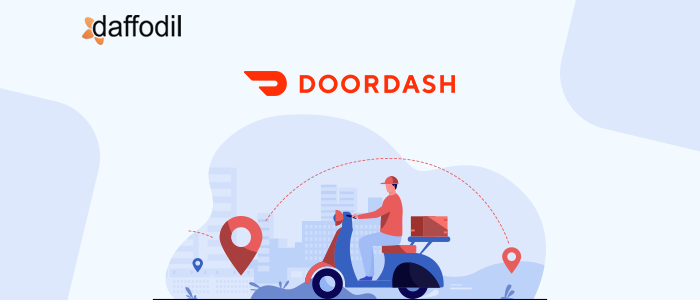 Ordering food has come a long way from having to call our nearby restaurant to now selecting from a wide range of menus, cuisines, restaurants all at the best pricing thanks to food apps. And the ones who make it all possible are the on-demand food delivery service providers. One such is of course, DoorDash, probably one of the biggest names around today.
According to a report by Forbes, on-demand food delivery services are increasing at 20% each year and are estimated to reach a growth of $365 billion in revenue by 2030.
Although the trend also shows that the food delivery business is facing stiff competition and for anyone who's thinking to get a hang of things it is a pretty good start to learn from the success of DoorDash and how it bagged the top spot in the food delivery ecosystem in mere seven years from its inception.
For all the curious souls, here's a lowdown on DoorDash's business model, how it works, and its revenue model.
DoorDash is a US-based on-demand food delivery service founded in 2013 and launched as Palo Alto Delivery in January. It received backing from Y-Combinator and by March the same year, it was finally incorporated as DoorDash.
A brainchild of four Stanford alumni – Tony Xu, Andy Fang, Evan Moore, and Stanley Tang Doordash acquired Uber Eats in 2018 and surpassed GrubHub in 2019 by 28% in total sales. Today, DoorDash stands as the largest food delivery provider in the US.
Doordash has a presence in more than 4000 cities and has more than 340,000 stores across the US and Canada.
Founded in Jan 2013, DoorDash has raised $2.5 billion overall since its inception. It received seed funding in two months from its launch i.e. in March 2013 followed by $2.4 million in September the same year. In 2014 it raised $17.3 million in Series A funding and $40 million in Series B funding by March 2015. It raised $127 million in Series C funding in March 2016.
As of June 2020, the food delivery giant's valuation is around $16 billion. In 2020, DoorDash went public announcing Initial Public Offering (IPO) pricing its shares at $102.
How DoorDash works?
Like most logistics-based on-demand startup models – DoorDash too started on the same lines. Here is how the third-party food delivery service provider works.
Choose order: Customers can view restaurants and menus by applying filters such as nearby restaurants, or restaurants providing discounts and more. They can then build their order by selecting the food items from their preferred restaurant.
Payment: Once the order is placed, users can head to the payment gateway and pay to choose through various methods.
Track order: After the order is placed, DoorDash forwards the same to the respective restaurant where it is received and the user can then view the order status as prepared, packed, or on its way. The delivery agent picks up the order and delivers it to the user at their doorstep. Users can track the delivery person with real-time location and updates.
Delivery: Once the delivery agents or Dashers make it to the customer, it's totally up to the customer whether they want to tip the agent or not. The tip amount completely goes to the respective agent.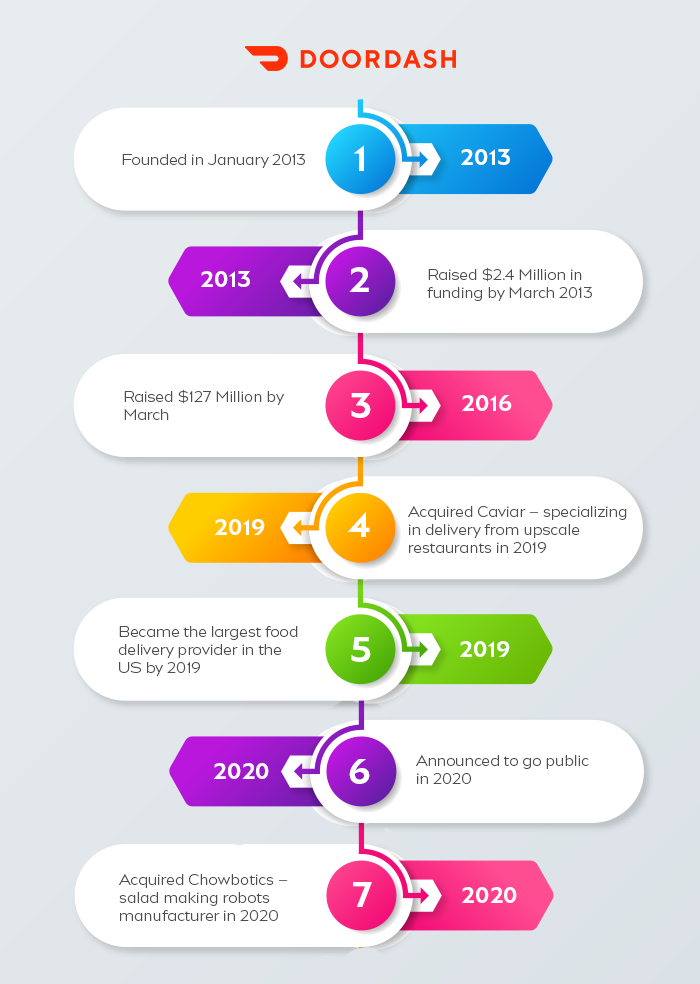 DoorDash Business model
DoorDash comprises a Y-structure business model wherein it focuses on all three spheres of the food delivery chain. It works in sync with all three areas coordinating between restaurants, customers, and delivery agents. While it provides customers with the freedom and variety to choose from several options, it gives its vendors (restaurants) a greater reach to the customers it might have not enjoyed otherwise. Besides, it also puts both the parties in control by giving them the option to track the delivery persons in real-time getting updates on their location. DoorDash smoothly cracks the operation and interdependence of these three elements providing a great experience to all the involved stakeholders.
While the customers get benefited from the ease of ordering anytime, anywhere, the app also provides them with better pricing and a live delivery tracker. Restaurants partner with DoorDash as they don't need to be concerned about getting the food delivered to their patrons. That is one less stress. And they can focus on their core business which is the quality and taste of food.
Partnering with a third-party delivery service provider is convenient for restaurants and saves on the cost of hiring their delivery agents. This way the smaller establishments get empowered the most. The drivers or the delivery persons which are called Dashers in the case of DoorDash receive a flat fee for every delivery they complete weekly. It's a good opportunity for many and drives employment both full-time or part-time depending on individual preference.
DoorDash Revenue model
Curious about how DoorDash generates revenue? Here's how it makes money.
Commission on orders: DoorDash receives a commission or fee from each order that it delivers to its customer's doorstep from its merchants. Mostly, the commission percentage from restaurants is 20%.
Advertising: Another way how it generates money is the ad revenue that it receives from displaying ads on its inventory. Restaurants that want to be placed at the topmost of the app pay higher.
Delivery fee: The delivery fee is yet another way to earn money. DoorDash on average charges a delivery fee between $5 to $8 per order.
Also Read: How Teladoc works? Business model and revenue streams
Final Words
DoorDash continues to focus on providing newer experiences to its customers. Its 'Delight Score' feature is just that. It lets customers rate restaurants on a scale of 1 to 10 based on the quality of food, hygiene, popularity, and more parameters making the customer experience its topmost priority and authority in the food delivery domain. As of now, DoorDash is raking it in with the food delivery system but in the future might expand to more on-demand delivery spaces. Want to start up but hitting a technology stump? Let us help. Book a free consultation with our experts who will guide you on the right technology and software to use for your business venture.