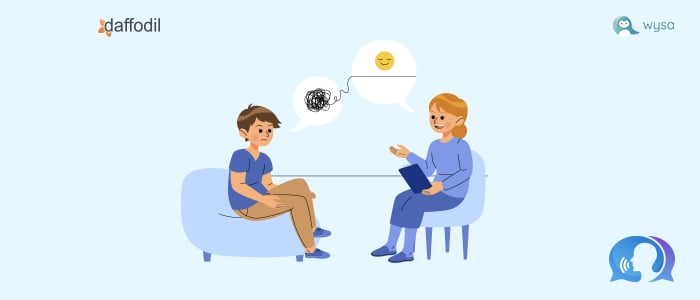 When it comes to seeking app-based medical solutions, physical health is often given precedence over cognitive or mental health. However, millions of people suffer silently from unseen, yet debilitating effects of mental illnesses. That is the pain area that the creators of the research-backed mental wellness app Wysa have chosen to address.
The main reason that holds people back from consulting with mental health practitioners is that they find doing so in person an intimidating affair. Wysa, with its chatbot-guided wellness application for Cognitive Behavioral Therapy (CBT), self-care tools, and sessions to counter stress and grief.
In this article, we will explain the ways in which Wysa is making mental health diagnoses more accessible to people who have never availed of therapy before. To understand how a mental health app works as a business, we will also discuss Wysa's business model and which avenues it draws its revenue from.
Are Mental Health Apps Helpful?
Mental health apps offer a form of digital anti-anxiety or anti-depression alternative. This is especially helpful for people who are closed off and find sharing intimate details and personal feelings about life's problems distressing. Moreover, the diagnosis of mental illness is not a linear or rigid scientific method. Mental health apps such as Wysa, Moodfit, and BetterHelp help facilitate a deep understanding of the human condition so that mental health diagnostics are more streamlined and relevant.
The National Alliance Of Mental Illness (NAMI) reported in 2020 that one in five adults in the US go through some form of mental illness, be it serious or non-critical. However, only 46.2% of these adults were able to receive proper treatment. While communication ineptitude is responsible for some of it, a major reason for this can be attributed to the fact that 11% of US adults did not have insurance coverage in 2020.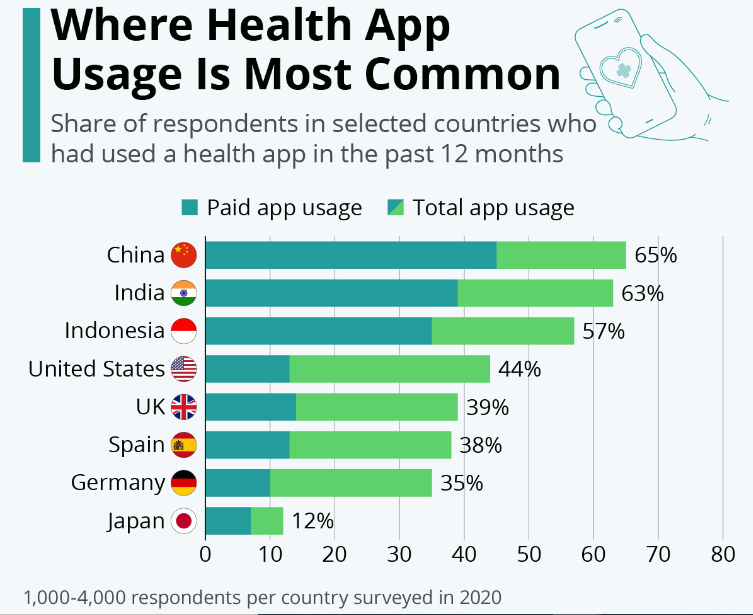 Source: Deloitte
Mental health apps help bridge this divide by eliminating redundant guesswork from the mental health diagnostic process that tends to bog down several other alternative treatment approaches. Through the use of daily reminders, emotion trackers, chatbots, and reference documentation, users can experience some respite and get in touch with licensed therapists at some time.
Customer Success Story: Optimizing a mobile app for a Canadian health-tech startup, helping them gain over 100,000 new users.
How Does Wysa Work?
In countries like the US and UK, regulatory authorities for population health tend to restrict access to subsidized mental health consults. This is usually offered on a priority basis, with more serious mental illnesses getting treated first, while others are put on waiting lists. The UK's NHS usually has a waitlist extending up to 12 months for less serious mental illnesses, and in India, there are only 10,000 trained mental health professionals in all.
Wysa has been attempting to satisfy this much-needed requirement in the market today by developing an app driven by an AI chatbot. Techniques for treating mental health issues include but are not limited to CBT, Dialectical Behavior Therapy (DBT), meditation, and so on. Even without a premium membership, users of the app can find tools to self-therapize for issues such as stress, anxiety, depression, and dealing with grief and loss.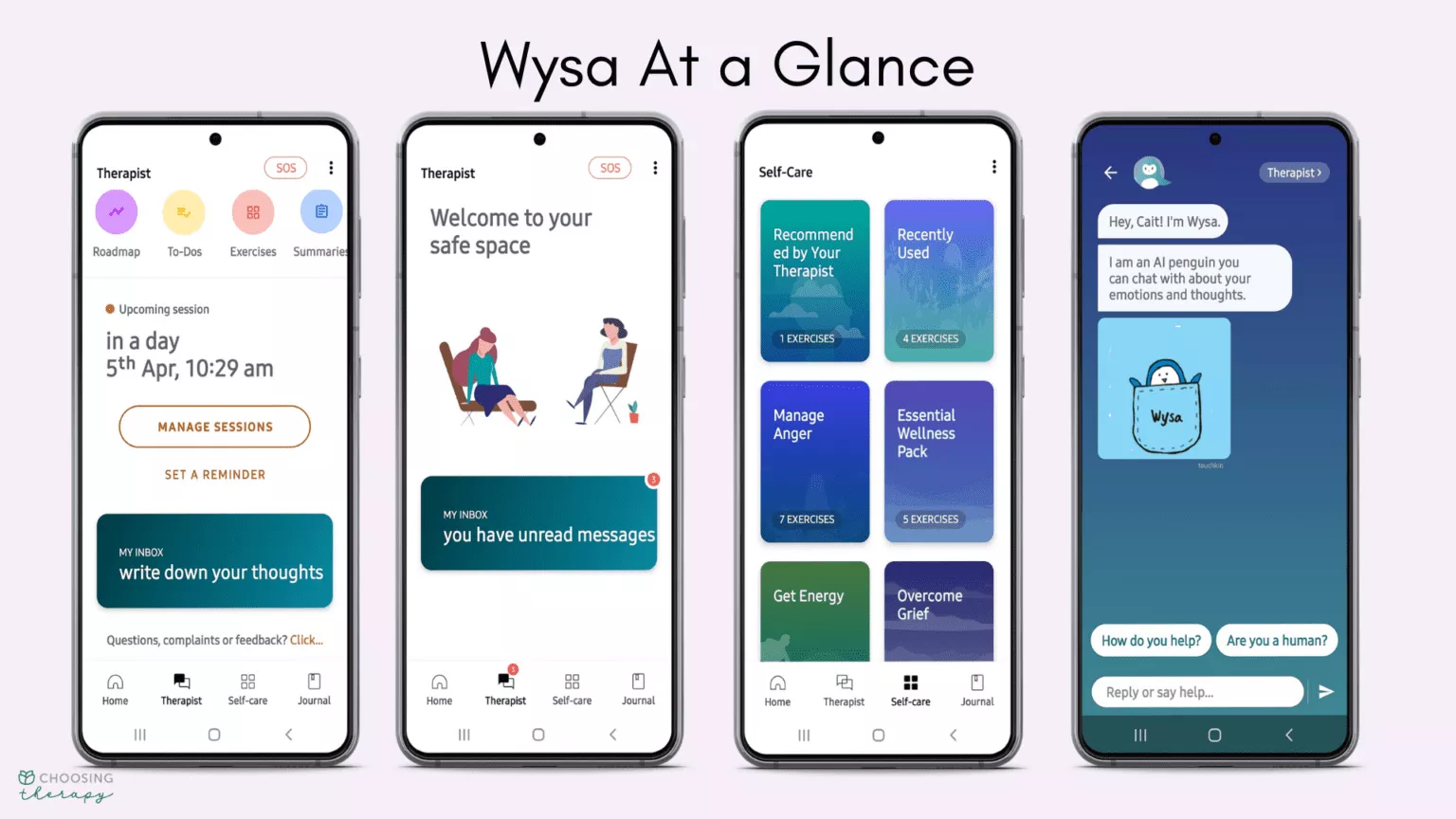 Source: Choosing Therapy
The creators of Wysa claim that the app consists of an "emotionally intelligent" chatbot that leverages AI to detect the user's ongoing emotional state. Using facial recognition algorithms, the app starts searching for human eyes, followed by eyebrows, nose, and so on until it can make an accurate reading of human emotion.
Additionally, the app has a slew of never-ending tools and techniques that have been gamified so that you unlock new ones as you keep concluding work with each tool. If the user feels that support from the chatbot is not hitting the spot as well anymore, a particular subscription package allows them full access to licensed therapists and psych professionals. These are offered as advanced coaching sessions with psychotherapists.
How Wysa's Business Model Was Built
Wysa's developers were leveraging sensor data from the phone to create machine learning models to detect depression. Technically speaking, the detection technique was 90% accurate, but only 1 in 30 persons actually sought therapy.
Meanwhile, the chatbot, which was merely intended to be a cover app for the sensor code, ended up being very well-liked. The creators started to explore what would happen if they taught people how to develop emotional resilience through a straightforward discussion of their personal situations. They were aware that everyone could use these skills as they constructed them.
Wysa's AI algorithm picked it up from there on. More than anybody else, Wysa's users have been its driving force. Through word-of-mouth alone, this has increased to a million users over the past two years.
Wysa's approach to assisting users has been shaped by the particular feedback of over 60 psychologists and 15,000 users. Moreover, Wysa has 65 users who have offered to translate it for them to cater to users of the same number of languages worldwide.
How Wysa's Revenue Streams Are Maintained
It was recently reported that after reaching 4.5 million members in 65 countries, Wysa is said to have raised $20 million in a Series B fundraising round to develop its business. The Series B fund will be used to increase sales in the company's home market as well as in the U.S. and U.K.
Wysa has already received FDA and National Health Service (NHS) certifications and is utilized by the latter as part of its online mental health services. The mental healthcare app will use a portion of the financing to expand multilingual support, even though it was initially designed to operate in English.
Wysa encourages people to step a little outside of their comfort zone by providing early involvement and a secure area where they can come in and anonymously just talk about what's upsetting them. This can be done through an unpaid profile creation that does not involve a log-in or any personal details. This is known as a freemium model, wherein later on a paid profile provides users access to licensed psych professionals.
Employers including Accenture, Colgate-Palmolive, Aetna International, and Swiss Re are giving Wysa's support through their current employee perks, such as Employee Assistance Programs, while smartphone users can access Wysa as a mental health software under a freemium model (EAP).
ALSO READ: 7 Types of Patient Healthcare Apps that are Doing the Rounds
Mental Health Apps Need Customer-Centric Development And Design
Nowadays, it seems like there is an app for everything, and mental health is no different. Global investment in mobile mental health applications is expected to approach $500 million in 2022, according to Deloitte Global.
Smartphone apps with a focus on mental well-being are a global need for both low-income and high-income countries. To build a mental health app where users can find actionable insights and practical benefits, you need a technology partner like Daffodil who can integrate AI seamlessly, while ensuring optimal UI/UX Design. Book a free consultation with us today, to begin this journey.