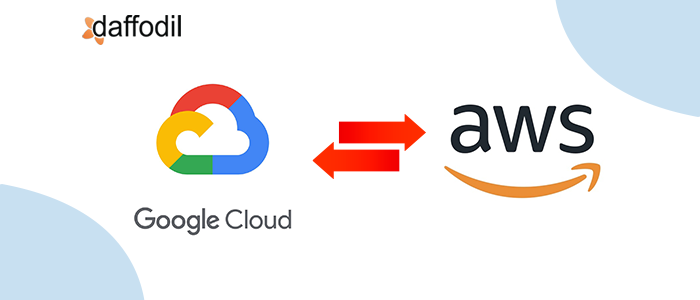 AWS and GCP are two of the popular public cloud platforms. Although GCP gained momentum recently, AWS remains the dominant player in this market. Data is the backbone of all successful app deployments, analytics workflows, and machine learning practices. While migrating data between the clouds, you first need to understand the location where you will move the data for various use cases, the variety of data you are moving, and the available resources.
AWS provides multiple services and partner tools for migrating your data sets, including files, databases, machine images, block volumes, and tape backups.
In this blog, we will discuss reasons to make a move from GCP to AWS and how?
Things to Keep in Mind: Transition from GCP to AWS
Cloud transition can bring challenges related to vendor lock-in, which is quite common when the company workflows and IT operations are restricted to a single cloud service provider or CSP's features and services. For example, when a company creates its operations with the use of AWS RDS, changing it with Google Cloud or MS Azure analogs would become a challenging task.
You must construct your infrastructure in the form of code using Terraform and Kubernetes. Also, try your best to make use of 3rd party tools for escaping vendor lock-in. These are some of the best practices to migrate from GCP to AWS:
•Evaluate your application portfolio, find the workloads subject to migration, and prioritize by business need.
•Design your AWS architecture and interconnect your new resources and services. You should migrate any data or databases.
•Test the application to validate the performance. Adjust and optimize as required.
•Once optimized, redirect live traffic to AWS and start using it in production use. Always have rollback if any problem arises.
Essential Tools for GCP to AWS Migration
Terraform: Terraform handles each and everything well. Right from integration to load balancing and also the construction of network resources. It becomes effortless to construct a DNS record stored in GCP, which will handle all web services at AWS.
Well, every cloud platform possesses its confirmation manager (AWS Cloud Formation, Google Cloud Deployment Manager, or Heat Orchestration Templates for OpenStack). Terraform is above all of this in terms of efficiency and is also easy to use as a cloud-agnostic configuration orchestration tool that smoothly works across different cloud ecosystems.
Ansible: It is one of the most popular tools for carrying out cloud migration due to its sheer simplicity and high efficiency. It can be efficiently run from any Unix machine and connect to almost any service through SSH. While following Ansible's best practices, your DevOps team can arrange the configuration base for a well-performing, lean, and efficient machine.
This helps your entire ecosystem to be able to run anytime, anywhere as long as the packages are updated while making use of the perfect handlers, ensuring zero downtime for every update. However, Ansible is not perfect. It is a push-based system, unlike the pull-based Salt, Puppet, or Chef. This is why Ansible is not right for auto-scaling.
Also Read: All About AWS Outposts and its Benefits
JumpCloud: A big cloud management problem at scale is the challenging user management, as every user account is to be provided with SSH access to the application. This is why you need to store and take care of a wide range of SSH keys. JumpCloud takes care of this by giving a hosted LDAP/Active Directory Service, hence approving the permission for spawning users in any database and on any container very quickly.
Docker And Kubernetes: These are two of the essential tools for your image registry's construction and functioning. The most important reason behind using them along with Terraform and Ansible is its ability to work smoothly irrespective of the underlying cloud infrastructure. Altering a few code lines helps in the process of rotating your images on either AWS, GCP, Azure, OpenStack, or any other infrastructure. Docker containers can get launched on any OS platform with Docker on it. This helps in expanding portability and decrease the operational overhead.
The configuration and container management ecosystem, also referred to as Kubernetes, was initially developed for GCP. Still, at present, it has been released in the form of an open-source tool. Kubernetes helps launch, operate, monitor, shut down, and restart all clusters, nodes, pods of containers, confirming good uptime and convenience for your cloud operations' scalability.
Also Read: Rackspace to AWS: Why and How to Make the Shift?
Final Words
The above mentioned DevOps tools make the entire AWS migration procedure swift and smooth. These tools are specially designed to deliver a continuous management layer through various cloud platforms. They function in such a way that they help to provide a seamless and effortless migration between AWS and GCP. Currently, Amazon Web Services supports a whopping number of more than 2,000 government agencies and 5000 educational institutions. Click here to know how you can benefit from the migration.