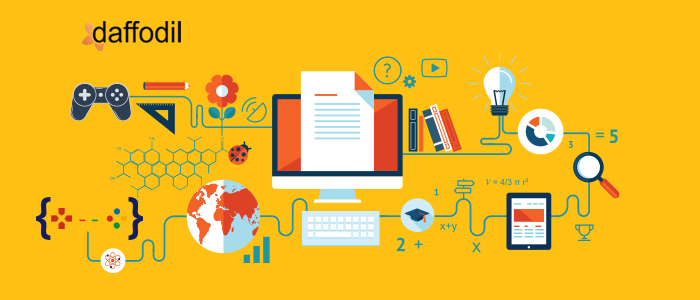 Virtual classrooms are the only way out for educational institutions to diminish the impact of COVID-19 pandemic on education. The digital era of education has pushed learnings beyond books, lectures, and talks. Explanatory videos, live sessions, challenges, contests, and rewards have made learning more engaging for learners as well as tutors.
Also, stats suggest that the global eLearning market is expected to reach $325 billion by 2025. This includes the market captured by online learning software, visual tutoring, video conferencing tools, etc.
Considering the benefits and opportunities that eLearning brings along, various businesses have been investing in solutions that could simplify the way tutors can mentor students. However, winning the eLearning game is not easy.
There are several challenges attached to the eLearning concept and overcoming them requires a strategic approach to win the market. However, before we get into the ways to make eLearning engaging and motivating, let's understand why eLearning is a tough game to win.
Challenge 1: Transforming Dull Subject Matters to Interesting Tutorials
One of the major drawbacks of traditional learning methods is that they lack creativity and innovative resources to explain a concept to the learners. Traditional learning methods and eLearning won't make any difference if the latter fails to make subjects interesting for learners and make students 100% committed to learning. New ideas to engage learners is an inevitable part of eLearning platforms.
Challenge 2: Designing eLearning Platforms for Different Learners
Every learner is different. He may be different on the basis of motivational level, intellectual grasp, or introduction with modern tools & gadgets. Therefore, an eLearning solution should be versatile that keeps every type of learner into consideration.
Challenge 3: Making the eLearning Cycle Interactive & Accessible
One-way interaction can never make learnings interesting. The key to it is to ensure that both the ends, i.e. the tutor and the learner interact with each other in real-time. This is the reason, why eLearning with live streaming is gaining ground in the Edtech industry.
In a nutshell, eLearning platforms, these days, needs to be engaging, interactive, and versatile. To achieve this, one of the tried-and-tested approach (that many of the learning platforms (in different genres) adopt) is gamification.
What is Gamification?
Gamification is the idea of using game mechanics and experience design to digitally engage & motivate users to achieve a goal. It allows capturing the user's attention and give them a medium and motivation to take action. Listed below are four core elements of gamification:
Gamification is a technique to digitally engage users, i.e. the users interact with any digital medium to communicate, such as tablets, computers, smartphones, etc., instead of having an in-person interaction.


There are game mechanics that include the use of badges, reward points, leaderboards, etc. This motivates the users to take action and engage them.


Experience Design is the journey that users have with the app elements such as scheduling an appointment, adding a story, playing a game, etc.


The reason to integrate gamification is to enable users to achieve a goal. If a user successfully achieves a goal, the business will automatically reap the benefits.
There are different ways gamification can be added to an eLearning solution. Here, we share a few of them:
1. Challenges
Challenges map with the learning objectives or the goals of the learner in a solution. Thus, introducing new challenges in an eLearning solution motivates learners to complete with the challenge and engage with them as well.
2. Levels
Levels are nothing but the ladder to achieve a goal. Crossing levels signify learners' proficiency and keep them going to achieve more.
3. Scores
A scoreboard is a creative way for the learners to stay updated about their performance and measure their proximity with the goal.
4. Badges
Badges give a certain sense of accomplishment to the learners. It's a way to appreciate learners for their continuous efforts towards achieving a goal.
How to Implement Gamification in eLearning Software?
To gamify an application, it needs to have game elements, game mechanics, and non-gaming contexts. During an eLearning application development, these gamification elements can be integrated into the following ways:
Game Elements: These are the virtual rewards that gamers get while playing a game. Apart from levels, achievements, points, game elements can be introduced through bonuses, new assignments, discoveries, etc.
Game Mechanics: Here, you have to think of ways to motivate the learner. This can be done through different challenges, by providing learners with instant feedback on their work, etc.
Non-gaming Contexts: This includes situations where it is necessary to achieve non-gaming goals. This could be anything, right from getting certification from an online course or winning a quiz to get a badge.
Building an eLearning Solution with Gamification:
Gamification has a lot to offer. Both learners and tutors can benefit from the gamification techniques, and ultimately your eLearning business. If you already have an eLearning app that needs to be modernized with gamification, connect with our experts to understand how you can proceed for the same and what game elements can be added to your solution.
In addition, if you have an eLearning app development requirement, connect with our Edtech experts who will guide your way to building an engaging, motivating, and interactive eLearning solution.