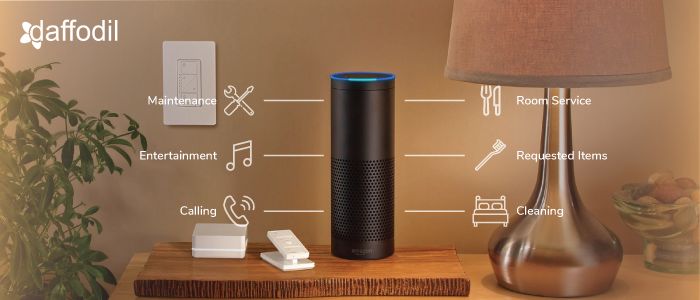 In this digital age, voice assistant technologies are constantly evolving at an exponential rate across the world. According to research by IDC, the worldwide market of voice-enabled devices is expected to grow at a 12% CAGR from 2018-2022.
With the growing potential in voice assistant landscape, major brands such as Google, Apple, and Amazon are investing in this technology. And to leverage the best of the technology, voice assistants have now entered the hospitality industry as well. The all-new Amazon's Alexa skills are now being used to build custom voice interactions for hotel guests.
Some of the early adopters of Alexa Skills are Marriott Hotels, Westin Hotels and Resorts, and Wynn Resorts in Las Vegas. With the ever-changing customer demands, Alexa skills development is offering these hoteliers a wide range of solutions that can enhance their guest experiences.
In this eBook, you will learn:
What are Alexa Skills and Alexa Skills Development?

How Alexa Skills Development can Improve Hotel Operations

How Alexa Skills Development can Enhance Guest Experiences

The Impact of Alexa on Hotel KPIs.
If you are also planning to engage your guests with Alexa-powered hotel rooms then download this eBook to explore the Alexa skills development capabilities.