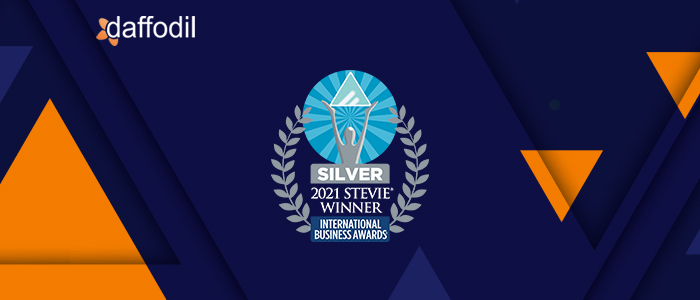 Gurgaon, 21 September 2021: Daffodil Software, a leading software engineering company based in India, today announced that it has won the Stevie award at the 18th International Business Awards®. It bagged silver under the 'Company of the year-computer software-large' category.
The Stevie® Awards are the world's premier business awards that honor the achievements and positive contributions of organizations worldwide. It is judged by renowned innovators, entrepreneurs, and business educators. The organizations at the International Business Awards® (IBAs) are recognized under several categories including management, marketing, technology, new products & services, human resources, apps, events, websites, etc. In 2021 IBA, the winners were selected from more than 3,700 nominations submitted by organizations in 65 nations.
Daffodil Software started as a product company in 1999. Over time, it has built its reputation as the preferred technology partner for hundreds of companies globally, assisting them with enterprise solutions, software engineering & digital transformation services. It's amongst the early adopters of modern technologies, such as AI, Blockchain, IoT, etc., and has a clientele that includes Samsung and the Reserve Bank of India (RBI). Daffodil has gained ground in the healthcare industry and is a technology partner to some of the renowned hospitals and healthcare organizations across the globe.
"Daffodil software is doing a great job not just by their offerings but also striving towards improving their service offerings. Despite having a huge competition in the IT industry, Daffodil has proved itself by maintaining and becoming a partner to 100+ dynamic organizations." states judges from the IBA panel
Regarding Daffodil's new win, the company's CEO, Yogesh Agarwal says: "Awards and recognition are a great way to know that we are moving in the right direction. Receiving the 'Company of the year' title at the most prestigious, International Business Awards® is another feather added to the company's reputation cap. We are grateful to have a team who is passionate to innovate with new ideas and makes the most of modern technologies to bring a change to the conventional ways of doing things."
About Daffodil Software:
For more than 20 years, Daffodil Software has been a trusted software technology partner to organizations across the globe. With our roots into innovation, tech agility, & time-proven processes, our team of 800+ technologists strives to shape the tech industry and help businesses elevate their value proposition through technology. For more information, visit https://www.daffodilsw.com