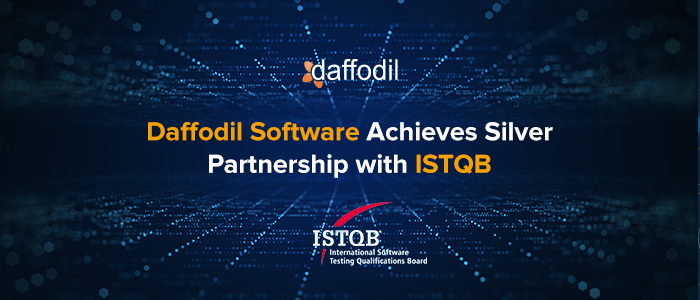 Daffodil Software, a leading software engineering company based in India, has achieved the ISTQB® (International Software Testing Qualifications Board) Silver Partner status. This ISTQB®'s Partner Program acknowledges Daffodil's impeccable software quality assurance capabilities and affirms its commitment to bringing customers trust and satisfaction.
ISTQB® is a not-for-profit certification body registered in Belgium and a global leader in software testing certifications. ISTQB® promotes excellence in software testing and maintains a Testing Body of Knowledge (TBOK) that evaluates organizations' effective testing skills in accordance with industry best practices.
Being an ISTQB silver partner, they assure their customers to provide improved software quality by testing their software more efficiently and effectively. With their expertise in software testing methodologies and techniques, they'll help expedite the development process, leading to reduced costs and faster time to market for software releases.
Daffodil Software is a technology partner to several innovative startups, SMEs, and large enterprises and is widely recognized for its capabilities in modern technologies such as Artificial Intelligence, CloudOps, and Robotic Process Automation.
Its software testing expertise covers a whole spectrum of software applications, including client-server applications, web apps, mobile apps, high-volume transaction applications, and highly complex software systems. Daffodil offers cutting-edge services that consist of manual & automation testing, performance testing & monitoring, penetration testing, API testing services, managed QA, and automation framework development. They help achieve faster time to market and better QA coverage, test complex business logic, and make applications more robust, ultimately helping businesses maximize their ROI.
Regarding this recognition, Yogesh Agarwal (CEO, Daffodil Software) says: "We value quality assurance as one of the most vital facets of software engineering. Through this recognition, we can assure that our QA team leverages modern technologies and approaches to ensure that the performance & security of the software applications are full-fledged."
The CEO further comments, "Along with our software engineering services, we have been experiencing a high demand for testing third-party software applications. With applications becoming more complex and most organizations relying on DevOps to drive software development, it has become increasingly important for organizations to adopt best practices for testing. This recognition from ISTQB effectively demonstrates our team's expertise to handle software quality assurance with unmatched precision."
About Daffodil Software
For more than 20 years, Daffodil Software has been a trusted software technology partner to organizations across the globe. With our roots in innovation, tech agility, & time-proven processes, our team of 1200+ technologists strives to shape the tech industry and help businesses elevate their value proposition through technology. For more information, visit https://www.daffodilsw.com/