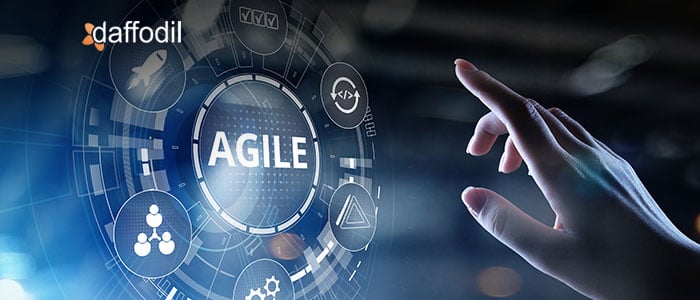 Industry experts frequently speak about agility, as it has become the most popular buzzword nowadays. Agility, in simple terms, is the ability to use the fastest way to get new products to the market. This is the definition of agility in normal times, whereas the definition of agility for today's environment when the world is fighting a global pandemic situation is quite different. Businesses today need to mobilize resources efficiently and effectively to ensure their survival.
Public and private institutions around the world are focusing on quickly responding to the challenges posed by the Coronavirus outbreak. It's not just every institution's requirement but a duty at this point to help out its clients, employees and other stakeholders in as much capacity as possible, irrespective of the industry it is a part of.
Abiding by the notion, Daffodil software is ensuring to provide technology support to its clients in all capacities while keeping the employees' safety into consideration. To do so in an optimized manner, we have evaluated and analyzed every client's needs in-depth to understand the magnitude of support required by them. As an enterprise that serves multiple industries, we have come across clients that require minimum support at this point as the industry they represent has come to a halt such as aviation and real estate. However, there are industries that require our support all the more now with a sudden jump in the demand such as healthcare and eCommerce.
Our developers are working from home to deliver the services needed to keep businesses running for each client whose industry has come to a standstill. Our ability to seamlessly and swiftly scale up or down as per the client requirements and infrastructure state has helped us put more people to places where they are promptly required while limiting resources for clients that do not have an immediate need. This way we are ensuring that we practice optimum utilization of resources as it has become the need for the hour more than ever before. Hence, we have made wide-scale adjustments in our operations as service requests have grown. We are paying a little more attention to, and prioritizing projects related to a few specific industries that are working towards disaster management with regards to COVID-19. These industries are:
Healthcare
In the wake of the COVID-19 outbreak, nations are getting aware of the limitations of their analog healthcare systems. It seems clear that we need an immediate digital revolution to face this crisis. In a factual sense, the technological advancement in the 21st-century has perhaps made the world smaller in terms of better and faster connectivity but is also a culprit of enabling widespread of the virus in a matter of few months in comparison to the one year which the "Spanish flu" took to spread in 1918. The rapid spread of the virus has challenged the healthcare system's ability to test, track, and contain people with suspected infection. While private enterprises have made a transition to remote videoconferencing and other digital solutions for proper functioning, the healthcare sector is still resorting to the brick and mortar physical infrastructure.
Due to a shortage of healthcare professionals and facilities around the globe, vulnerable patients with multiple chronic conditions are facing the difficult choice between risking COVID-19 exposure while getting medical help or delaying needed care. It has become imperative that the healthcare sector should also pivot towards the use of technology in the form of telemedicine and telehealth solutions to tackle the situation.
Daffodil has enabled convenient, secure and collaborative remote care for patients with a tailor-made telemedicine solution. It helps provide technology-assisted ancillary services through easy-to-use patient engagement system, and on-demand virtual doctor applications. We are helping multiple healthcare sector clients leverage telemedicine solutions to improve the quality and reduce the cost of healthcare services by eradicating the challenge of healthcare resource shortage in the time of this global pandemic.
eCommerce
Another industry that has seen a massive impact during these times is eCommerce. As the WHO had declared Coronavirus a pandemic and advised people to stay home to practice social distancing, there has been a sudden surge in panic buying not just in physical grocery stores but through the eCommerce platforms that are delivering essential goods too. Soon, both brick-and-mortar and online stores were struggling to keep up with demand, and price gouging for supplies became rampant.
Daffodil Software has gone that extra mile to support its eCommerce client's infrastructure which is flooded with traffic overflow and is demanding extra support in these testing times. Integration of technology offerings such as process automation for essential eCommerce related processes such as logistics management, payment processing, customer support, return processing, etc. is bringing agility to business processes and operations with minimum human intervention. Asset tracking and management solutions are helping automate the process of identifying assets in a warehouse, collecting related data, and adding/updating into a system. Such eCommerce solutions save hours of manual effort of carrying out physical stock checks at such times with minimum workforce availability.
Education
The global pandemic that the world is facing at the moment is considered even more life-threatening for children than adults and hence, educational institutions were shut before anything else. Although, in the best interest of the children's health, this step has impacted their learning process and the entire education system worldwide. However, Daffodil has been helping its clients from the education sector to keep the learning process functioning through custom e-Learning solutions. We are facilitating online learning by conducting real-time classes through video-conferencing for educational institutes and keeping their online portals up and running by maintaining a seamless backend infrastructure.
ALSO READ: How to Ensure Business Continuity Amid COVID-19 Crisis?
Conclusion
Ensuring maximum productivity and seamless functioning of all the projects, we have equipped our employees and the client's teams with the required technology and workflows to successfully work from home. It is unfortunate that the world is facing such circumstances at present however, we can ensure that by working and innovating together we can provide technical assistance and expert resources where they are critically required. This is exactly what agility means right now when it counts the most.