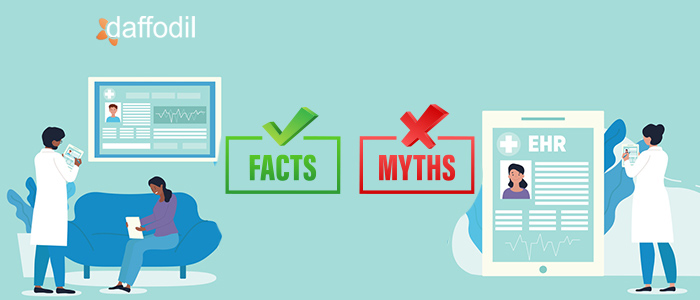 The accelerated adoption of digital solutions in the healthcare industry has resulted in satisfaction, accessibility, and cost-effectiveness in the care system. PHI maintenance over the care continuum, improved patient engagement, streamlined administrative operations, better claim management, early disease diagnosis are some of the advantages that healthcare digitization brings along.
Amongst the various digitized solutions, an Electronic Health Record (EHR) system is a significant solution that almost every HCO needs. An EHR software is a health information system that collects, stores, and manages patients' details in varied forms, such as patient's medical histories, disease diagnoses & treatments, lab reports, etc. Moreover, it allows the healthcare organization to automate administrative and operational tasks to improve efficiency in care delivery. These tasks may include medical billing and insurance claim management, appointment scheduling & reminders, patient management, telehealth services, etc.
An EHR software is certainly a fundamental requisite for clinics, hospitals, and other healthcare organizations to deliver better care. Despite the several benefits that the EHR software provides, some misconceptions revolve around it, limiting organizations to leverage the services it offers.
In the upcoming segment of this article, we will discuss the myths that surround EHR and the healthcare environments. Let's demystify them.
EHR software is only meant for large-sized healthcare centers
The most common misconception about EHR is that it's needed by large healthcare organizations (like hospitals) and is costly to have for a small or medium-sized care center.
EHR software is an umbrella term given to a solution that helps in managing patient information and maintains administrative tasks. An EHR consists of multiple modules that make up a complete, all-inclusive, big solution. For example, an EHR system can have a practice management system, a patient portal, a laboratory management system, a medical billing & claim management system, a specialty management system, and more. This doesn't mean that an organization has to buy a full-fledged solution.
A healthcare organization, be it a clinic or a hospital, can invest in individual modules of an EHR solution depending upon their practice/system requirement. This holds absolutely true for SaaS EHR systems and for custom EHR software as well. That is why there is no truth in the fact that only large-sized healthcare organizations can have EHR software.
EHR creates security risks for health information system
EHRs carry a huge amount of patient health information and the misconception is that no one takes account of its safety & security. The fact is that EHR solutions are developed following standard security regulations such as HIPAA. These regulations ensure that the PHI shared or saved in the EHR is protected against unauthorized use or without permission of the patient's consent/knowledge. The security standards vary from one country to another while their intent remains the same, protecting PHI.
EHR can't be designed for every healthcare practice
While the healthcare practice may vary in an organization, an EHR system can be designed for every medical practice. Speciality EHRs can help to manage different practices, right from cardiology, dermatology, orthopedics, neurology, pediatrics, pulmonary, etc.
If we take the example of a hospital, there are different medical practices with OPDs, ICUs, and other critical care systems. An EHR software can be customized to administer special practices and this can be done for as many practices as a healthcare organization wants.
When we talk about small or mid-sized healthcare clinics (specific to practice like Ophthalmology, Dentistry, Dermatology), an EHR can be developed according to how a system is being managed. According to the practice, electronic health records can be maintained with problem type, operations in a clinic, services offered to the patients, and more. Therefore, it is possible to digitally record information for (almost) every healthcare practice.
Cloud-based and custom EHR has no difference
When a healthcare organization thinks of EHR development services, they have two options: one is to go for cloud-based solutions and another is to get the solution customized.
Pre-built, cloud-based EHR solutions have a generic set of features that every healthcare organization needs in order to maintain electric health information. The best part is they are instantly available and can be deployed without the wait. There is a recurring cost that has to be paid monthly/yearly (as per the subscription plan).
On the other hand, when an EHR is customized, the features are developed according to the practice of how the services/operations are handled in a healthcare organization. They come with a one-time cost and prove to be highly cost-effective in long term.
Both types of EHR have their pros & cons. Making a choice depends upon several factors such as scalability, cost, practice, services, etc. that a healthcare organization offers. Altogether, when the benefits are compared and analyzed, a custom EHR proves more advantageous than a pre-built solution. Some of the factors that work in favor of a custom EHR software include:
Cost: Investment in a custom EHR is a one-time cost. Possibly, it may hit hard once but in long term, it proves cost-effective than any other SaaS software.
Flexibility: A custom solution can be upgraded anytime with new, trending features that can improve the quality of care. Such extension of features (according to practice and choice of time) is not possible with a SaaS-based solution that is designed with a generic set of features.
EHR Integration: Another advantage of custom EHR development is that it can be integrated with third-party healthcare platforms that help in achieving interoperability.
ALSO READ: Benefits of Integrating an EHR System into Healthcare Platforms
Planning to build a custom EHR solution?
Whether to build or buy an EHR solution is the choice of a healthcare organization. However, if custom software is a need of the time, then our healthIT team is there to help you out.
Daffodil holds years of experience in developing EHR solutions for medium to large-sized healthcare organizations. The technical expertise, feature analysis, architecture, technology stack are some of the factors that our team can help you with (along with development). To know how to get started, connect with our experts through a 30-minute free consultation session.