Edge computing has become increasingly popular in the digital landscape and taken several industries by storm, especially due to the surge of data generated by IoT devices, smartphones, and other endpoints.
As traditional cloud computing models struggle to meet the demands of real-time application requirements, this technology has emerged as a pivotal solution by enabling efficient data processing and analysis at the network's edge. This approach helps minimize latency and bandwidth usage while improving data privacy, making it a more efficient and cost-effective solution.
This article delves into the various applications of edge computing, examining its transformative impact on computing and data management.
Edge Computing Use Cases Across Industries
The integration of edge computing into daily workflows and applications presents a plethora of opportunities for businesses. We have categorized the potential applications of edge computing into five significant industries, including healthcare, retail, agriculture, entertainment, and transportation, and highlighted the diverse possibilities within these industries.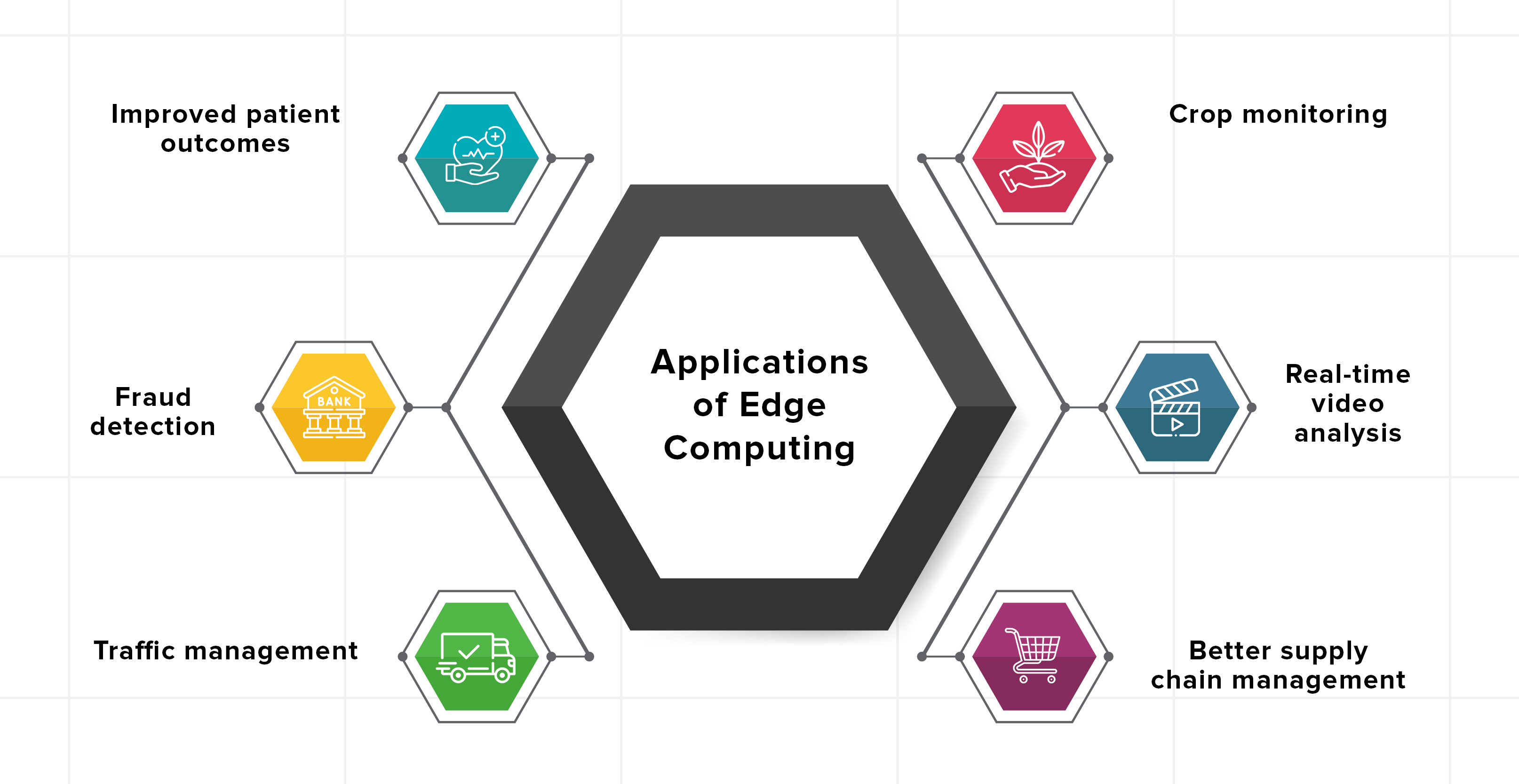 Healthcare
The applications of edge computing in healthcare are numerous and diverse, ranging from remote patient monitoring to real-time diagnosis and treatment. By bringing computing resources closer to the source of data, it enables lightning-fast processing and analysis, critical in a field where every second counts. Here are some instances of how it can deliver better outcomes:
1. Smart hospitals: You can build smart hospitals by integrating various IoT devices such as medical equipment, wearables, and sensors. By analyzing data from these devices in real-time, healthcare providers can identify potential health risks and optimize hospital operations for improved patient experience. Furthermore, it can be utilized to enhance the security of patients' data by processing data locally.
2. Remote patient monitoring: Healthcare professionals can collect and process data from smart devices and wearables used by patients, such as blood pressure monitors, heart rate monitors, and glucose meters. This data can be analyzed in real-time and used to provide alerts to them if any abnormal readings are detected.
3. Predictive analytics: Through real-time analysis of patient medical data, healthcare providers can identify trends and patterns that reveal potential health risks and early intervention opportunities. This information can help physicians create a 360-degree view of patients' health conditions and develop personalized treatment plans to ensure optimal patient care
4. Emergency situations: In healthcare, faster response times can be crucial in emergency situations, such as a sudden change in heart rate or blood pressure. To facilitate quick response times, healthcare providers can leverage this technology to examine patient data from wearable devices or sensors. This information can be analyzed and alerts can be sent to physicians, who can take proactive measures to manage patients' health conditions.
5. Clinical trials: Practitioners can analyze data from clinical trials in real-time, and identify potential adverse events or other issues that may require intervention. This can also help them make more accurate diagnoses and treatment decisions, resulting in better patient outcomes.
6. Surgical robotics: By integrating edge computing capabilities, surgical robotics can improve the precision and efficiency of surgical procedures. This technology empowers surgeons to make more informed decisions and achieve greater accuracy during surgeries, resulting in improved patient outcomes and reduced recovery times.
Moreover, by enabling a live video consultation and exchange of medical data, it can be used to provide telemedicine. As a result, this reduces the need for patients to travel to healthcare facilities, which can be especially beneficial for those living in rural or remote areas.
ALSO READ: What is Edge Computing? Understanding its Benefits and Challenges
Retail
From augmented reality displays that bring products to life to smart shopping carts that streamline the checkout process, edge computing is revolutionizing the shopping experience for consumers. The applications of edge computing in retail are vast and varied, and we are just scratching the surface of what is possible.
1. Inventory management: Retailers can use this technology to monitor inventory levels in real-time, reducing the risk of out-of-stock situations and ensuring that customers can always find what they need. This is especially important for Fast-Moving Consumer Goods (FMCG) and perishable products.
2. Enhanced in-store experiences: Leveraging edge computing, retailers can collect real-time data on store traffic, footfall, and customer behavior. This allows them to optimize their store layouts, product placements, and staff allocations to provide a better in-store experience.
3. Improved supply chain management: Retailers can harness edge computing to build smart shelving and displays that can detect when products are running low or have expired, and automatically order replacements. This real-time data can help optimize the entire supply chain management and reduce waste.
4. Smart checkout: Smart shopping carts are equipped with sensors and other advanced technologies that enable them to track items that customers add to them. With the help of edge computing, the cart can identify each item and offer personalized recommendations and promotions in real-time. It can also calculate prices, and process payments quickly and securely. This can help reduce waiting times and improve the shopping experience for customers.
Entertainment
Thanks to edge computing, the entertainment industry is experiencing a renaissance, with personalized experiences that delight and engage audiences. From immersive virtual reality to hyper-personalized gaming and smart venues, edge computing is changing the way we think about entertainment.
1. Real-time video analysis: Video content can be analyzed in real-time, making it easier to moderate, examine, and edit content more accurately. This technology allows entertainment companies to ensure that their content meets specific standards, such as age restrictions or content guidelines, and can help speed up production.
2. Content caching: Caching frequently accessed content closer to end-users is a technique that can be employed to reduce latency and enhance the streaming experience. Edge computing can facilitate this process by placing the caching infrastructure closer to end-users, enabling faster access to content. By utilizing this technique, businesses can optimize their streaming services, resulting in more reliable content delivery and customer satisfaction.
3. Personalized recommendations: By analyzing real-time user data, edge computing can provide personalized recommendations for movies, TV shows, and much more. This can result in higher user engagement and retention rates, as well as increased customer satisfaction.
4. Gaming: Cloud gaming services can be provided through edge computing, enabling users to play high-end games on lower-end devices. Moreover, it helps reduce latency and enhance engagement by improving the overall gaming experience for users.
5. Live events: Watch live events, such as concerts and sports, through real-time video streaming, and enable remote participation and interaction. Edge computing can increase accessibility for viewers who may not be able to attend in person, as well as provide additional revenue streams for entertainment companies.
Agriculture sector
With the world population projected to reach 9.7 billion by 2050, there is an urgent need to find innovative solutions to feed the growing population while reducing environmental impact. This cutting-edge technology has emerged as a powerful tool that can help farmers make data-driven decisions and achieve sustainable agricultural practices.
1. Crop management: Farmers can install sensors on their farms and make more informed decisions based on the collected data. For example, farmers can detect soil moisture levels, temperature, humidity, and other environmental factors. By analyzing this data in real-time, farmers can determine when to plant, irrigate, and fertilize their crops, leading to improved crop yields and reduced waste.
2. Pest management: Farmers can easily monitor and detect pests and diseases in crops, and take quick actions to prevent their spread. For instance, drones equipped with edge computing technology can scan fields for signs of pests and diseases.
This allows farmers to target treatments only where they are needed, reducing the use of pesticides and other harmful chemicals. In this way, they can observe crop growth and gain actionable insights into the health and status of their crops.
3. Weather forecasting: Leveraging weather sensors, farmers can get real-time weather forecasts. This can help them make informed decisions about planting and harvesting crops, as well as preparing for extreme weather events, such as droughts or floods.
By utilizing this technology, it's also possible to monitor for any hazardous conditions, such as the presence of toxic gases like carbon monoxide, which could negatively impact crops. Further, farmers can be notified with real-time alerts to take preventative measures to ensure the health of their crops.
4. Food quality monitoring: Farmers can assess the quality of food products and ensure that they meet specific standards for freshness and safety. For example, sensors placed in barns can examine temperature and humidity levels, ensuring that food is stored in the right conditions to prevent spoilage. This can help reduce food waste and ensure that consumers have access to high-quality, safe food products.
Transportation
From self-driving cars to connected logistics, these advancements have the potential to transform the way we move goods and people across the globe. By enabling real-time data processing and analysis right at the edge of the network, edge computing is unlocking exciting new use cases and opening up a world of possibilities. So let's figure out "how" –
1. Autonomous vehicles: Edge computing has transformed the transportation system from a conventional technology-driven system into a more powerful data-driven system, which has given birth to self-driving cars. By leveraging real-time data from sensors, cameras, and other IoT devices, autonomous vehicles can make split-second decisions based on critical factors.
These factors include road and traffic conditions, pedestrian locations, driving conditions, light levels, objects around the vehicle, and much more. Moreover, autonomous vehicles can help increase mobility and accessibility, reduce traffic congestion, and improve overall transportation efficiency.
2. Traffic management: By utilizing sensors and cameras, it's possible to obtain live data on traffic conditions. This information can be utilized by transportation operators to optimize traffic flow, thus minimizing congestion on roads. By improving traffic management, cities can reduce commuting times, lower fuel consumption, and decrease carbon emissions.
Additionally, It can detect hazardous situations, such as accidents or potholes which can help improve road safety and reduce the risks of accidents.
3. Fleet management: Transportation companies can track the movement of vehicles in a fleet and get real-time insights into their location, speed, and other critical factors. This data can also be used by fleet operators to optimize routes, minimize fuel consumption, and improve delivery times.
4. Air traffic management: Air traffic management can be optimized, ensuring that planes land and take off on time. By analyzing data on weather and other critical factors, air traffic controllers can avoid accidents. This technology can be used by aviation companies to improve the safety and efficiency of their operations, reduce delays, and provide better services to their customers.
5. Public transportation optimization: Public transportation system can be improved ensuring that buses and trains run on time and are not overcrowded. By collecting data on passenger loads, transportation operators can make real-time adjustments to bus routes and schedules. This can help improve the efficiency of public transportation systems and reduce congestion in cities.
Additionally, it can be used to monitor parking lots and detect available spaces for enabling instant parking guidance and reducing traffic slowdowns around the parking spaces. This can help parking operators enhance customer satisfaction and increase their revenue streams.
Explore the Power of Proximity
In today's fast-paced business world, it's crucial to stay up to date with the latest technological advancements to remain competitive. Edge computing is one such advancement that can help businesses across various industries enhance their operations and achieve their goals.
If you want to explore the potential of this technology then Daffodil can be the right partner for you. Our experts can provide you with a comprehensive assessment of your current technology infrastructure, and help you develop a strategy for implementing edge computing solutions that are tailored to your specific needs.