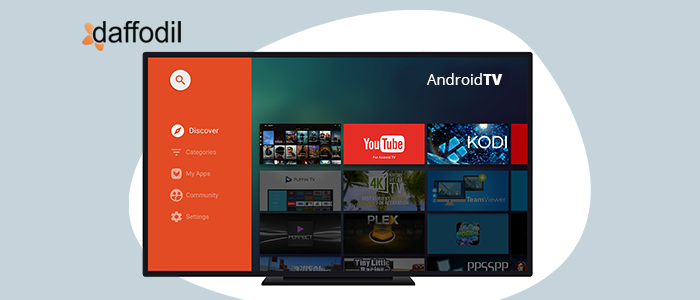 Today, entertainment is no longer confined to appointment viewing on TV. The video streaming marketplace is becoming extensive and on-demand videos or binge-watching are turning out to be the greatest trend of this time. That is why streaming entertainment businesses are trying to reach out to their audiences through every possible medium, including smartphones, tablets, computers, and even on TV. This has lead to a high demand for TV app development.
TV apps are just like mobile apps. However, while there is a duopoly of Android and iOS Operating System in the mobile world, there are a variety of streaming devices and OS for TV for which an app can be developed. Android TV, Roku, FireTV, Apple TV are some of the prime streaming devices for building a TV app.
Depending upon their popularity in certain geographical regions and support for streaming channels, the right platform choice can be made for OTT TV app development. In one of our recent articles, we have done a comparative analysis of all well-known streaming platforms, so that businesses can make an informed choice between them.
READ MORE: OTT TV Apps: Know Which Platform Works Best for your Business
Android for Mobile vs Android TV App
Android is an open-source Operating System that's primarily meant for touchscreen devices, tablets, and smartphones. According to Google, their mobile OS powers 2.5 billion devices.
On the other hand, Android TV is the version of the Android Operating System that's meant for digital media players such as set-top boxes, digital media players, TVs, and soundbars.
While the apps are quite similar in terms of their look & feel, but still the user interaction model is substantially different. Here are some of the prime differences between Android for mobile and Android for TV apps.
TV apps are designed with a 10-foot user interface. If we go with official Android documentation, the TV screen is usually viewed from about 10 feet away. Since the TV screen size is larger than mobile devices, it may not provide the same level of color and detail precision, as on a smaller screen. That is why it is important to create app layouts keeping TV screens in mind so that an enjoyable experience is delivered to the users. For example, the navigation can be provided with a directional pad or a select button. The objects in the UI (text, buttons, cards, etc.) should always be in focus.


Since there is a significant distance between the viewer and TV, the users would not be able to process as much information on as they would on a mobile or computer device which is handheld. That is why the apps for TV usually have limited text and reading time on screens. Instead, the necessary information is displayed on screens and progressive disclosures are used on TV to unveil more info. The TV apps should provide the shortest possible path to content.


Since the TV screen always displays content on landscape mode, the screen orientation should always be landscape. While on mobile devices, the users have the option to switch screen orientation to landscape and portrait.
Likewise, when designing and building a TV app, a lot of attention should be paid to user interaction. While it varies a lot from mobile/tablet app in terms of UX, both of them should be able to provide an immersive experience to the users, irrespective of the device.
Why Android TV App Development?
Despite a number of streaming platforms existing, Android TV apps are gaining ground. Around 40% of the Smart TVs are built on Android TV Operating System. With such a commendable market share, businesses definitely have the reason to invest in an Android TV app.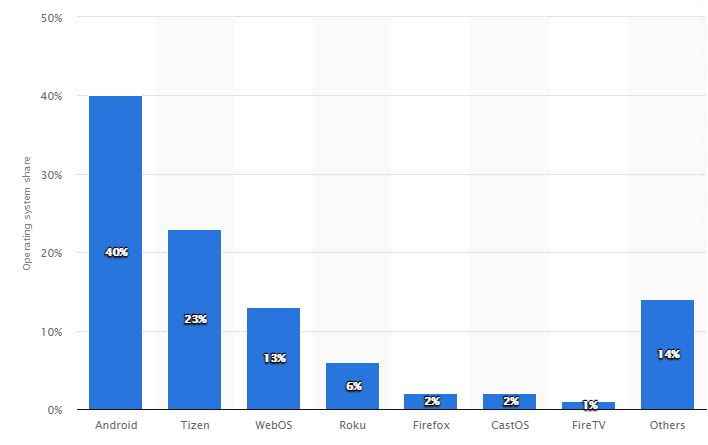 Moreover, some of the top SmartTV manufacturers, such as Sony, Philips, Hisense, etc., are building their TVs with Android Operating System. This makes it obvious that Android TVs have an extensive reach, which makes it a choice for businesses to build a TV app-based on it.
Now that you know the key to create the user interface and user experience for TV apps, you need to have a technical roadmap for development. To understand how to get started with Android TV app development, set-up a 30-minute free consultation with our Over-the-Top (OTT) app development team.
Once a roadmap for development is ready, you can either hire developers to improve your existing TV development project or let our team manage the entire project, right from ideation to feature listing, development, and production.