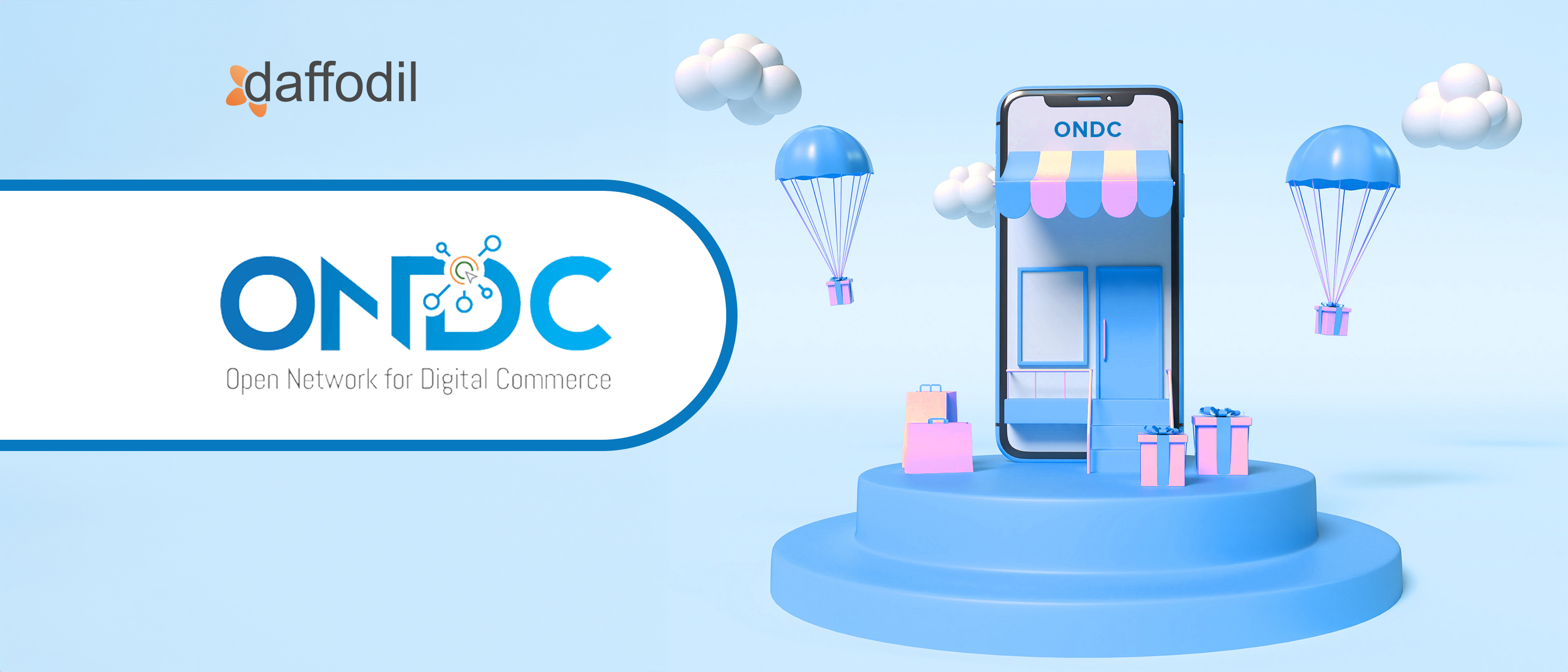 In the vast landscape of e-commerce, where industry giants dominate and small businesses often struggle to find their footing, a beacon of hope has emerged—the Open Network for Digital Commerce (ONDC). Endorsed by the Indian government, ONDC aims to level the playing field by providing small merchants and mom-and-pop stores with the technological capabilities typically reserved for their larger counterparts such as Amazon.
This government-backed project has already begun reshaping the e-commerce landscape, and it has recently welcomed its first major tech ally—Microsoft. Their shared vision? To introduce a concept called social e-commerce, specifically a group buying experience, in the Indian market.
Well, it's no secret that the growth of e-commerce in India has been nothing short of extraordinary. With the proliferation of smartphones and affordable data plans, Indian consumers have embraced the convenience and endless possibilities of online shopping. The market, once valued at a modest $33 billion in 2018, skyrocketed to an impressive $200 billion in 2021, boasting a compound annual growth rate exceeding 50%. However, amidst this flourishing industry, new ventures often struggle to distinguish themselves from the crowd.
This is where ONDC stands out from the competition. Let's deep dive into this blog to find out more about the implications of this government-backed initiative.
What is ONDC?
Operating on an open protocol, ONDC is designed to democratize digital commerce. The Indian government has taken a stand against monopolistic practices and established ONDC as a platform that offers equal opportunities to all players in the e-commerce sector. It sets the stage for a more inclusive and balanced marketplace.
Unlike traditional applications or intermediaries, ONDC is a visionary initiative that aims to foster seamless connectivity between shoppers, technology platforms, and retailers. Already, the network boasts a staggering 39,000 active sellers and alpha tests are underway in 273 cities, showcasing its immense potential. ONDC has enabled consumers to connect with their social circles and leverage the ONDC network to discover the best prices from a multitude of retailers and sellers.
Google introduced an accelerator program during Google I/O Connect in Bengaluru for the government-promoted ONDC. This initiative offers businesses access to Google Cloud's advanced technology and expertise, facilitating their integration into the ONDC network and the development of robust digital commerce experiences.

"We are excited to join forces with ONDC to help businesses of all sizes succeed in the digital economy," Will Grannis, Chief Technology Officer at Google Cloud, said. "Our accelerator programme will provide businesses with the tools and resources they need to build and scale their digital commerce operations, and we look forward to working with them to create a more inclusive and competitive digital marketplace in India," he added.
How does ONDC Work?
ONDC embraces an open and decentralized approach, leveraging independent specifications and network protocols, detached from any singular platform. It empowers verified sellers to showcase their offerings within its ecosystem.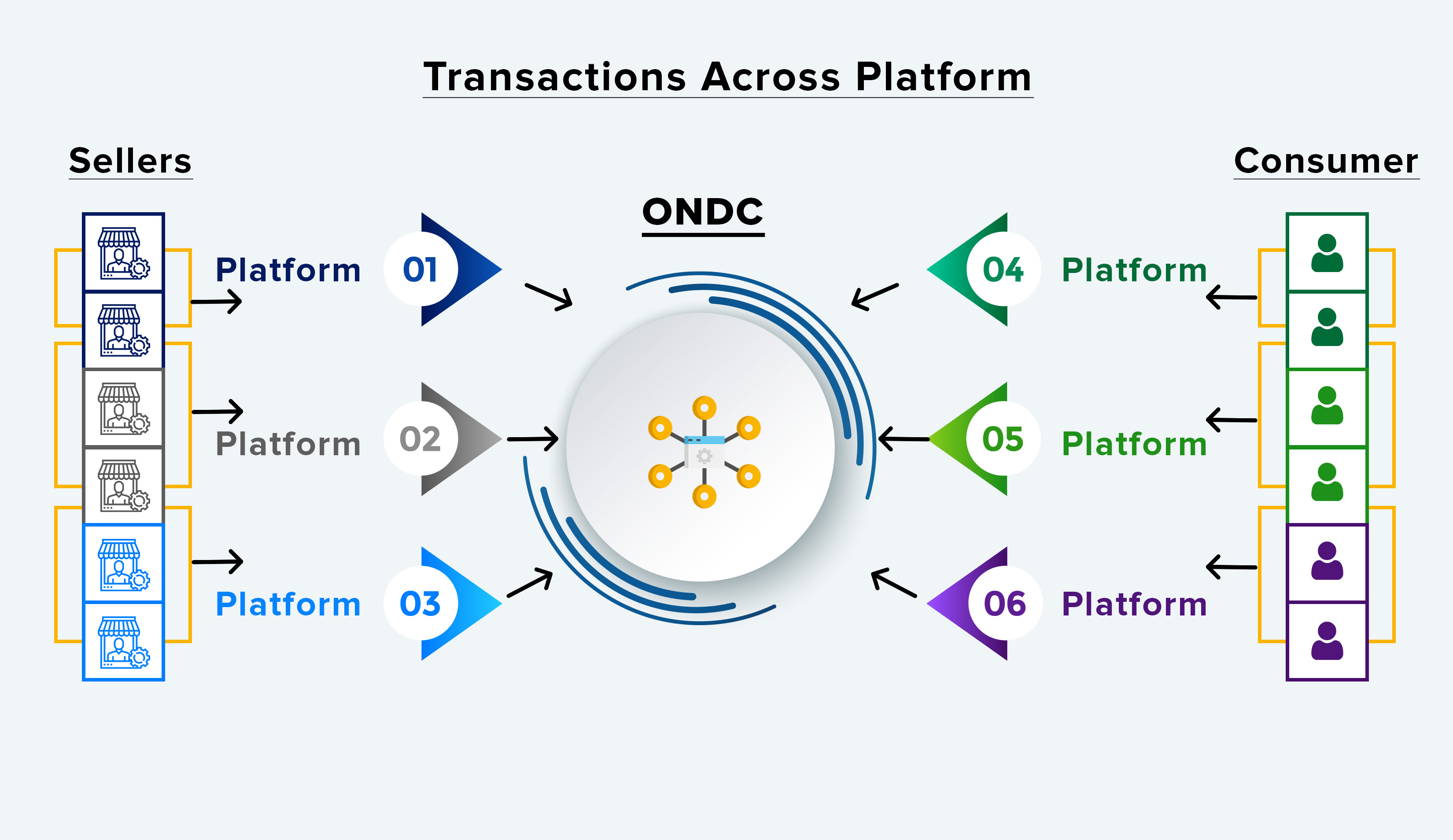 ONDC operates on a membership model that allows any e-commerce enterprise to join the network without any charges. Let's delve into the working mechanism of ONDC:
The ONDC network comprises three essential participants: Buyer apps, Seller apps, and Gateways.
Buyer apps are responsible for handling operations from the buyer's perspective. They enable buyer acquisition, search and discovery, and provide functionality for placing orders on the open network. Well-known examples of ONDC-enabled buyer apps include Paytm, SpiceMoney, and MyStore.
Seller apps play a crucial role in managing seller-side operations. They can be categorized into two types: Marketplace Seller Nodes (MSNs) and Inventory Seller Nodes (ISNs).
MSNs serve as aggregators, connecting eventual sellers to the ONDC platform. Examples of ONDC-enabled MSNs include GoFrugal, SellerApp, and Digiit. ISNs, on the other hand, are sellers themselves, typically larger commerce players with substantial physical presence and technological maturity. Retailers like Unilever and Marico may register as ISNs.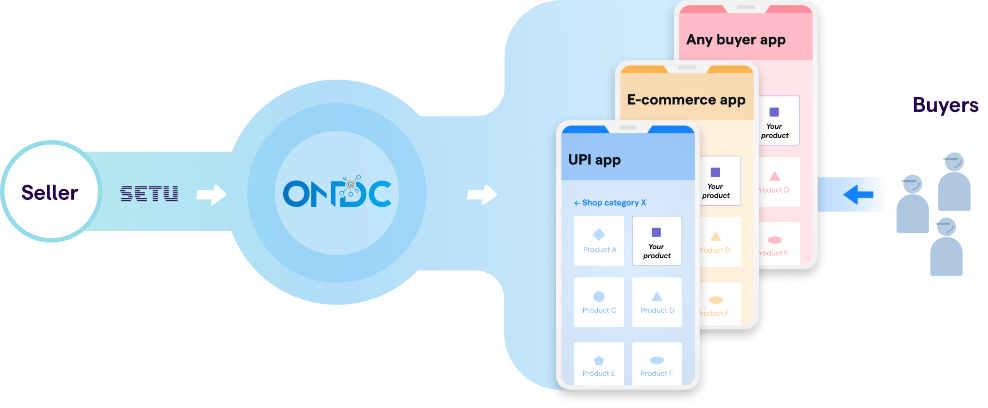 Image Source: DhristiIAS
The Gateway application facilitates discoverability by broadcasting buyer search requests to the seller-side apps listed on the network. Additionally, Beckn-protocol based adapter interfaces enable seamless information exchange among participants through open APIs.
Beyond these primary participants, ONDC incorporates various service providers such as logistics providers like Dunzo, payment service providers, reconciliation service providers, settlement agencies, and online dispute resolution service providers. These additional components contribute to the smooth functioning of the ONDC ecosystem.
The Need for ONDC in the Digital Commerce Sphere
In India, where millions of sellers depend on selling products and services to make a living, the potential of e-commerce remains largely untapped. Surprisingly, only a tiny fraction, a mere 0.125% of the total, consisting of approximately 15,000 sellers, have managed to embrace e-commerce as a viable avenue. This leaves a vast majority of sellers, especially those from small towns and rural areas, unable to access the immense opportunities offered by the digital marketplace. Recognizing this disparity, ONDC has set forth an ambitious mission to maximize e-commerce penetration, propelling it beyond the current 4.3% threshold.
The purpose is to move away from the current platform-centric model and embrace an open-network model, similar to the successful Unified Payments Interface (UPI) project.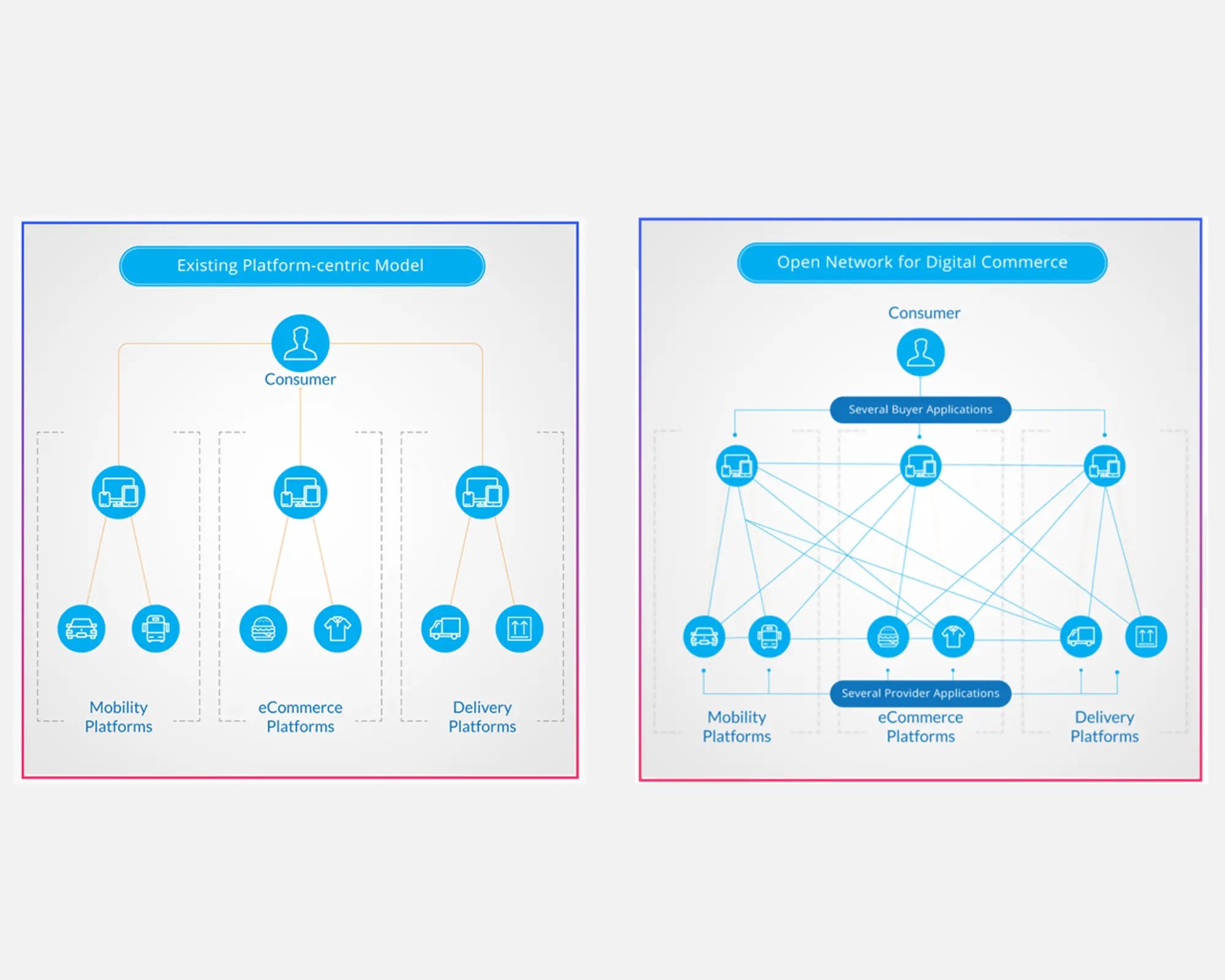 Image source: ONDC
Currently, in the platform-centric model, marketplaces have end-to-end control, right from seller onboarding, customer acquisition, order fulfillment, complaint redressal, and managing payments. ONDC will 'unbundle' this complex system into separate microservices that can be addressed separately.

"'Unbundling' refers to the breaking down of a complex system into granular activities or microservices which can be separately operated to orchestrate a whole transaction. After federating the individual items, different actors can take up these individual activities. […] The elements are non-exclusive and hence there can be multiple actors performing the same element. The market along with users will allow the best possible combination(s) to exist. For example, in a transaction, the seller, logistics, and buyer side activities can be unbundled and taken up by different entities." – ONDC Strategy Paper
This will enable seamless transactions between buyers and sellers, regardless of the platforms they are registered on. For instance, a buyer on Amazon could directly purchase products from a seller on Flipkart, eliminating the traditional barriers between platforms and fostering a truly interconnected e-commerce ecosystem.
To bring this vision to life, the government has mandated companies to list themselves on the ONDC platform, encouraging collaboration and integration within the e-commerce industry. While the pilot version of ONDC has been introduced in select major cities, it's important to note that leading players like Amazon and Flipkart are still in the process of fully integrating their primary shopping platforms into the ONDC network.
Nevertheless, the momentum behind ONDC is gaining traction, with thousands of sellers recognizing its transformative potential and joining the platform. This demonstrates their enthusiasm to leverage the opportunities presented by ONDC, driving entrepreneurship and economic growth.
READ MORE: How to Optimize an eCommerce Store for Peak Usage?
Major Benefits of ONDC in the E-commerce Space
1. Lower Transaction Costs: Traditional digital commerce involves multiple intermediaries, such as payment processors and logistics suppliers, leading to high transaction fees. ONDC reduces these costs, making it more accessible for new entrepreneurs and small businesses to engage with customers across distances.
2. Direct Engagement with Customers: ONDC eliminates middlemen, allowing sellers to interact directly with customers. This fosters stronger connections, promotes customer loyalty, and enables businesses to upsell their products and services seamlessly.
3. Enhanced Security and Transparency: By leveraging Distributed Ledger Technology (DLT), ONDC ensures secure and transparent transactions. All transactions are securely conducted and verified through the robust blockchain network, building trust between buyers and sellers and reducing the risk of fraud.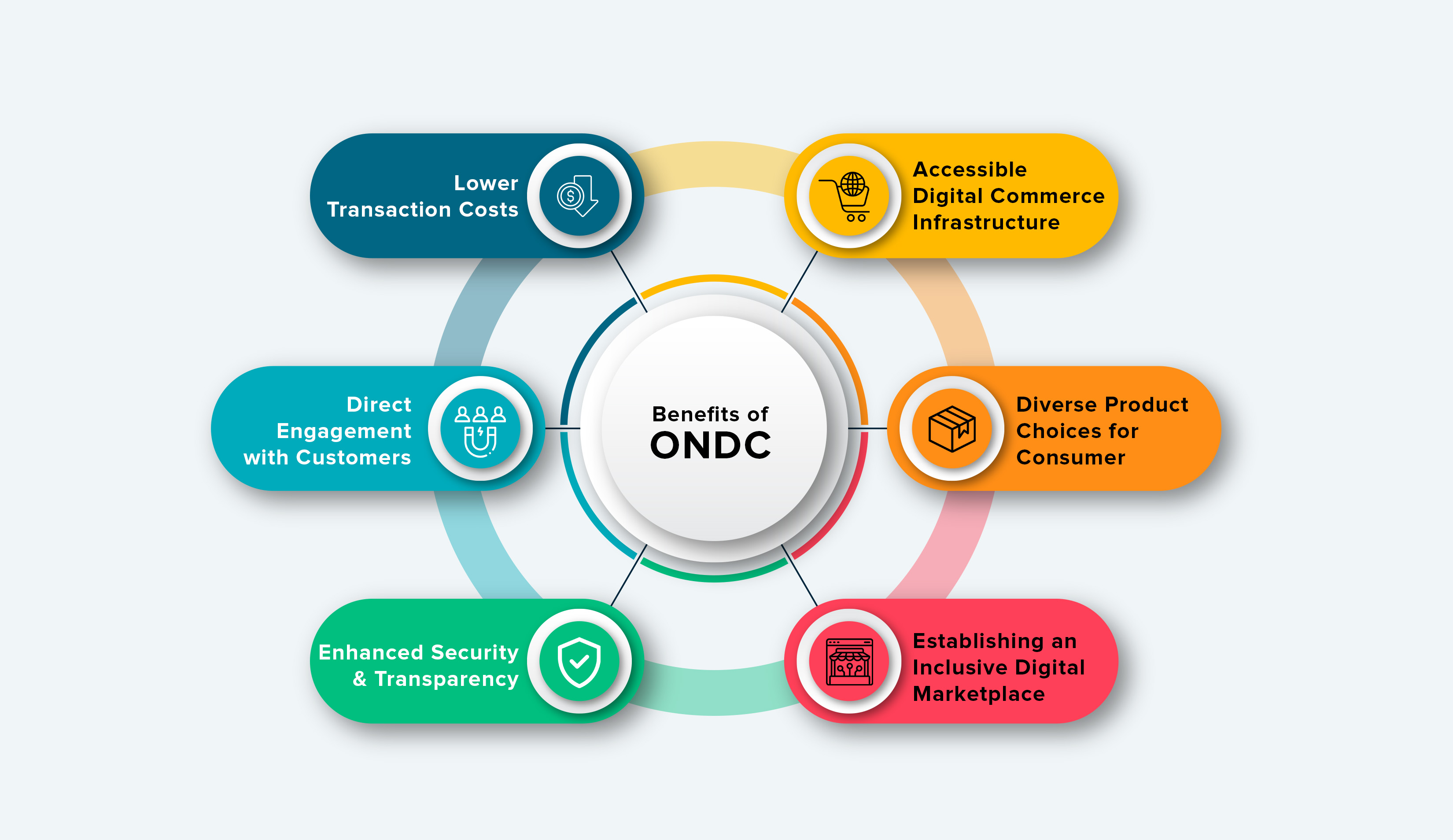 4. Accessible Digital Commerce Infrastructure: ONDC offers a network-centric model that provides small enterprises and individuals with access to essential digital commerce infrastructure, including e-commerce platforms, logistics support, and secure payment gateways. This expands their sales opportunities and contributes to financial stability.
5. Diverse Product Choices for Consumers: ONDC's open platform allows sellers to offer a wide range of products without commission restrictions, providing consumers with an extensive selection to choose from.
6. Establishing an Inclusive Digital Marketplace: ONDC aims to create an inclusive digital marketplace through discoverability, interoperability, and inclusivity. Retailers can connect, share information, and deliver a seamless customer experience across all channels.
Unleashing Opportunities in the BFSI Sector
Impact of ONDC on Banks
Banks are actively exploring the potential of ONDC as it presents a transformative opportunity in the e-commerce landscape. By investing in ONDC, banks can participate in building a competitive digital marketplace while extending their financial services to a broader range of participants. The network's decentralized structure allows banks to provide credit facilities to suppliers, sellers, and other entities within the ONDC ecosystem, thereby supporting their growth and expansion. Additionally, banks without physical branches can leverage ONDC to expand their reach in untapped markets, including tier 2 cities and rural areas, promoting financial inclusion and bridging the digital divide. Banks can also leverage ONDC to offer tailored financial solutions such as working capital financing, term loans, and merchant settlement transactions, enabling businesses to thrive in the digital economy.
Impact of ONDC on FinTech
The implementation of ONDC opens up new avenues for collaboration between FinTech companies and the e-commerce sector. B2B payment gateways can leverage the network to facilitate seamless retail payments, benefiting both buyers and sellers. With the anticipated increase in UPI transactions, FinTechs will play a crucial role in developing efficient reconciliation frameworks to ensure accurate and timely financial transactions. Furthermore, ONDC offers FinTechs an opportunity to offer value-added services such as advanced accounting solutions and streamlined inventory management, empowering sellers to optimize their operations and drive growth.
7 Major ONDC seller apps in 2023
Mystore®: StoreHippo's ONDC-connected marketplace empowers Indian SMEs to sell online. Its seller app offers tools and a user-friendly dashboard. Novice sellers can easily enter the digital space. Seamlessly integrated with payment gateways and logistics partners, migration from other platforms is effortless.


Growth Falcons: Active in Bengaluru and New Delhi, Growth Falcons aids food and beverage sellers. Its AI-based ONDC seller app provides quick onboarding, analytics, and logistics integration.


SellerApp: YES Bank collaborates with SellerApp for ONDC sellers. It specializes in grocery, home, and decor categories. Features include cataloging, inventory management, customer orders, and reporting. Available in cities like Delhi, Mumbai, and Bangalore.



ITC Store

: Licensed by ITC Limited, the ITC Store enables small and medium-sized sellers. Grocery, personal care, and stationary needs are served in cities like Delhi NCR and Mumbai.


uEngage: Offering customized solutions, uEngage's ONDC seller app includes a controlled dashboard with inventory and customer data. Assisting with KYC verification and more, it serves the food and beverage industry in Delhi NCR, Bangalore, and Chandigarh.


eSamudaay: Supporting local economies, eSamudaay simplifies ONDC seller registration. It aids grocery, food, and beverage merchants. Order processing, product management, and fulfillment are streamlined. Cities like Bangalore, Lucknow, and Ahmedabad are onboarded.


GOFRUGAL Technologies: Offering next-gen solutions for ONDC sellers, GOFRUGAL enables omnichannel selling. Merchants benefit from a comprehensive admin panel with sales and inventory data. Grocery, food, and beverage industries are catered to in cities like Chennai and Kolkata.

Image source- Gofrugal


7 Major ONDC buyer apps in 2023
CraftsVilla: CraftsVilla, an ONDC buyer app, brings a wide array of products, from kitchen essentials to aesthetic home decor and baby items. Experience convenient payment options and timely delivery across Bengaluru.


Mystore: Explore a diverse range of goods and services across industries, make frictionless payments, and choose your preferred language—Hindi, English, or Kannada. Easily reorder your favorite items by scanning QR codes from your favorite sellers' pages. Experience quick commerce with hyperlocal deliveries, receiving orders in under 10 minutes from nearby sellers.


IDFC First: IDFC First sets a precedent as the first banking app to join ONDC. Its buyer app connects buyers with small merchants, helping them establish a digital presence on the open platform. Expect quick deliveries within 2 to 7 days, hassle-free returns, and refunds within 30 days from purchase.


PayTm App: Paytm Mall, now on ONDC, presents a feature-rich buyer app for customers. Explore products, make secure payments, track orders, and communicate with sellers. Shop across diverse categories, including grocery, food & beverage, and home & decor.


Pincode: PhonePe's Pincode revolutionizes hyperlocal e-commerce, linking users to nearby sellers. As India's first infinity store on the ONDC Network, it supports digitally-enabled sellers across various platforms inclusively.


Meesho: Meesho joins ONDC to connect buyers with hyperlocal sellers and support India's vision for a diverse e-commerce ecosystem. As a dynamic platform, it fosters unique interactions with sellers, reflecting the new age of e-commerce.


Spice Money: Embracing ONDC, Spice Money's advanced buyer app connects customers to local Indian sellers. Discover various categories, including grocery, food, beverages, home decor, food grains, organic masala, bakery, and dairy. It aims to boost the ecommerce market with a projected 25% penetration in the next two years.
Customer Success Story: Discover how daffodil developed a scalable management system for India's Leading Rural Fintech Company: Spice Money
How to order food and grocery on ONDC
As of now, the ONDC doesn't have its own dedicated app for ordering food and groceries. Instead, customers can use partner apps like Paytm and Magicpin.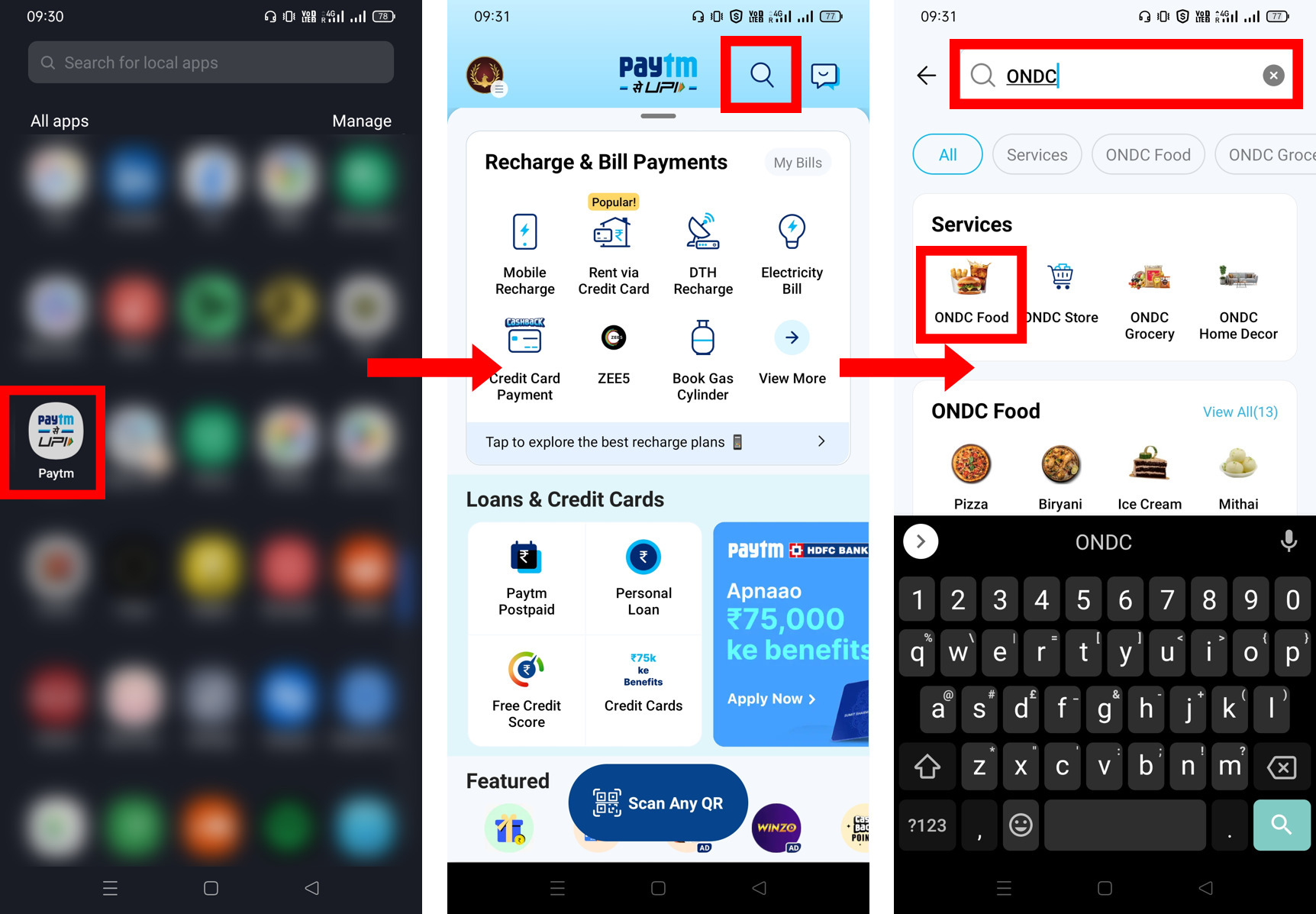 Image source- droidtechknow
To place an order on ONDC, simply click the search icon in the app's interface and search for "ONDC." The app will present various options for food, groceries, and home decor. After selecting your desired product, provide the delivery address, and complete the payment to confirm the order.
With a remarkable 50% monthly growth rate, Magicpin manages to process over 30,000 daily orders on ONDC.
ONDC vs. Existing E-commerce Platform
| | | |
| --- | --- | --- |
| Parameters | ONDC | E-commerce platform |
| Business model | ONDC's core objective is to establish an equitable and open digital commerce network, fostering healthy competition while enhancing user convenience. | Conventional e-commerce platforms typically serve as centralized marketplaces, linking consumers with restaurants or grocery stores and levying commissions or fees for their services. |
| Streamlined Online Shopping | ONDC enables seamless transactions without the need for dedicated app downloads. | Customers are required to install specific apps to facilitate online purchases. |
| Ownership and Regulation | ONDC enjoys robust support from the Government of India, notably from the Department for Promotion of Industry and Internal Trade (DPIIT). It functions as an independent, unregulated backend E-commerce network, seamlessly connecting suppliers, buyers, logistics, and payment portals through open-source protocols. | Primarily owned by private entities that set seller policies and terms of service to drive revenue growth. |
| Promotion of Small Businesses | ONDC strives to empower small and medium-sized enterprises (SMEs) by seamlessly integrating them into the platform and expanding their customer base. | Other e-commerce platforms may or may not explicitly prioritize supporting small businesses. |
| Category Focus | ONDC embarks on its journey with a strategic focus on three key categories - F&B, groceries, and home decor, aiming to deliver excellence in these select sectors. | E-commerce Platforms offer an extensive array of product categories, ranging from fashion to healthcare and beyond. |
| Onboarding Process | Redefining onboarding with cost-friendly options, ONDC demands only a fraction of the cost charged by E-commerce platforms, driven by dynamic market principles rather than government influence. | E-commerce platforms impose substantial onboarding fees on sellers and SMBs to join their platforms. |
| Pricing and Affordability | ONDC offers comparatively lower prices for food delivery, potentially providing users with cost savings when compared to other food delivery applications. | Pricing on other e-commerce platforms may fluctuate, contingent on the specific platform and its pricing strategies. |
Transforming the E-commerce Landscape
While ONDC holds the potential to bring small retailers into the realm of digitization, the ability to adapt and overcome challenges will be vital during the complete rollout phase. Recognizing the importance of small and medium enterprises as the backbone of the economy, ONDC is well-positioned to digitize the entire supply chain in the years to come. By providing a level playing field for businesses, it will enhance India's digital infrastructure, connectivity, and ease of online operations. With these efforts, ONDC aims to revolutionize the e-commerce landscape and drive inclusive growth in India's digital economy.
So if you want to Scale your business with future-ready eCommerce solutions then check out ONDC Integration Services. We have a distinctive approach where we tailor your customer's expectations with our technology expertise; enabling you to deliver immersive, scalable, secure, and robust e-commerce solutions. Book a free consultation with our eCommerce experts to analyze & chalk out the right strategy for your online business.