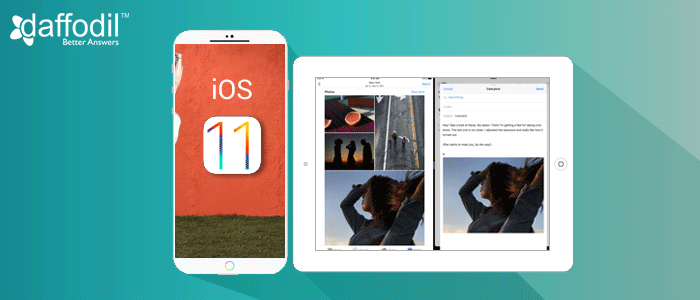 Apple hosted its Worldwide Developer Conference (WWDC) 2017. CEO, Tim Cook along with his key executives took the stage and announced their new addons to MacBook, Apple TV, and iPhone. While the highlights from keynote session unfolded Apple's roadmap for the year, what managed to hold the interest was the launch of iOS 11.
While the new iOS version looks and behaves quite similar to its previous iterations, there are still some incredible features that will improve your experience with iOS devices. Along with this, Apple also introduced advanced models for app and game development that will surely magnify the standard of App Store in following years. Here is a complete list of what Apple has in store for the end users and developers.
Features for End Users:
1. Siri Translates, Auto-Suggests, and Personalize
a) With iOS 11, Apple stays strong in its endeavours to defeat Google Assistant and Amazon Alexa, and making Siri the most powerful intelligence assistant. It would be respondent to your essential day-to-day tasks like:
It will be your Translator, When Needed

: Ask Siri to translate "What's so good about Apple iPhone?" in German and it will come back with "Was is so good about an Apple iPhone?".

It will Personalize your Music Requests

: Collaborating with Apple Music, Siri will understand your music taste and would respond to your requests accordingly. For example: When you will ask Siri to play a song, you will likely hear the song that you love. Also, it will answer your music trivia like "Who are the members of the band Backstreet Boys?"
b) Siri is not just limited to voice. With artificial intelligence and machine learning, it would now learn your on-device habits for offering you the best suggestion, even before you ask for it. Here is an example of how:
Siri will Auto-Suggest, just like Auto-Correct: Suppose, you just watched the official trailer of Game of Thrones Season 7 and now you started a conversation about it with a friend. As you start typing, Siri will start giving suggestions, based upon your recent activities on your device.
And what makes the entire system amazing is the end-to-end encryption that secures the private information within and across all devices.
2. iMessage is Colorful, Cleaner, and Synced
With iOS 10, Apple revamped its built-in messaging app, iMessage. Options like Digital Touch, Tapback, Handwritten Messages, Bubble and Screen Effects received a lot of love from users, making it one of the interesting IM for iPhone. Living up to its user's expectations, Apple has brought some improvements in iOS 11 as well that surely deserves a mention.
While the look and feel is nearly the same, the App Drawer of iMessage is now colorful and cleaner than before. You can also find more options like Apple Music and Google Maps, making access to directions and music quite effortless. Also, your messages will be synced across all the devices, which means even if you set up a new iPhone or iPad, you can pull all your previous iMessage conversations easily.
3. App Store is Redesigned and Arranged Well
It's been 9 years that Apple Store is serving users with some best apps across the world. With iOS 11, the App Store will be completely revamped. On launching the store, you will be welcomed with featured apps and new launches. Also, discovering apps of your choice will be easier than now. There will be a dedicated tab for Games and Apps, and hence it will be simpler to browse for the apps you love.
4. Camera and Photos are Livelier than Now
Instead of JPEG, the photos will get saved in HEIF (High-Efficiency Image File) format. That being so, the photos will now occupy less space in the Gallery as the image size would be small comparatively, without any compromise with the image quality.
There are some improvements in the videos as well. Since videos will be saved in HVEC codec, they will allow up to 2x compression without disgracing its quality.
The iPhone camera will be accompanied by some new, professional filters. The Live photos will be livelier with effects like loops, bounce, long exposures. Also, the option to edit and trim live photos will give a whole new experience to selfie lovers.
5. Files are Centralized and Shareable
This pre-installed Files app on iOS devices will ensure that all your files (from cloud, apps, or on other iOS devices) are organized in one place. All of your files from cloud storage like Dropbox, OneDrive, Box, or iCloud Drive can be browsed, searched, organized, and shared from the app.
6. Lock Screen Notifications are in One Place
While the lock screen looks almost same as before, what has actually changed in the way you check out the notifications. In iOS 11, the older notifications will be hidden. You have to swipe up to see them. In order to see your recent and missed notifications, just swipe from top to bottom and you can check them all at one place.
7. Do Not Disturb Mode While Driving
Now your iPhone will sense when you are driving. To prevent you from getting distracted by messages, calls and notifications, you can enable the Do Not Disturb mode. In this scenario, people trying to reach you will be automatically be notified that you are driving. On another end, this feature can be helpful in cab booking apps, wherein drivers can be saved from unnecessary calls or notifications while driving.
8. AirPlay2 will Stream Seamlessly
With successful audio, video, and photo streaming across Apple devices with AirPlay, the tech giant is taking it a step further with AirPlay 2. With this new version of AirPlay, it is possible to control multiple audio systems and speakers at home. Even if you play a song in two different rooms at the same time, you can individually control their sound.
9. Screen Recording through Control Center
One of the much awaited feature in iOS devices is the ability to record screens. With iOS 11, this wait is over as Apple brings in the facility for screen recording and that too without any third party app. You can find a quick toggle in the Control Center and get started with it.
For iOS 11, Apple has redesigned the Control Center as well. It will now let you manage everything on single page, unlike iOS 10 where you scroll from right to left to manage multiple tasks, change settings and all using the 3D touch functionality.
10. Multi-Tasking with Slide Over and Split View
iPads with iOS 11 supports multitasking. Thanks to the dock available at the bottom of screen (very similar to that of Mac), which lets you drag and drop the app to get started with multi-tasking. To call an app from the dock, you have to swipe up from bottom. Also, you can drag and drop files, hyperlinks, text and photos from one app to another.
Features for Developers:
11. Build Apps with Intelligence
For most of the its products (like Siri, Camera, or Quick Type), Apple uses Core ML, which is a machine learning framework. With Core ML, developers can now integrate machine learning models into their app, which indeed will enhance the user experience. For example: Developers can integrate features like face tracking/detection, barcode detection, image registration, landmarks, and more into their apps. To get started with this, Apple included complete documentation in the latest iOS SDK.
12. Build Apps with Augmented Reality
Taking the iOS app/game development to next level, Apple enable the developers to build apps that can created Augmented Reality experience for iPhone and iPad users. This can be made possible with ARKit, a framework for creating AG experience on iOS devices.
What's your take on the New, Improved iOS?

Although iOS11 is expected to hit the market later this year, it is already impressing users with the amazing possibilities that it brings in. To have a real time experience with iOS 11, Apple has also made beta version of iOS 11 publically available for testing and future development. While you do that, let us know the features that you love in this new OS for iPhone and iPad.