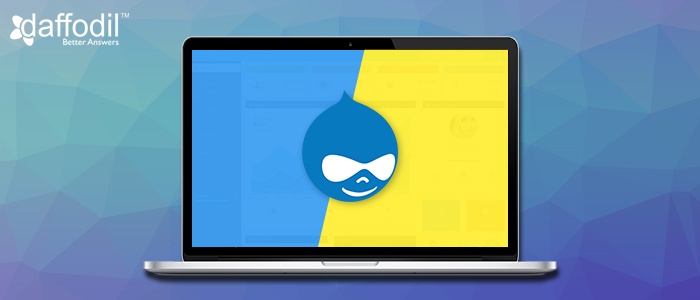 Drupal is web content management software (WCMS), specializing in custom application development. With over 1000+ websites backed with Drupal, it is one of the top-rated platforms for building custom apps on web, supported by set of native features and module extensions.
Another disruptive and popular side of Drupal is its ability to build integrated, scalable eCommerce platforms. Drupal offer its application integration with third-party platforms and digital marketing tools that makes it a preferred choice to set up an engaging and sellable eCommerce solution.
Drupal has LAMP technology stack as the base (Linux, Apache, MYSQL, and PHP). It has a community support of 1.3 million people (by November 2017), with over 109,000 users contributing. With ability of this framework to act as an innovative WCMS and eCommerce development platform, considering it for custom web application development would definitely turn out to be a productive and remunerative idea.
Here, we discuss a few more reasons, to let you acknowledge the true power of this open-source content management framework.
1. It Supports Mobile-First Development
Drupal supports development of responsive web sites and apps. The themes and modules follow the best practices to ensure seamless experience for the users, irrespective of the device that the user has.
2. Easy Integration with Third-Party Tools
With Drupal, you can think of extensive development, one that supports integration with third-party tools and technologies. For example: CRM and ERP packages, website search engines, performance monitoring, translation services etc. This way, Drupal supports development of web portals, wherein connecting and accessing content from external sites makes the overall system more powerful.
3. Content Management for Novice Users
With Drupal, even the beginners can get started with their own website. Thanks to the flexible content authoring system provided that allows to add, manage, and publish the content, without any technical know-how. This may include creating and managing workflows (for authors, admins, publishers, and developers), permissions, tracking content revisions etc.
4. Themes and Modules for Scalable Solution
Drupal has 25,00+ free themes and 39,000+ free modules that enable the users to extend functionality of application and customize it according to business or an individual's requirement.
5. Vast Taxonomy for Product Management
Product management by categories, sites, and catalogs with Drupal is easy. This enable users to look out for the desired product across the application, ensuring that browsers are converted into buyers.
6. Shopping Cart for Users and Search Engines
Along with an impressive UI and engaging UX, Drupal offers facilities to commercialize the websites and apps. From optimized sites for search engines to integrating web analytics to launch promotion packages; with Drupal, it's all sorted.
7. Reporting and Performance Tracking Facility
For eCommerce platforms, it is important to track the user behaviour with the application. While Drupal offers dashboard for reporting order status, payment methods, sales etc., additional features for reporting can be customized or added through modules.
Custom Application Development with Drupal: Getting Started
While Drupal offers scope to build scalable solutions, ranging from personal blog to corporate websites and eCommerce platforms, its crux lies in management ease post development. Admin, author, or other members of the management team can go for smart customization according to present needs.
If your business requirement calls for a flexible and scalable solution to have a noticeable presence on web, we recommend you to opt Drupal for custom web application development.