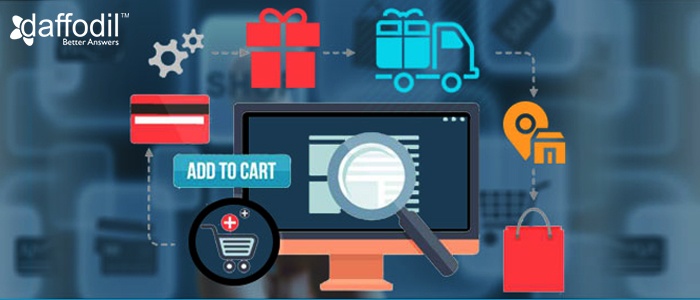 8 out of 10 Americans are online shoppers, reveals a study. And if we analyze the frequency of shoppers to buy online, it's quite easy to predict that web stores and mobile apps are the most preferred mode to shop for favorites and essentials.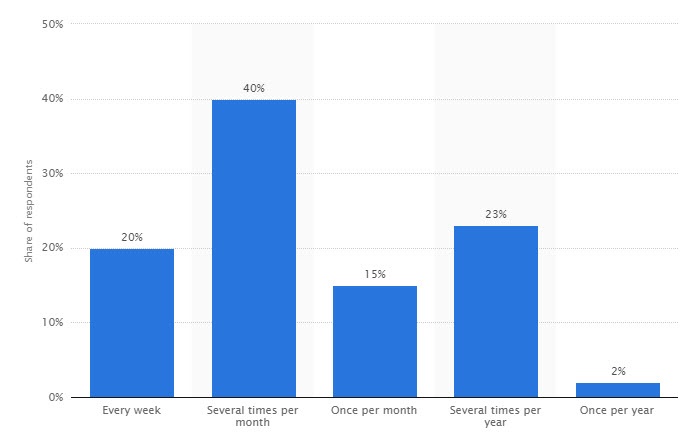 Shopping frequency of online shoppers in the United States as of April 2017. 20% of respondents stated that they shop on weekly basis. While 40% say that they shop several times in a month. [Source: Statista]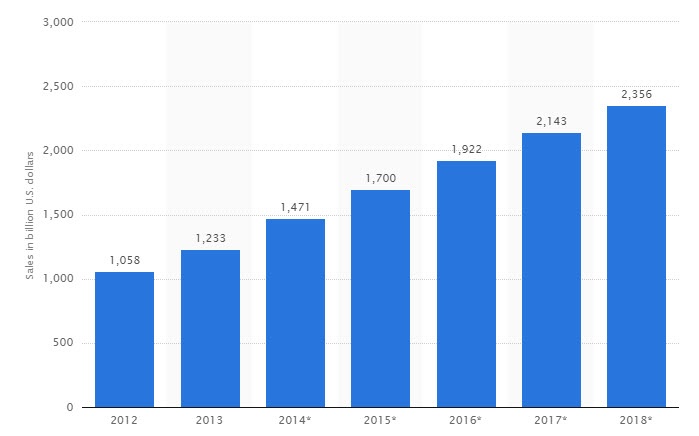 In 2018, global B2C e-commerce sales are expected to reach 2.25 trillion U.S. dollars. [Source: Statista]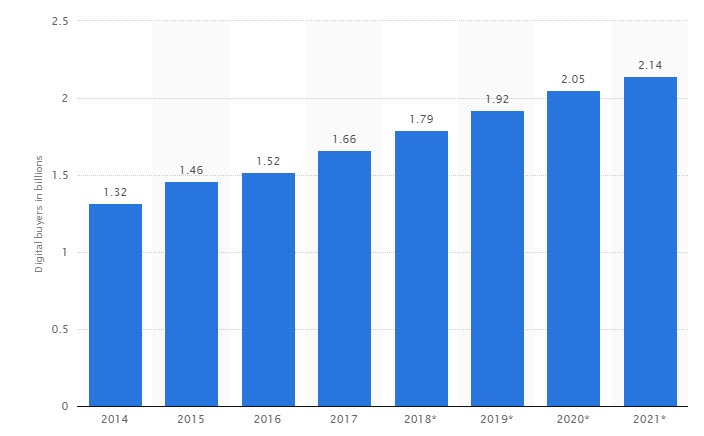 Timeline showcasing number of digital buyers from 2014-2021* (*an estimate). [Source: Statista]
Despite the fact that launching a web store is extremely easy, scaling it up us quite difficult, even for an industry expert. The revenue through eCommerce is growing, the sales are shooting up, but still, many retailers are struggling to capitalize.
In the ultra-competitive world of eCommerce, the thumb rule of survival is to go with the trends. Keeping a continuous note on what's catching the user attention and improving their experience is the key to successful business.
Considering the requirements that our clients bring in, after thorough study of their customers, we have identified 7 eCommerce trends that companies should follow for a hike in their sales growth.
1. Customizing User Experience in Real Time
Every shopper has got a unique taste, wish, and budget. In your endeavours to enhance the user experience, etailers ensure that the customers have access to content that's close to their preferences. This includes product recommendations and add-ons that are chosen on the basis of geographic locations, past purchases, brand biases, demographics, and other such experiences, and all of that is done automatically.
With this, eCommerce platforms would more likely be like walking into the store, where the salesperson recognizes you by name and interests. Platforms like Magento2, Monetate, or Sitecore make development of such platforms possible.
For instance, have a look at the Lakmé Makeup Pro app. The app enable its users to try on products in real time, on their own photo. It has got 100 real-life cosmetic shades, 75 pro stylists, and over 50 product recommendation. As a consequence, when the consumer is willing to buy any Lakme product from the mobile app, the list of recommended items are created accordingly. That's how this global cosmetic brand is refining and customizing the user experience.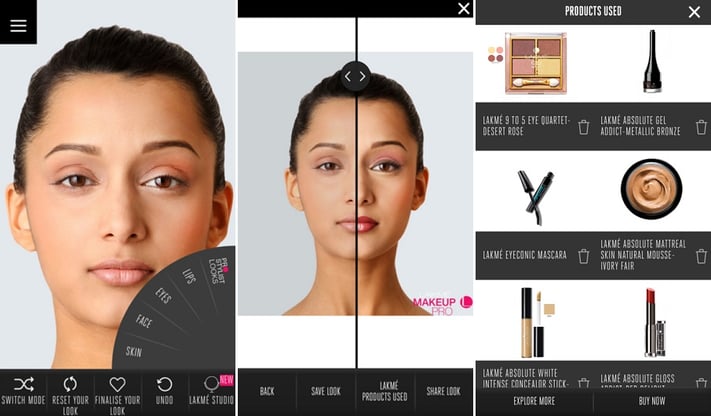 2. Virtual Trials are Eliminating Qualm
Uncertainty about a product is one of the biggest limitations of online shopping. To overcome such constraints, brands are backing their eCommerce portals with virtuality. This, as a result is enabling the consumers stay sure about the product they are buying. From virtual trial rooms to virtual mirror, to virtual 3D floorplanning, the eCommerce platforms today brings in scope for try before you buy.
Rayban, an American brand for sunglasses and eyeglasses offers the facility to try the eyewear on an individual. This is made possible through a virtual mirror on screen, which is powered by Augmented Reality. You can create your virtual model online, try the eyewear of your choice, and buy it, only if it compliments your look.
Abof, an Indian online fashion retailer lets its users try the apparels and accessories virtually, before they place an order for them. Users can personalize their body type to check the apparel fitting on a model that's created virtually by the platform.
Amikasa, a 3D room designer lets the users build, restyle, and redecorate their rooms using furniture, wall colors, and floors using the brands available on the eCommerce platforms.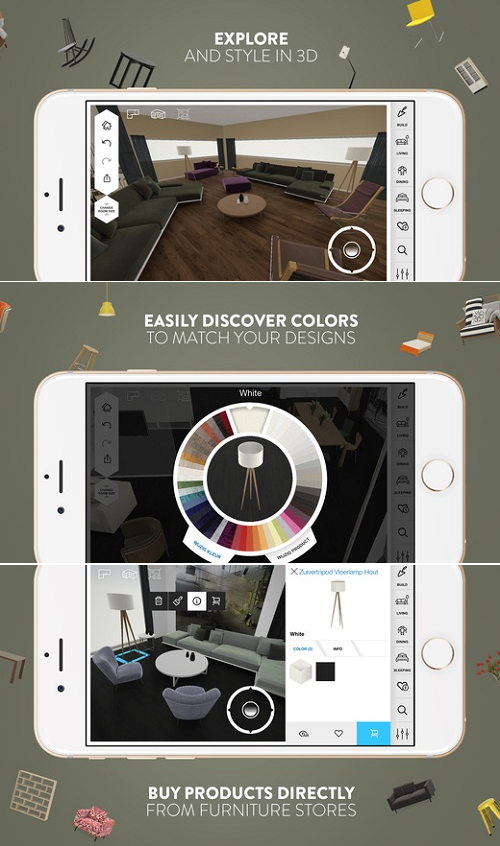 3. Shipping Uber-ization is the Priority
Free shipping, same day delivery, 24 hour delivery models are some of the reasons why online shopping has become quick and convenient. Considering that customers expect product delivery as soon as possible, brands nowadays are minimizing the time to make the product reach the users.
Amazon, an Amercial eCommerce portal provides same day delivery, if the product purchase is over 35USD. This facility is available to its prime members, across 27 cities in US.

IEKA is a furniture retailer that designs and sells ready-to-assemble furniture, kitchen appliances and home accessories. It has opened six drop-off points in Canada that enable the consumers to place the order online and then pick it up from the nearest drop-off location.
4. Sale and Discounts on a Huge Scale
Online marketplace is hyper-competitive. To stay ahead of the e-Commerce service in the game, offering best deals, discounts, and huge sales have become an imperative part of the industry. The big billion sales are broadening ways for the retailers to reach the best of their customers.
For such grand affairs, eCommerce portals are paying high attention to the traffic handling, security, real time customization, delivery uber-ization and more.
5. AI/ML will Improve Customer Service
Great products, smart pricing, fast delivery. Alongside this, users expect eCommerce portals to be spontaneous in their response, whenever needed. To ascertain that a quick, sure, anytime response is offered to the customer's, AI has been filling the gap of human resources.
Chatbots are there to help. By integrating chatbots in an eCommerce platform, a new mode to reach out the customers is adopted. ALong with AI, many of its applications, like Machine Learning have been a part of eCommerce industry. For example, ML has been helping various platforms to sort product recommendation on the basis of user behaviour (checking the products, type of wishlist, preferred brands, price range etc.).
Popular restaurant chains like Burger King and Pizza Hut allow its users to place the order using the chatbot on Facebook and Twitter. Similarly, a fast food chain called Taco Bell is open to receive orders through its chatbot called Tacobot.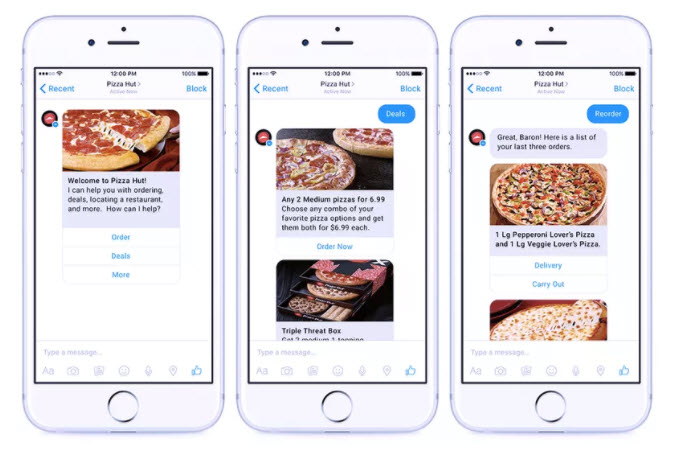 6. Advertising and Selling on Social Media
From connecting friends to binding communities, social media is undoubtedly become an integral part of lives. An average person spends nearly 118 minutes on social media, which makes eCommerce platforms reach the right kind of customers through it.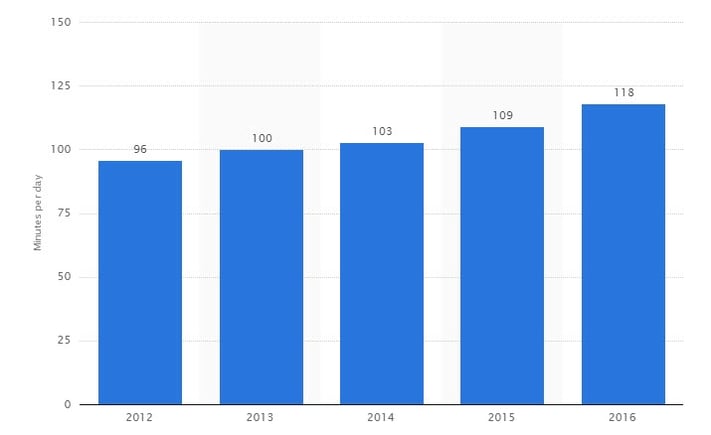 For potential customers, social media is a platform to make informed decisions. With a number of people already using an eCommerce platform, analyzing its reputation in terms of customer service, product quality, and many other important factors become possible.
72% opinion seekers, between the age group 25-34 look to social media contacts for recommendations when purchasing goods or services. [Source: Mintel]
That being said, online shoppers are quite smart to judge a real or a fake review. Consumers appreciate brand honesty and are comfortable giving a try to a product that has got negative reviews, but is recommended by someone they know.
7. Mobile First Commerce will take the Front Seat
Mcommerce, the eCommerce done through mobile devices (like smartphones, tablets) has two divisions: mobile browser and mobile app. While a mobile app sounds to be an obvious way to reach potential customers, eCommerce websites on mobile browser are more than just a responsive web app.
Taking a step further, companies are adopting Progressive Web App (PWA), which is nothing but a version of mobile app, but on web browser. A PWA has look & feel, functionality, and features like that of a mobile app and aims to offer a better conversion rate to the business through traffic received organically.
Flipkart, an Indian eCommerce portal is making the most of mobile apps and PWAs for their brand and statistics prove that their model is brining in sure profits. [Source: PWAStats]
Users time on site with Flipkart lite vs. previous mobile experience: 3.5 minutes vs 70 seconds.

3x more time spent on site

40% higher re-engagement rate

70% greater conversion rate among those arriving via Add to Homescreen

3x lower data usage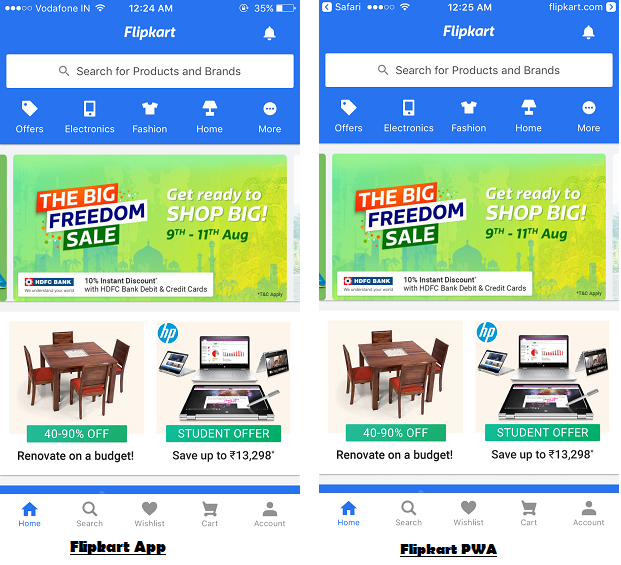 Along with this, some of the major eCommerce brands like AliExpress, Garbarino, Jumia are some other brands that are making the best of both worlds, PWAs and the mobile app.
Read more about Progressive Web Apps and its Impact on SEO Strategy
Conclusion:
Watching out for trends is an important aspect of any industry. To stay ahead in the competition and be able to deliver what customers expect, the key is to stay updated with elements that are enhancing the user experience.
Once you understand that your commerce store on web or mobile needs to be updated, it is necessary to make a call to the finest eCommerce application development services provides. Not only we have expertise to implement the latest trends to the solutions, we have mastery over technologies that can return a product of expectation.
Did we miss any eCommerce trend here? Do let us know in the comments below.