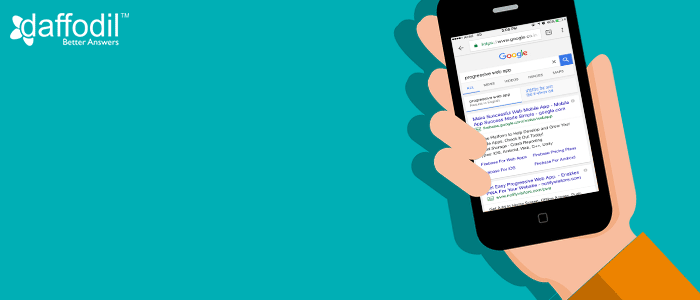 "Of those who search, nearly 4 in 10 search only on smartphone in an average day." suggests a study by Google. As mobile usage increases, companies focus their attention towards making their websites mobile-friendly, ascertaining that an optimal user experience is rendered. Moreover, developers are driven to adopt the latest and most efficient technologies to make mobile web a useful space for users.
Considering these facts, Google introduced Progressive Web Apps (PWA) that promises to give benefit of both the worlds, web as well as mobile. According to Alex Russell, the lead software engineer for the project, PWAs will blur the line between web content and apps, but will retain the robustness of web.
Progressive Web Apps offer an app-like user experience on a mobile browser. Along with the look and feel, PWAs let you enjoy the functionality of an app, which includes push notifications, creating shortcut on home screen, and more. And what adds up to their potential is the support to all major browsers, along with Chrome.
However, like any other evolving technology, PWA do have some technical hurdles and limitations that can affect the SEO strategy of a brand. To start with, let's have a closer look at how PWAs work and then we will learn about their impact upon the SEO strategy of a website.
How Progressive Web App Works?
With PWAs, websites can have fast load times and do away with a number of steps that are required to access a certain service, feature, or information within a website. With PWAs, there is benefit of analyzing the user behaviour and preferences (even when offline), giving personalized experience, as it happens in a mobile app.
The Progressive Web Apps are recommended in the search engine results, just like the traditional websites do. You don't need to download or install them. Once a PWA is published online, you can easily link and deploy it to a host that supports HTTPS. Even if the user is online or offline, the app will continue to work (send confirmations, offers etc.), using the cached data.
PWAs are all about offering an easy access to features and services rendered online. That is why, in many cases, a website becomes a PWA itself because it successfully offers a complete yet condensed user experience with features available in few swipes or taps.
Some Convincing Stats about PWAs


Do Google Bots Crawl PWAs?
Every web page of a Progressive Web App is considered as a Javascript site by Google. For a PWA, a new URL can be created and the Googlebot will crawl it, just like it does for other pages published on web. Nevertheless, there could be some crawlability issues with PWAs and thus developers have to smartly optimize the site for proper indexing to every page.
Search Engine Optimization Tips for PWAs
a. When your web app is serving contents from various online resources, make sure that you use rel=canonical tags in order to avoid any content violations.

b. When generating URL for PWAs, check out that it is free from "#". If the URL has a hash symbol in it, Google will ignore everything else after it. On a safer end, you can use the traditional SEO rules for building URL.

c. It is important to test how Googlebots are seeing your page and indexing them. For this, you can use Google' master tool called Fetch and Render tool, available under the Search console. This will give a detailed results about accessed processed by Google bot.

d. With Fetch and Render tool, you will can get an idea about resources that are blocked by robots.txt. Make sure that the resources required to be crawled by the bots aren't blocked.

e. It is a good practice to have less number of embedded resources in the page. For example: Check for the Javascript files that are responsible for rendering the pages. Lesser the embedded resources, easier it would be to load the web page.
PWA for your Online Business: Yes or No?
Progressive Web Apps aims to amplify user experience on web. However, not every business needs a PWA. It is important for businesses to count the factors that call for a mobile like experience on web. If your business have a low scale website, less media content, have quick load time, with users easily accessing their info/service of their interest, sticking to a responsive, traditional website is indeed a good idea.
Making an informed decision is important. For large scale websites having multifarious features, opting for PAWs sounds reasonable. Progressive Web Apps basically provides access to the most looked services of a website or you can say, it's a lite version of your scaled website.
Optimizing a PWA needs a little more effort that the regular websites as it makes use of flexible javascript to do its job. However, with efficient measures taken to get the website indexed to Google, branding a businesses on web and improvising user experience is possible with ease. While there are a few limitations to optimizing PWA's on search engines, it is possible to overcome them by following a strategic approach for it.