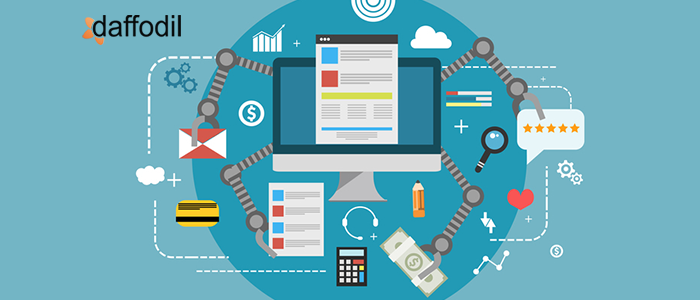 Converting prospects into customers­ – the ultimate goal of closing more sales – depends on how you prospect your customers.
Are you doing it any differently? By differently we mean using automation to nudge your prospect to take the next step in the journey. If yes, it's great if not then read on.
What is automation in the sales process?
Sales Automation is the use of software to streamline and automate sales activities such as managing leads, opportunities, sales forecasting, performance, sales funnel, and more.
It saves time for your sales team giving more space to executives to focus on building stronger customer relationships.
The sales process, though well-defined may include multiple actions to achieve the ultimate goal. Convincing prospects with clockwork communication, filtering the quality leads requires you to devote hours.
With sales automation tools in place, you don't have to chase leads by sending emails manually. That time can be dedicated to valuable prospects likely to convert and how to improve overall sales strategies.
Automating the standard, everyday tasks can help you a great deal. But the question is, which process or processes to automate first?
Here, we list sales processes that need to be automated asap for enhanced sales productivity.
Email Scheduling: Going through the funnel of a Sales Qualified Lead (SQL) to a customer usually requires several emails to be sent. And these emails take time if they are being conceptualized, designed, or drafted as per the user needs.
The solution? Start templatizing your emails. Undoubtedly, the customer wants a personalized message but if you're able to strike the right balance between templates and custom-messaging, you can reduce the time spent on emails by a considerable amount.
Email strategy is essentially a combination of two things – content and timing. With an automated system, you can be assured of on-time delivery of communication without a miss or human error. The sales team can also measure the success rate of these emails. It becomes easier to track which emails are working at what time and you can use the specific process for other prospects.
Also Read: Artificial Intelligence, Machine Learning, Deep Learning: What's the Difference?
Itemizing Leads: How do you know which lead to contact or dial first? Prioritizing leads is crucial to any sales team. And if your team is doing it manually, you're doing it all wrong. Dialing leads manually is not only time-consuming and physically taxing but can also result in redialing the same lead twice or missing the ones not contacted at all. Here, you need a technology that automates dialing. The sales automation system will help you create lists of leads on-priority so that you know which lists to cover in a day.
Maintaining Call Logs: This one goes without saying. Call logging is a must for any sales team. An automation tool can save your team the stress of logging calls manually. At the same time, it becomes a real hassle for sales executives or representatives to jot down information after a call with a potential customer. What do you do?
Look for tools that automate the task and save your time and energy. Teams can auto-store the post-call notes or select from the default feedback options. The post-call information/data can be used for further analysis helping you know your leads better.
Follow-ups: As mentioned above, there is a lot of grunt work and several follow-ups involved in closing a deal. These tasks may be disregarded but are equally important to reach the goal. Automating the process of logging these tasks ensures that every effort counts and has a bigger impact on the end result. Not only this, it also gives out a clear picture of timelines to the team.
Content Selection: It's not always necessary for the sales team to know which content to push for which lead. Here, again automation can help you take charge of the situation. Automated tools can send tested and proven content depending on your lead type. Remember, the right messaging can make you close or lose a deal. And if the right messaging is automated, half your job is done. You just need to sit back and analyze how the content for your business can be made richer.
Call Scripts: Prospects always look for a personalized experience. Their interest lies in not just the product but the good old adage 'what is in it for me' and here is when your calling scripts come into play. Add value to why an individual should purchase your service. Is there anything unique that they're getting out of it? If yes, then make sure they get the maximum benefit out of it. For instance, your team gets a call from a lead who wants more information on a referral source. Here, a sales acceleration software can help with smart and crisp call scripts for your associates.
Also Read: Back to Basics: 5 Crucial Components of Machine Learning
Looking for a Sales Automation System?
Amplify customer acquisition and close deals quicker with a tool that suits your needs.
Now when you know the importance of a structured, well-planned automated system for the sales process, it's time to go for one. Simplify lead identification and capturing through an automated solution. A singular, well-coordinated platform for seamless communication among the team members is what your sales team deserves.
Still thinking about how to adapt, adopt, automate? Look no further. Our team of experts is here to guide you on the software you should choose for your business. Get in touch today for a free consultation.