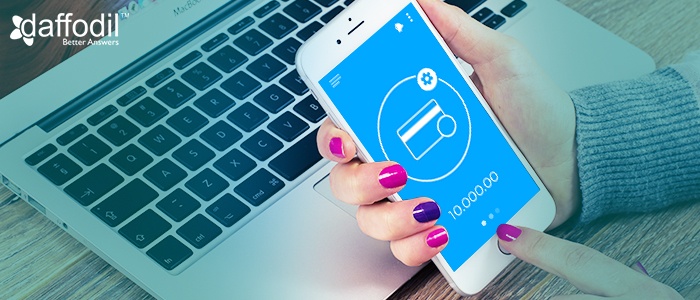 Banks around the world are strong in their endeavours to move from conventional to convenient banking. The concept of digitized banking is not new and is prevalent since the advent of ATMs and cards, back in the 1960s. This was followed by the emergence of the internet in the 90s and proliferated use of smartphones that made transactions possible, without ATMs.
Today, over 60% of consumers consider smartphones as the most preferred mode for digital banking. "If studies are to be believed, there will be 68.8 million Millennial digital banking users in the U.S. by 2019." Source: Statista
While a large share of bankers considers digital banking as a way to improve customer relationship, others count it as a channel for new acquisitions and generate competitive advantage. Besides this, digitized banking options also hold potential for cost saving.
With so many benefits in line, digital banking and its advances are a must. And to stay ahead in the fast-paced and competitive space, latest tech-enabled strategies are leading the way. Here, we discuss a few of them.
1. Blockchain
A blockchain is a distributed database, wherein a list of records continuously widen up, in the form of blocks and is secured via cryptography. The reason why Blockchain technology is being introduced and is accepted in the fintech industry is for its three major properties, which are:
Redundancy: A Blockchain continuously replicates on a group of nodes in a network, which ensures that there is no point of failure, no matter how many transactions take place at a point.
Immutable: The Blockchain architecture restricts hackers to tamper the data stored on it. Reason one is, unlocking a block would require unlocking of successive blocks as well. Reason two is the digital signature. Blockchain data is secured with a digital fingerprint, which includes date and timestamp. Tampering any block of data will change its date and time, eventually, not allowing it to match another block.
Encryption: Digital signatures based on cryptographic keys protect defines asset ownership and protects it from any unauthorized transaction.
Considering the potential that this technology renders, two of the transformational Blockchain applications are:
Smart Contracts: Also known as self-executing contracts, these are computer programs, wherein the terms of the agreement are preprogrammed. The concept behind smart contracts is to enable trade between two anonymous parties, over the internet, and without any intermediary.

Cross-Border Payments: International transactions take days for completion. Blockchain-powered cross-border payment platforms are enabling banks to make payment networks more efficient and less time consuming, globally. To understand this better, take a look at how Santander (a Spanish banking group) utilized a Blockchain-based platform for global payments, called Ripple.
Explemlifying how cross-border payment platforms work
2. Payment Data Monetization
Payment Service Providers (PSPs) usually have a mine of customer data. This has been in use to generate insights for customer purchasing behaviour, which can consequently help to understand macro trends, render better services to customers (like fraud detection by studying the pattern of spending).
In extension to this, customer big data can enable banks to monetize data, both internally or externally. Along with improving the traditional payment modes, this data can offer benefit to implement advanced analytics techniques.
Payments data collected by PSPs have already been used by various third-parties to develop innovative solutions for businesses. For example, Upserve, a restaurant management platform offers payments and business insights to restaurants and retailers in the U.S. Its restaurant analytics tool facilitates the local merchants to understand their customers through their spendings, their social media activities etc. This is one example of how advanced CRMs can be developed by making the most of payment data monetization. It can further be utilized for risk management, improved consumer services etc.
3. Open Banking
Open banking is a part of the fintech ecosystem, wherein third-party developers use open APIs (sharing bank's data) to build services or applications, for any financial institution. Such a system brings in the opportunity to improve customer experience, open up ways for new revenue streams, and render services to the less covered markets. Such sharing of data also encourages new business models and enable banks to extend their offerings through third-party apps and services.
4. Advanced Mobile Banking
"In 2014, 73.1 per cent of the Millennials performed mobile banking in the U.S. and this figure was projected to increase to 94.2 per cent in 2019. For baby boomers, this number is predicted to reach 21.3 million in 2019." Source: Statista
For customer convenience, banks have been promoting branchless banking. For this, usage of web and mobile platforms is encouraged, that enable the customer to execute transactions like funds transfer, track latest transactions, bill payments, receiving notifications from bank etc.
While the idea of mobile banking is in full swing, banks ensure that their applications for mobile banking meet seamless usability and security tests to gain a competitive edge over others. Biometric checks, personalization, comprehensive functionalities are some of the mobile banking trends that are being followed.
5. Cryptocurrency Software Wallets
With over 1324 cryptocurrencies existing already, they are turning out to be the new, global market for assets. With cryptocurrencies soon becoming de-facto investment as part of a central bank's investment tranche, they will soon be a part of international trading system. (Source)
Considering the government validation to include cryptocurrency in trading, investors look out for reliable wallets to manage them. Cryptocurrency software wallets by banks would be the most entrusted, as customers tend to entrust applications offered by banking institutions.
6. Embracing Social Walls for Enhanced Customer Engagement:
In the dynamic realm of digital banking, integrating social walls is emerging as a game-changing trend. A social wall seamlessly melds the power of social media interactions with banking services, bridging the gap between traditional banking and modern communication.

By leveraging social walls, banks can forge deeper connections with customers, deliver real-time support, and provide tailored financial solutions. Through interactive platforms, customers can seek assistance, gain personalized insights, and actively engage with their financial journey. This trend is reshaping banking by fostering community, building trust, and elevating customer experiences to new heights.
Next Step:
Now that you have acknowledged the trends that are transforming digital banking, it's the time to get them implemented in the most beneficial way, possible. We, at Daffodil have professional experience in building applications with astute business logic, clean and simple UI, robust security, and real time data flow capabilities. For more, check out our fintech application development services.