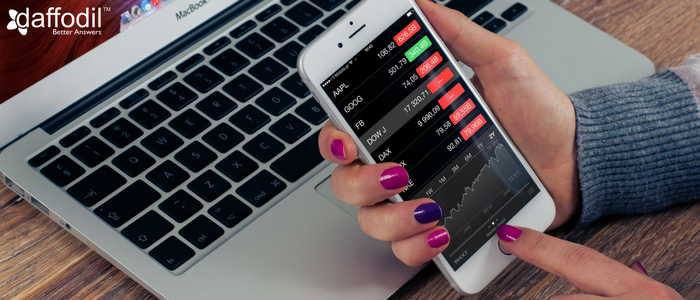 The collaboration between investment banks and fintech brings in endless opportunities to the capital market industry. Financial technologies are evolving and in the third quarter of 2019, value of the international debt capital market transactions reached $1,056 billion.
Here, we enlist 5 technology enabled trends that are making the innovation possible, addressing to the current challenges of capital market industry.
1. Digital Transformation
Stock exchange, Clearing houses and other financial intermediaries in the capital market division are realizing the potential of digitizing their business. These institutions, universally are making the most of mature and prolific technologies that are available to us today (Machine Learning, Blockchain are to name a few). Some of the prominent ways in which digitization (in the form of apps, tools, and portals) can help capital market includes:
Capital market organizations are developing channels (like client portals) that can help them interact with other market participants.
Systems and processes that are a part of an organization's end-to-end value chain. This may include enterprise content management system (like managing semi-structured information), workflow tools, transaction management etc.
2. Artificial Intelligence
Artificial Intelligence (AI) is the potential of machines and computer algorithms to exhibit human capabilities and reasoning powers. This may include decision-making, speech recognition, cognitive learning etc. While this technology to sense, comprehend, act, and learn has been there for over five decades, its recent, cost-effective, and prolific use cases have opened up ways for new opportunities for businesses, including the capital market.
Use Cases:
Planning and Decision Making: One of the most publicized abilities of AI is cognitive learning. With Machine Learning (subfield of AI), it is possible to visualize and understand the environment that intelligent agents are working in and then make relevant decisions, accordingly.
Enhanced Interaction:

AI is facilitating the capital market firms to render accomplished client experiences through personalization, conversational interfaces (like intelligent bots), curate real time information etc.
3. Advanced Analytics
Advance Analytics enable organizations to muster insights, that as a consequence help them in better decision making. For this, analytics tools with business intelligence combine with extensive datasets to forecast events, conduct what-if analysis to save businesses from risk scenarios, make existent strategies more efficient etc. Advanced Analytics is an umbrella term and covers a number of technologies and disciplines under it, which include big data analytics, predictive analytics, location intelligence, data mining, and alike.
Use Cases:
Data Visualization: Advanced Analytics render capability to present the insights in pictorial form, which eventually improve the speed and quality of decision making. This, for example can be useful in visualizing the trading patterns to pin down instances like market abuse.
Data Tagging: Managing and reconciling trades from various systems, at different symbology standards is certainly a difficult task. This, sometimes results in duplicate, invalid, and missed trades, that may mislead the managing and reporting of trades at an enterprise level. Data tagging can therefore help to trades and events to minimize any risk of errors.
Sentiment Analysis: For an improved decision making, discerning sentiments can help. For example: Interest in certain market stock. This may also assist in behaviour analysis, helping to examine the decision making cycle of humans.
4. Blockchain
Distributed ledger technology like Blockchain is projected to have a transformational effect on the capital market. Blockchain, essentially is built on a series of innovations that manage and secure sharing of information.
Use Cases:
Refine Record Maintenance: Blockchain facilitates updation of balance and transactions, in real time, and on all the nodes.
Reporting and Reconciliation: With Blockchain, the balances and transactions between the counterparties can be recorded, reported, and maintained. And unlike the traditional models, the updated are available in real-time.
5. Internet of Things
A network of physical objects that makes exchange of data possible over internet is a great hype nowadays and is termed as Internet of Things (IoT). While machine-to-machine interaction and information exchange has been there since decades, IoT emphasize up on monitoring and detecting the physical events through sensors and automate decision making.
Use Cases:
Client servicing, pre-trade analytics are the primary applications of IoT in capital market industry.
Next Step:
Considering the technology trends that will shape the capital marketing landscape in the coming years, now is the time to invest in solutions that could be the next front-runner of the industry. And to get started, we recommend you to take a tour of our capital market software development services.