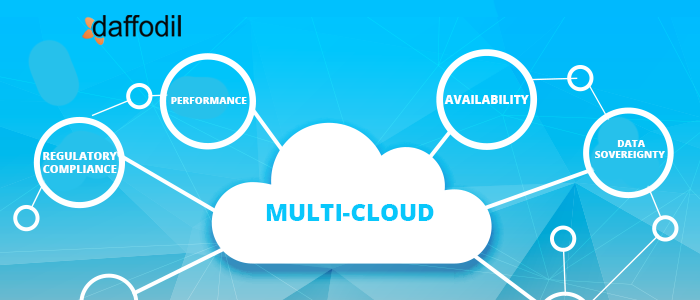 Public cloud computing is one of the fastest-growing segments of IT spend. With this, the CIOs have got a major responsibility of investing the budgets wisely. Availability, data sovereignty, performance, regulatory compliance are some of the factors that are strictly considered while choosing a cloud provider and investing in its services.
Enterprises are adopting a multi-cloud strategy to take advantage of best-in-breed solutions. In fact, Gartner predicts that by 2022, about 75% of enterprise customers using cloud infrastructure as a service (IaaS) will adopt a multi-cloud strategy.
There are numerous reasons why enterprises are opting for a combination of public cloud services. Technology-driven, market-driven, competition, regulation & standardization, agility are some of the common reasons why enterprises are opting for multiple cloud providers.
Read more to find out more reasons why large organizations must embrace a multi-cloud strategy for an agile, secure, and performance-oriented infrastructure.
1. Technological Reasons
The reason behind having a cloud service varies from business to business. While some use it for a serverless infrastructure, others use it for building AI applications. Maybe, an organization is happy with AWS Lambda for Serverless services while it trusts Azure for DevOps. For applications with independent workloads (such as one built on microservices architecture), it is recommended to have a multi-cloud strategy.
However, there is a catch here. When going for a multi-cloud strategy, it is important to weigh the cons and pros of all the technologies beforehand. This is because migration from one technology or cloud service to another can cost a bomb to an enterprise and involve the risk of data loss. So, if technology is the reason for multi-cloud adoption, then it is crucial to judge the services before they are deployed.
2. Agility
One of the most popular reasons behind multi-cloud strategy adoption is to avoid vendor lock-in. Cloud vendor lock-in is a state where an enterprise becomes dependent on a single cloud service and is unable to move to another one without paying a substantial cost, legal constraints, or technical incompatibility.
There can be times when a cost-effective, better service is available with another cloud provider. Usually, when an enterprise (which is using a single cloud service) wishes to move to another cloud provider, it is generally bound by various exit terms, data, or application migration issues.
When there is a multi-cloud strategy, it is easy for an enterprise to move to a different cloud platform. There is a window for seamless data/application migration and it is easy to maintain a balance between all the platforms.
Apart from these strategic reasons to have a multi-cloud environment, there are some incidental reasons where an enterprise ends up having more than one public cloud service. Let us take some examples of such scenarios.
3. No Standardization
Usually, small or mid-organizations don't have a Cloud Center of Excellence (CCoE) that can manage all cloud-related services and practices. In such a situation, where there is a lack of guidance, different departments (marketing, engineering, HR, sales, etc.) might end up making decisions in a vacuum, resulting in having more than one cloud.
4. Accidental Registration
In a large enterprise, a variety of employees operate under the IT radar. There could be developers, analysts, researchers signing up for an account on different platforms. Before an IT department gets to know about it, there are multiple cloud accounts already created and being used in an organization. As a result of this, the organization needs a strategy to manage multiple clouds for cost-effectiveness, performance, and security.
Apart from these, there are reasons for multi-cloud adoption that stem out with time and are not planned or part of the digital transformation roadmap. Let us check some of those issues.
5. Mergers with other Companies
For better business solutions, there are times when enterprises need to work in collaboration. In the case of mergers and acquisitions, if the two companies are using different cloud services, then it is important to have a CCoE to manage & migrate the workload between the organizations.
How to Get Started with a Multi-Cloud Infrastructure
While there are some obvious advantages to have a multi-cloud strategy, it is important to understand the challenges associated with it. For example, you need a CCoE team to take care of the resources, train the team with new services, and stay updated. There are various Cloud Management Platforms (CMPs) that can help in optimizing the cost and security of solutions.
Our CloudOps team at Daffodil has been managing multi-cloud environments for many of our clients. The team looks out for the best-in-breed services that the client can get and helps them to manage them accordingly.
If you too have a requirement to set up and manage a multi-cloud infrastructure, then our CloudOps team is there to provide the best guidance and solutions that suit your business. To connect with them, fill up this form to set up a free consultation.