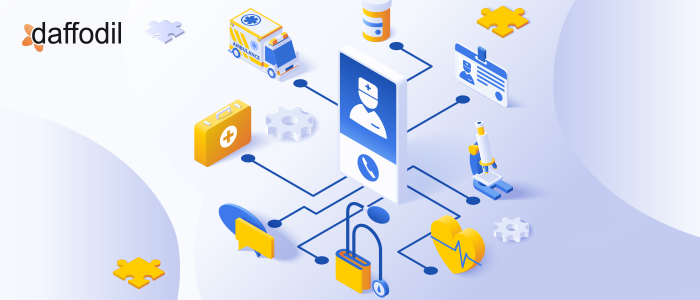 Worried about their well-being amid the coronavirus outbreak, people are reaching out to doctors even for mildest symptoms. However, the lockdown protocol has limited people to step out from their homes and thus they look out for the alternatives to the in-person consultation session with physicians.
Telemedicine, which involves remote diagnosis and treatment of patients by means of telecommunication technology is gaining ground in the healthcare industry. Patients are scheduling appointments with physicians and consultation sessions virtually. This ensures that they avoid exposure to the virus and physicians in the healthcare center can dedicate more time to COVID-19 infected patients.
There are several ways telemedicine can help patients and care providers achieve this. A telemedicine software can enable healthcare providers to engage patients, make doctors available on-demand, help them in managing patient's well-being, spread awareness, etc.
During the COVID-19 pandemic, telemedicine has emerged out as a convenient, secure, and collaborative mode for virtual consultations and communication between patients and physicians. If you're a healthcare provider that's considering telemedicine as an extension to your care services during this COVID-19 outbreak, then it is important that you add these must-haves to your telemedicine software.
An appointment is a way to align a meeting between the patient and the physician. Automating appointment scheduling ensures patients can conveniently check out physician's availability and book them for consultation.
By introducing the appointment scheduling module in the telemedicine software, healthcare providers such as clinics, hospitals can ensure that their front desk staff is more involved in managing the COVID-19 treatment processes rather than being involved in updating patients about physicians' availability on call.
Appointment booking also reduces the chances of a patient no-show as such modules remind patients about their schedule so that they are available during the booked time-slot of the physician.
To know more about how an idea appointment booking app should be, you can check our detailed analysis of Zocdoc, an online platform for scheduling doctor-physician appointments. How this platform is enabling individuals to find a physician and book appointment, as early as in 24 hours. This appointment booking app gives a wider view of how an appointment scheduling app works.
Video-conferencing is one of the innovative alternatives to the F2F meeting during the quarantine. The same can be adopted in a healthcare system where a patient and a physician can meet virtually for consultation through an audio or video call.
With some basic requisites such as an internet connection, smartphone/laptop, lighting conditions, a virtual visit to the physician can be made possible. These visits can help patients to have follow-ups, consultations for chronic/acute disease, etc.
Video-conferencing in telemedicine solutions helps to provide medical aid to patients in remote areas, connect with physicians for best consultation, provide care to the elderly, and those suffering from movement disorders.
Medicine adherence has a significant role in improving patient health and treatment outcomes. For patients who have recently undergone surgery or are on the long treatment process, enabling medical adherence in a telemedicine software assures that patients follow the right medication practices.
According to the Centers for Disease and Prevention (CDC), non-adherence causes 30-50% of chronic disease treatment failures and 125,000 deaths per year in the United States. Medicine adherence modules in telemedicine solutions remind the patients about their medications, especially to those suffering from chronic disease or recovering from major surgeries/ailments.
There is no better way to make patients take accountability for their health than keeping them informed. By sharing knowledge-based articles on different topics, patients can be informed about how they can improve their health with better day-routine, diet, medicine, home remedies, and more. Meanwhile, it has to be ensured that only specialists share the content, which should be equivalent to general physician consultation.
As more patients tend to share their health vitals, medical history, medication routine and health problems with the physicians, it is important for a healthcare organization to protect patient health information (PHI). For that, it is important that the telemedicine solution must be compliant with healthcare standards that ensure the security of patients' information.
Different countries have their own compliances to ensure the security of data. In the United States, HIPAA compliance provides privacy standards to protect the PHI that's provided to the physicians, doctors, insurance providers, hospitals, or other healthcare providers.
A Telemedicine Solution for your Healthcare Organization?
Telemedicine software can serve multiple purposes and integrating it with the right modules and features are important to create an impactful solution. Amid coronavirus outbreak, if you think that telemedicine can be a help to your existing healthcare model, then connect with our health tech experts to know how it can improve the quality of care during COVID-19 spread. Know more about Daffodil's experience in telemedicine software development or set up a consultation to know how to get started with it.