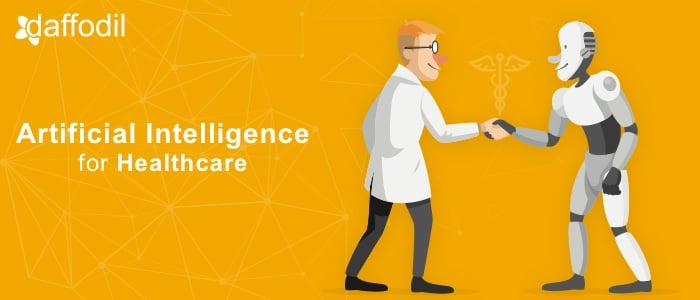 Human care and technology play a key role in the Healthcare Industry. While technology can't replace the human touch and emotions, which is the soul of this industry, it can surely help in eliminating the limitations of human capabilities.
Technology is already being utilized extensively to save the lives of many, and Artificial Intelligence is the next advancement in the application of technology in healthcare and medicine.
AI in healthcare funding hit the all-time high in Q2, 2018, close to $600 million (Source: CB Insights). The AI-based Imaging Diagnostic has got approval from authorities, and hospitals in Israel and the United States have already started to adopt AI-based predictive analytics. The number of patient monitoring devices using the data to train AI models for predictive analytics will reach 3.1 million in 2021 with a CAGR of 176%, helping hospitals to save up to US$52 billion in 2021 (Source: ABI Research).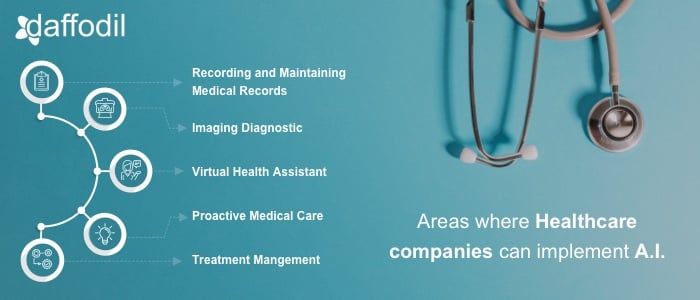 Recording and Maintaining Medical Records
Healthcare providers record and maintain a huge amount of data. Though many of these systems have been digitalized, still the data needs to be entered manually. First, the customer fill-ups a physical paper-based form and then data entry executives enter the information into the Hospital Information System (HIS) to create Electronic Health Records (EHR). This cause inconvenience to the patient since they are forced to fill large forms and at the same time, hospitals spent money on hiring resources to manage this process.
Robots with Natural Language Processing capabilities can interact with the patients to get information and record it in the digital format. A.I. can further re-format, provide quick access, and trace data with more consistency and efficiency. This will help healthcare service providers to save money and provide an extremely satisfying experience to patients, thus differentiating themselves from the competition.
An UK-based leading healthcare center streamlined and automated medical practices for clinical staff, general practitioners (GPs), and consultants with a multi-clinic Practice Management System (PMS) for their network of clinics. Read more.
Imaging Diagnostic
The correct diagnostic of clinical imaging like X-rays, Ultrasound, MRI, CT Scan, etc. can prove to be critical for the life of a patient. There are special doctors called radiologist who specialize in analyzing and interpreting clinical imaging. However, even the most experienced radiologist can miss minute details that are often not visible to a naked human eye.
With deep learning algorithms, an A.I. solution can scan clinical imaging. It can more accurately pinpoint and differentiate between diseases and non-diseases condition.
A lot of projects are in progress for developing A.I. for Imaging Diagnostic, with more than $100 million raised by the project in this area. Fast-track regulatory approval from FDA has opened up new commercial pathways for over 70 AI imaging & diagnostics companies that have raised equity financing since 2013, accounting for a total of 119 deals. (Source: CB Insights)
Virtual Health Assistant
In a busy lifestyle, patients often find it difficult to keep a track of what they are eating, forget to take medicine on time, and even miss appointments made with the doctor. There are reminder apps available but a virtual health assistant can do all of this and more, in a better engaging way. They can monitor the patient's condition and follow up with treatments between doctor visits.
Utilizing machine learning, they can provide critical support to patients, especially those suffering from chronic illnesses, by collecting initial information from the patient on symptoms. This saves the time of both the patient and the doctor. A healthcare brand providing such services can surely create a loyal base of patients.
Lybrate, one of the most funded Healthcare Marketplace, connects doctors and patients with mobile apps with appointment booking functionality. Read more.
Proactive Medical Care
The current medical care is reactive and not proactive i.e. the treatments start only when the patient has already fallen ill. Utilizing A.I. based analysis of certain conditions of the patient, a proactive approach can be taken. In this, considering the patient's medical history, certain high-risk indicators for diseases are marked and then monitored for any changes. And if any specific change seems alarming enough, the patient and the concerned doctor is notified.
The healthcare service providers need to switch from reactive healthcare services to proactive healthcare services if they want to stay competitive.
Treatment Management
The Artificial intelligence systems can be used to do some level of decision making too. While designing a treatment path, a doctor needs to understand the lifestyle patterns of the patient, the latest research data available, the medical history of the patient, etc. It is difficult for a human mind to consider all the data constraints and device the best treatment path. However, an A.I. created to analyze data, including notes and reports from a patient's file and external research, can determine and customize the most suitable treatment path for the patient.
Conclusion
A.I. is all set to transform our perception of the health services. Healthcare service providers offering these A.I. enabled functionalities would surely be able to differentiate themselves from the competition. This also means that the expectation of the patients would be at a whole new level compared to what they are today. Hence, it would be best for the healthcare service providers to get in this game quickly and be future-ready.
At Daffodil Software, we have been researching and experimenting with various A.I. and machine learning algorithms from a couple of years and can develop scalable and robust AI-based virtual assistant, conversational bots and other solutions for you. You can send us your query at info@daffodilsw.com.