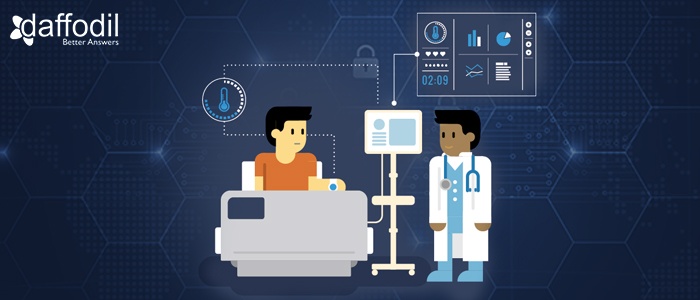 Technology advancements, healthcare reforms, and ever-changing patient requirements in healthcare poses a number of challenges for the providers. To overcome them and achieve customer experience objectives, it is important to construct a system that supports real-time orchestration of healthcare resources (like data, people, devices, facilities).
A Real-time health system (RTHS) represents a next-gen care delivery system, wherein, the providers can share, adopt, and apply their medical mastery in real-time. It involves collection of relevant information from different sources (devices, applications, e-records), which can therefore make decision making, fast.
The RTHS aims to reduce the response time in decision making and enhance the response quality that ultimately improves the delivery of care. The system works as a cycle, which involves collecting data, analyzing it, translating it into intelligence, and then deliver recommendations so that care workflows are streamlined.
RTHS is driven by information and communication technology. Therefore, integrating the care system with right technology is cardinal. Here are four major technologies that are shaping the RTHS.
1. Internet of Hospital Things (IoHT)
Internet of Hospital Things is the foundational technology for an RTHS. It defines how the things in a hospital (devices, applications, buildings, equipments, appliances etc.) integrate and collaborate with each other to deliver patient-centric care. These things, which are powered by technology and intelligence ensure that they connect, communicate, and interoperate with other things in the IT ecosystem of the hospital.
These hospital things are categorized as: facility devices (like security and building management), patient monitoring devices like virtual care devices, clinical monitors), real-time location services (patient tracking, visitor tracking, employee tracking) etc. These things, when connected will drive operational efficiency, asset utilization, increase engagement, enhance security, and more.
2. Patient Identity Biometrics
For patient safety and quality care delivery, Positive patient Identification (PPID) is fundamental. Today, some of the popular PPID systems include barcodes, bracelet systems, or RFID. The introduction and advances in biometric identity technologies ensures that the rate of false-positives are low and that right patient details are collected at the time of registration and used for medication, transfusion, and laboratory tasks. Using biometrics to positive patient identification reduces medical errors, improves patients' safety, remove duplicate or overlaid medical records, reduces medical frauds and reimbursement delays.
3. AI Healthcare Advisors
Artificial Intelligence (AI) healthcare advisors augment human performance for cognitive tasks. These advisors ingest real time data, process it (with intelligent algorithms), and offers an output that supports a decision or even help in decision making. Generally, they are cloud services.
AI has been disrupting healthcare in a number of ways. They play an a significant role in precision medicine, clinical diagnosis, risk, and disease prediction, imaging diagnostics, healthcare operations and administration management. Utilizing the cognitive power of machines to analyze a patient's health (on the basis of their vitals) can aid physicians to take better decisions in emergency scenarios.
4. IT Governance, Risk, and Compliance
Healthcare Delivery Organizations (HDOs) make a substantial investment in time and capital, to ensure better care is delivered. However, despite this, HDOs are still struggling to find a way out that can help them to define, organize, and enforce privacy and security policy. This is important so as to comply with industry and regulatory mandates.
IT governance, risk, and compliance (GRC) involves an ethical management of healthcare organization by all its executives, risks mitigation, and conformance with regulatory requirements (data retention, best business or operations practices). IT GRC estimates how secure a healthcare enterprise is and that it follows the standard practices and policies in the IT ecosystem.
Real time healthcare systems (RTHS) presents a care delivery system, which is integrated, collaborative, and patient centric. What do you think are other (latest) technologies that hold the power to disrupt the RTHS? Share with us in the comments below.